Breakfast Recipes
My Favorite Homemade Granola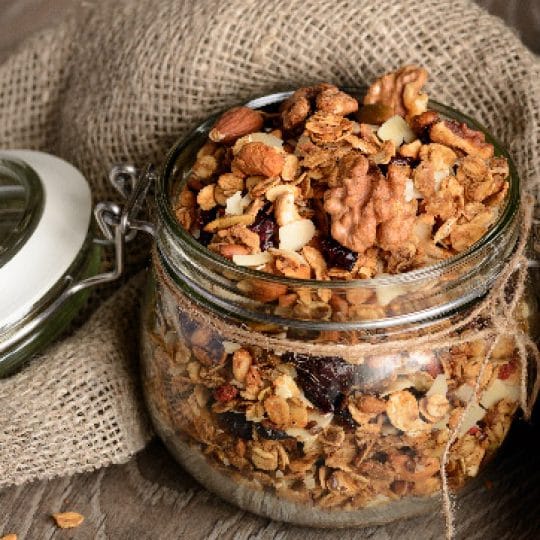 Breakfast
My Favorite Homemade Granola
Serves: 28
Ingredients
1 32 ounce bag Bobs Red Mill extra thick oats
1 2 1/2 ounce package Flanigan Farms slivered raw almonds
1 2 1/2 ounce package Flanigan Farms raw cashews
1/3 cup Flanigan Farms raw sunflower seeds
1 2 1/2 ounce package Flanigan Farms raw pepitas pumpkin seeds
1/4 cup Nuvita organic chia seeds
4 teaspoons Spice Hunter organic ground cinnamon
1 teaspoon Spice Hunter organic ground allspice
1 teaspoon McCormick ground turmeric
6 tablespoons Hain Organic brown sugar
5 tablespoons Coombs organic grade A maple syrup
4 teaspoons Simply Organic vanilla extract
6 tablespoons Napa Valley organic olive oil
1/2 cup Newmans Own organic raisins
1/2 cup Newmans Own organic prunes chopped
Directions
Preheat oven to 375 Fahrenheit. Line a large rimmed baking sheet with parchment paper.
Place oats, almonds, cashews, sunflower seeds, pumpkin seeds, and chia seeds in a large bowl.
In a small saucepan, combine cinnamon, allspice, turmeric, brown sugar, water, maple syrup, vanilla, and olive oil. Bring to a boil over medium heat, stir to dissolve sugar, and remove from heat.
Pour hot syrup over the dry mixture and stir well to coat. Spread evenly on the baking pan and use the back of a metal spatula to pack granola firmly into the pan. Cook 25 to 30 minutes, until light golden. Remove from oven and reduce heat to 325 F Fahrenheit. While granola is cooking, chop the fruit and mix it together in a bowl so it dries out a bit, stir occasionally.
When you remove granola from the oven, rotate the pan, return to the oven and bake about 20 more minutes. Remove from oven and sprinkle dried fruit on top of the granola. Bake ten more minutes, until granola is golden brown. Remove from oven and cool completely undisturbed, about one hour. Break up granola and mix in fruit. Store in an airtight container or gallon size zipper bag for up to two weeks.