Recipes
Nutmeg-Maple Cream Pie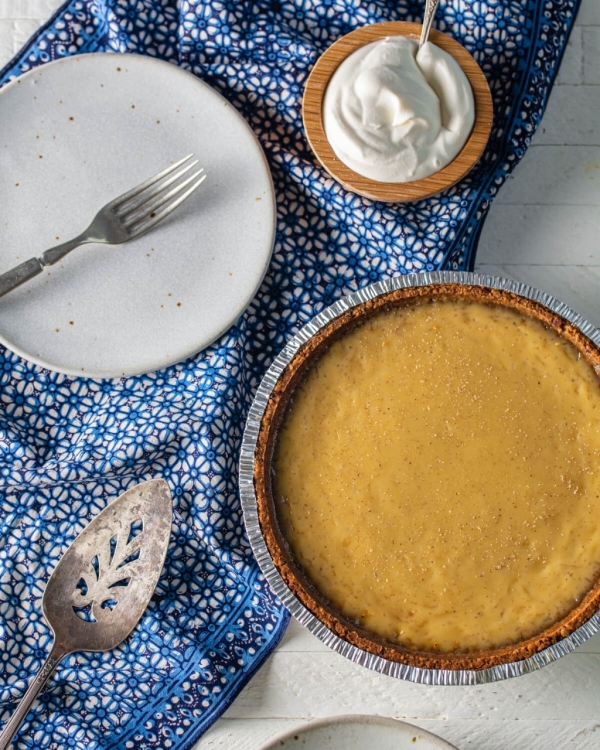 The name says it all: This is a redux of your old-fashioned custard pie made with cream, eggs, nutmeg, and plenty of sweet maple syrup. The filling is luxurious. It has a ridiculously silky, smooth texture — somewhere between pudding and flan — and it tastes of warm fall spice and maple candy. It could almost be too sweet but for the fact that it's nestled in a savory walnut crust.
We used a premade Diamond walnut crust. It tastes buttery and full of nutty crunch, and it takes all the fear factor (and the work) out of making a pie. You can whip up this pie in a little over an hour. It'll be the darling of your Thanksgiving table and a welcome antidote for seasonal pumpkin fatigue. (It's real.)
We'd also make this as a Wednesday-before-the-holiday-with-the-family tonic. A generous slice of nutmeg-maple cream pie, a hot toddy, a cozy couch, and a half dozen episodes of something will do wonders for your table manners. Is it too soon for a Douglas fir candle?

Servings: 8 servings
Ingredients
¾ cup maple syrup
2 ¼ cups heavy cream
4 large Gelson's egg yolks, room temperature
1 large Gelson's whole egg, room temperature
¼ tsp kosher salt
1 tsp nutmeg, freshly grated
1 tsp vanilla extract
1 Diamond walnut pie crust
Directions
Preheat the oven to 300º.

In a medium saucepan over medium-low heat, reduce the maple syrup by a quarter, stirring constantly, 10 to 12 minutes.

Stir in the heavy cream and bring the mixture to a simmer. Remove the saucepan from the heat and let it cool for 10 minutes.

In a medium bowl, whisk together the egg yolks and whole egg. Whisking constantly, slowly add the cream mixture to the eggs.

Strain the mixture through a fine-mesh sieve into a cup or bowl with a pouring spout. Stir in the salt, nutmeg, and vanilla extract.

Pour the filling into the crust and transfer the pie pan to a rimmed baking sheet.

Bake until the pie is firm to the touch but jiggles slightly when moved, 45 to 50 minutes. Let the pie cool to room temperature before serving.
Recipe adapted from: New York Times Cooking