Recipes
Plum Smash & Sanpellegrino Limonata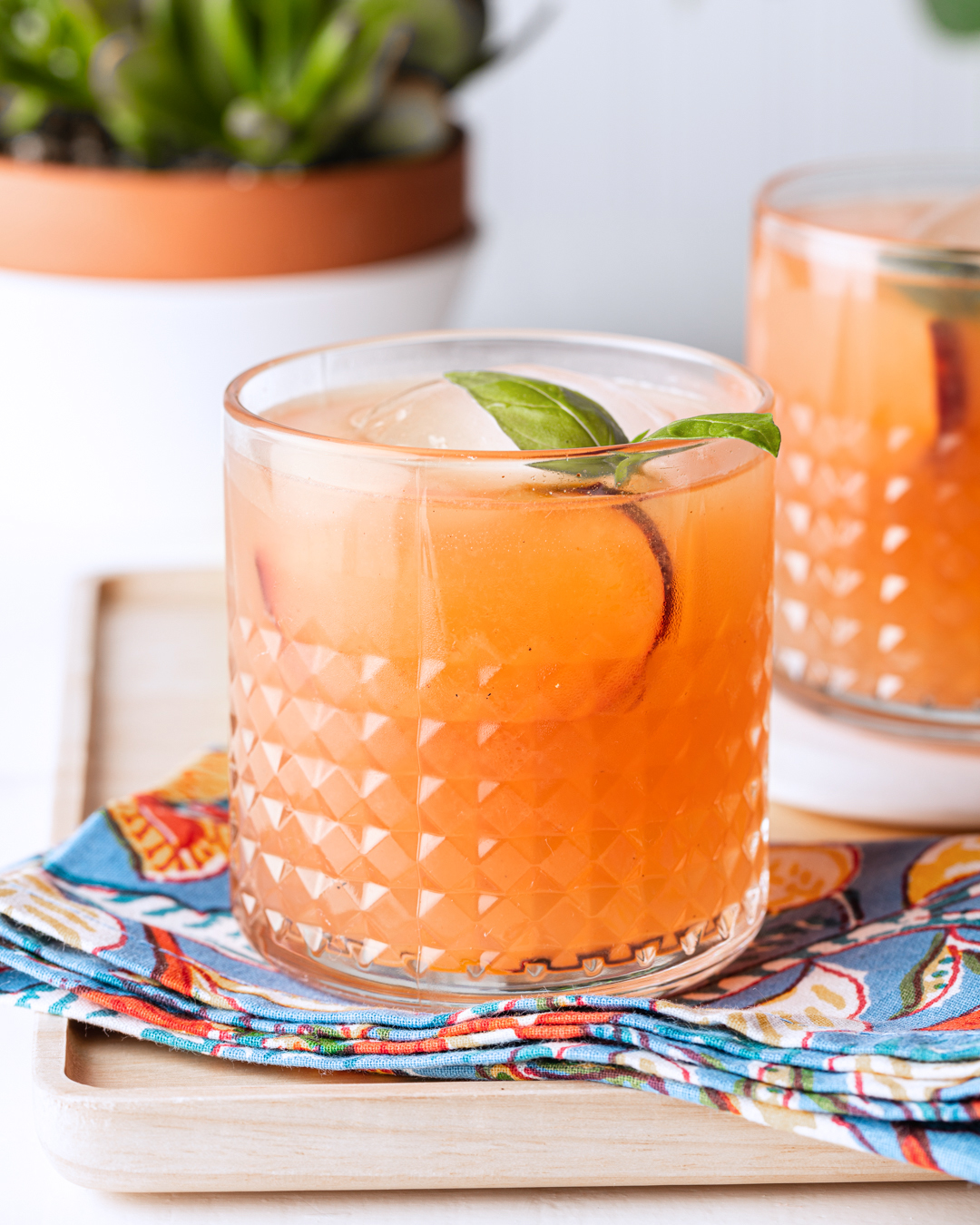 For us, this cocktail has a lush, late-summer vibe. It's all about the beautiful gardens we see on evening strolls through our favorite SoCal neighborhoods — and how we long to slip through their gates and smell the fragrant basil and pick a perfectly ripe lemon or sweet red plum. Luckily, our produce department has all three of those things, so we can muddle them up in this smashing cocktail.
Grilling fresh plums is a very good idea. The outside of the fruit chars so that it's lightly caramelized and a bit smoky. The inside becomes intensely sweet-tart and plummy. The plums look so beautiful when they come off the grill, it's almost a shame to smash them. Yet, if we're honest, it's extremely satisfying (they're so soft).
Layered with the basil, lemon, bourbon, and a hit of fizzy limonata, the plums take on an earthy quality, and the drink reminds us very much of a boozy hibiscus lemonade.
This is definitely a cocktail to share. Between the aromatic basil and the deep pink color, it has a certain vivacity — it'll charm happy hour and dinner guests alike. Plus, if you're grilling one plum, you might as well grill eight.
Servings: 1
Ingredients
1 plum, halved, divided
Canola oil
4 basil leaves, divided
½ oz simple syrup
1 oz lemon juice
2 oz bourbon
Ice
Sanpellegrino Limonata
Directions
Prepare a charcoal grill or heat a gas grill to medium heat.

Brush one half of the plum with the canola oil, and grill it over indirect heat, flipping once, for a total of 2 to 3 minutes or until slightly charred.

In a shaker, muddle the grilled plum, 3 of the basil leaves, and the simple syrup.

Add the lemon juice and bourbon, fill the shaker with ice, and shake the cocktail heartily.

Fill a rocks glass halfway with ice, strain the cocktail over it, and top off the glass with a splash of Limonata.

Garnish with a slice of the remaining plum half and a basil leaf.