Dinner Recipes
Honeycrisp Salsa Fish Tacos for Cinco de Mayo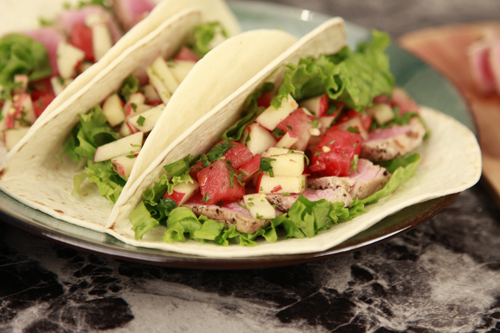 Fragrant Honeycrisp apples are highlighted in this crunchy, sweet and spicy salsa that will excite your taste buds. The Honeycrisp watermelon salsa perfectly complements the light flavor of the ahi tuna steaks.
Yield: About three cups of salsa for 6 tacos plus leftovers.
Skill level: Easy
Spice level: Medium Salsa
Ingredients
2 medium Honeycrisp apples, diced
1 ½ cups seedless watermelon, diced
¼ cup apple cider vinegar
Zest from one lime (about a tablespoon of zest)
Juice from half a lime
½ teaspoon salt
¼ teaspoon pepper
½ tablespoon red pepper flakes
1 good handful of cilantro, coarsely chopped
Taco
2 ahi tuna steaks
Olive oil
Salt
Pepper
Shredded lettuce
6 flour tortillas
Directions
Toss salsa ingredients together in a medium size bowl and refrigerate for at least an hour before serving to allow flavors to mingle.
Pat the fish dry and liberally season both sides with salt and pepper. In a hot pan with olive oil sear ahi steaks by cooking on high heat, turning every 1-2 minutes and searing each edge. Tongs may be needed to hold up steaks while searing sides. Rest fish for 5 minutes before slicing against the grain and cutting into inch long chunks for bite sized morsels. Dress each tortilla simply with shredded lettuce and add tuna to fill up taco. Top with heaping spoonful of salsa! Devour!
Recipe created by Urban Farm Foods for Domex Superfresh Growers®