Dinner Recipes
Recipes for Fathers Day Dinners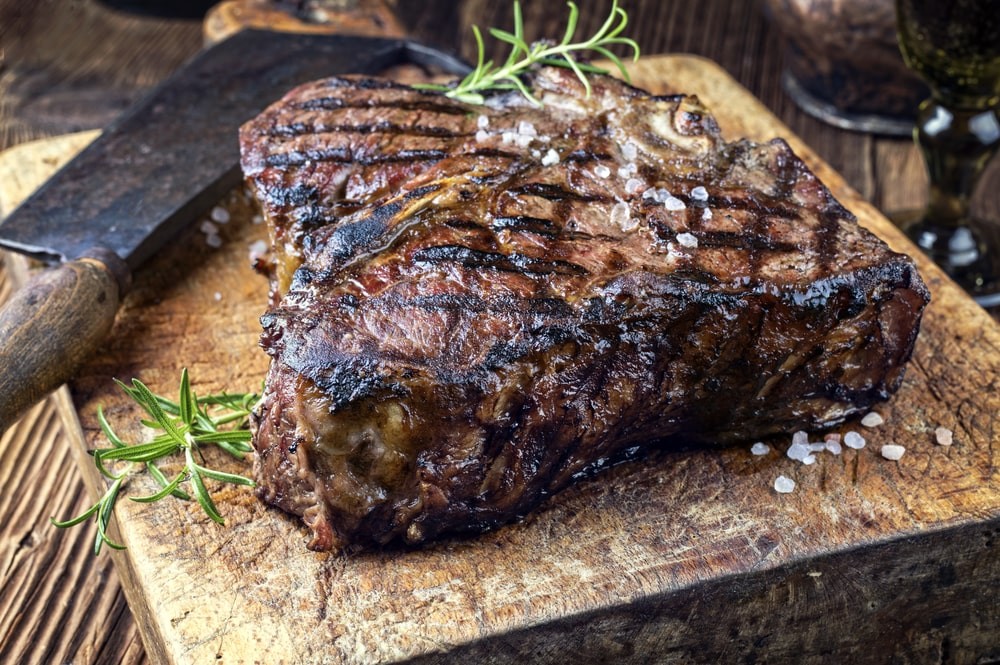 When it comes to the best Father's Day gifts, nothing can compare to giving Dad a delicious meal and some quality time with the family. Whether he's a meat and potatoes traditionalist, a grilling gourmand, or a five-star culinary buff, a hearty meal made with him in mind is the way to Dad's heart.
We've put together a guide to the best Father's Day dinner recipes, giving you plenty of options for serving something he'll love for his special day. And best of all, you don't need to be a skilled chef to cook up something amazing because we've made sure to include a variety of easy dinner ideas to keep things simple.
Hot off the Grill
If your dad is usually the one manning the grill, it might just be time to impress him with your own red-hot skills. Here are some great grilling recipes for Father's Day so you can celebrate cookout-style.
This isn't just any grilled chicken dinner; it's a flavor-filled barbecue classic that's easier than you'd expect. Ingredients like lime juice, hot sauce, and honey jazz up a standard store-bought sauce, and you can take this dish from grill to table in only about 30 minutes.
Although these ribs aren't technically grilled, they'll definitely taste like it. The Instant Pot pressure cooker is the secret to fall-off-the-bone tenderness, keeping the ribs from drying out. Serve the ribs along with your favorite side dish, and you have a meal that's sure to make Dad smile.
Forget ordering a meat-lovers pizza for delivery; instead, use the grill for cooking a truly wow-worthy homemade pizza. Sweet Italian sausage (also made on the grill) makes for a deliciously savory topping, complementing the sliced peppers and onions.
When you plan to grill for Father's Day, choosing the best burger recipe is an age-old debate. But with this recipe in hand, you'll finally take home the win. Ground brisket ensures extra-juicy burgers, while the no-frills spice blend lets the flavor of the meat really shine.
Is there any ingredient a dad loves more than bacon? That's debatable, but what's not is the wow factor of this grilled potato salad. You'll be grilling the potatoes to perfection (as well as the scallions for a boost of fiery flavor), then drizzling them with a warm bacon dressing for the side dish of Dad's dreams.
If your father is serious about his seafood, give him a new dish to enjoy with this savory and spicy salmon recipe. Just a few minutes on the grill is all you need, and the homemade tomato relish tops it all off.
A Steakhouse Dinner at Home
Skip the crowds at the fancy steakhouse and treat Dad to a juicy steak in the comfort of his own home. A little bit of practice and a solid recipe will have you well on your way to a truly superior steak.
For the dad that's constantly on the hunt for a flawlessly cooked steak, this recipe for flank steak fits the bill. Even though flank steak is a lean cut that's often considered fairly tough, the right marinade makes all the difference. A blend of olive oil, soy sauce, brown sugar, and lime juice tenderizes and seasons the meat, while the back-to-basics salt and pepper spice rub delivers classic flavor.
Do you have a dad that holds equal space in his heart for steaks and burgers alike? This recipe turns regular burgers into something suited to a steakhouse, complete with melted cheese and a heap of french fries piled directly on top.
When you serve your father this dry-aged porterhouse, he'll know that he raised you right. The recipe walks you through the process of cooking a professional-quality steak, which might be easier than you'd expect.
Comfort Food Classics
Is your dad a fan of foods that warm his heart and his stomach at the same time? For the comfort connoisseur, here are some dinner recipe ideas to satisfy all his cravings.
For the Southerner at heart, this recipe for chicken-fried chicken won't disappoint. The hearty breading and incredible gravy makes every bite more delicious than the last. Pair it with some homemade mashed potatoes, and your dad's day will be made.
Pork chops and dads are a match made in foodie heaven, and this recipe puts a gourmet spin on the comfort food dish. A generous amount of fresh garlic cloves, black pepper, and rosemary, plus an entire stick of butter, make these pork chops for an instant family favorite.
Transport your dad to his favorite ballpark with these indulgent chili dogs, complete with homemade chili. A no-fail combo of ground beef, garlic, tomato sauce, Worcestershire sauce, and other seasonings make up the surprisingly simple chili recipe, so you'll be done cooking in less than 30 minutes.
Once again, the Instant Pot saves the day with this mouth-watering take on beef short ribs. This dish takes minimal effort, despite looking like something you spent all day cooking. Tender and flavorful, the braised short ribs are even more outstanding when served with the cheesy, rich polenta.
Just about everyone needs a good recipe for fried chicken, and this traditional version is a great one to serve for Father's Day. A buttermilk marinade is the not-so-secret ingredient, while the diverse blend of spices elevates the crispy coating to a new level.
Get All the Ingredients for Father's Day Dinner Recipes from Gelson's
No matter how much of a foodie your dad may be, we guarantee that he'd much rather you spend time with him than cooped up in the kitchen. Simplify the celebration with a meal that's quick, easy, and delicious so that you can treat your father to his favorite gift - a good, old-fashioned hangout session with his family. Thanks to our ideas for Father's Day recipes, your meal can be both special and fuss-free.
But first, you'll need to stock up on all your ingredients, and there's no better place to do your shopping than Gelson's. Our shelves are filled with high-quality products, including a wide variety of premium meats and seafood, fresh produce, pantry staples, and more. While you're here, pick out a bottle of wine to toast the world's greatest dad and maybe even some baked goods to end the evening on a sweet note.
Make this Father's Day - and every day - extra delicious when you shop at Gelson's. Visit the Gelson's near you or contact one of our stores to start planning a day for Dad now!
Image credit: Shuttershock/hlphoto