Dinner Recipes
Scallop, Potato & Pancetta Salad
Silence is always a sign of a good meal. In the test kitchen, the chatter dimmed to a gentle murmur as our tasters dug into this late-summer scallop salad, and all you could hear was the sound of forks clinking against ceramic plates.
The lush, buttery, delightfully briny scallops alone are worthy of that sort of silent reverence — but then we gild the lily with crisp lettuce, tender fingerling potatoes, bitter endive, smoky pancetta, and sweet-tart apple. Tossed in a fruity, lightly tangy vinaigrette of crème fraîche, lemon juice, apple cider vinegar, and chives, it's well-nigh heavenly.
It takes about 30 minutes to roast the potatoes for this salad. But once that's out of the way, the rest comes together in about 15 minutes — and the resulting interplay of warm and cool ingredients is quite the boon. All that to say: scallop, potato, and pancetta salad is easy enough for the weekly meal rotation (and yes, we really could eat it once a week!) but also special enough for a date night.

Serves: 2 to 4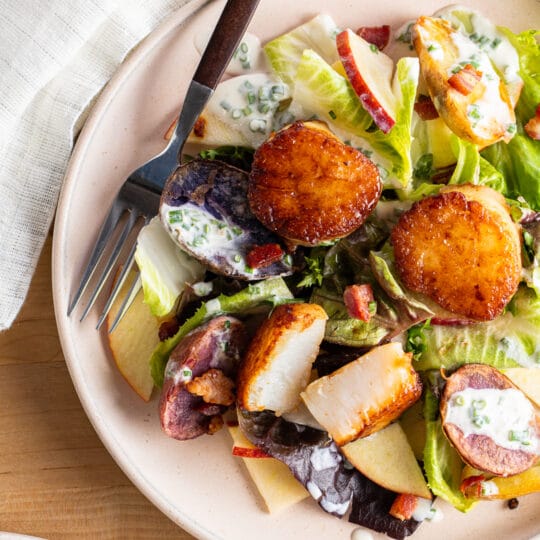 Dinner
Scallop, Potato & Pancetta Salad
Ingredients
1 Tbsp Gelson's 100% California extra virgin olive oil
1 Belgian endive, cut into 1 ½" pieces
2 lightly packed cups baby spring mix
1 sweet-tart apple, sliced into thin wedges and halved
1 Tbsp freshly squeezed lemon juice
2 tsp apple cider vinegar
Directions
Preheat the oven to 425º. Pierce the potatoes a few times with a paring knife and place them on a rimmed baking sheet. Roast, flipping halfway through, until fork-tender, 30 minutes. Let the potatoes cool until safe to handle.

Slice the potatoes in half lengthwise and sprinkle the cut sides with salt.

Heat the grapeseed oil in a large nonstick skillet over medium-high heat. Once shimmering, add the potatoes, cut sides down, and cook until light brown and crispy, about 5 minutes. Transfer the potatoes to a paper towel-lined plate.

In a medium heavy-bottomed skillet, cook the pancetta over medium heat, stirring occasionally, until the fat renders and the meat is crispy, about 5 minutes. Transfer the pancetta to the plate with the potatoes and reserve the fat in the skillet.

Add the olive oil to the skillet and heat over high. Pat the scallops dry with a paper towel and season with salt. Sear on one side for 3 min. Flip, add the butter and garlic, and baste the scallops for 2 minutes. Transfer to the plate.

In a large bowl, toss together the potatoes, pancetta, endive, greens, and apples.

In a small bowl, whisk together the crème fraîche, lemon juice, apple cider vinegar, honey, and chives, and season with salt.

Divide the salad between plates, drizzle with the dressing, and top with the scallops. Serve warm.