Dinner Recipes
Spinach Pie
In the early fall, when the kiddos are going back to school and parents are managing busier schedules, this savory pie can be a godsend. It's super easy to make and features everyday ingredients, so you can whip it up somewhat at the last minute. But if you want to make it ahead, it's also delicious cold. Best of all, it's great at any meal and everybody loves it, even the kids.
Did we mention this is a one-pie-pan wonder? Basically, we just stir together a half-dozen eggs and a cup of milk with sharp cheddar cheese, baby bellas, and diced pimiento peppers — and pour it all in the crust. The pie bakes for 45 minutes, so all the veggies have plenty of time to cook.
Here, we've used our flaky pie crust recipe, but if you don't have time to make a pie crust, you can pick one up in our refrigerated aisle.
Either way, the pie will be fantastic. We love how custardy the eggs get. In the test kitchen, one of our tasters remarked that the pie is not the least bit dry. In fact, it's a little bit juicy. And between the buttery crust, tender veggies, and tangy cheese, it's much more hearty than the average quiche — plus, it's got an awesome cheese pull!
Serves: 6 to 8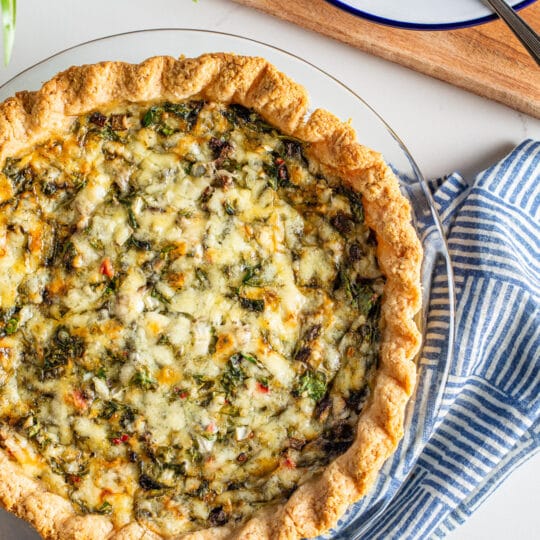 Dinner
Spinach Pie
Ingredients
Gelson's organic all-purpose flour, for dusting
1 disc flaky pie crust dough (recipe link above)
2 ½ cups grated sharp cheddar cheese, divided
3 cups fresh spinach, roughly chopped
6 Gelson's large eggs, beaten
½ cup medium-diced baby bella mushrooms
½ cup medium-diced yellow onion
1 Tbsp diced pimiento peppers, drained
¼ tsp freshly ground Gelson's black pepper
Directions
Preheat the oven to 425º. Lightly dust a flat work surface with flour. Roll the dough out to a ¼"-thick circle (about 13" in diameter), and transfer it to a 9" pie pan.

Trim the dough to create a 1" overhang and then tuck the excess dough under itself, so it's flush with the edges of the pan, and flute the edges. Dock the dough with a fork about 8 times.

Line the dough with parchment paper, fill it with pie weights, and bake for 15 to 20 minutes, until the edges are golden brown. Transfer the pie pan to a cooling rack, remove the pie weights and parchment paper, and let cool for 30 minutes.

Reduce the oven temperature to 375º.

Sprinkle ¼ cup of the cheddar cheese over the bottom of the pie crust.

In a large bowl, stir together 2 cups of the cheddar, spinach, eggs, mushrooms, onion, pimiento, salt, and black pepper.

Pour the filling into the pie crust and sprinkle the remaining ¼ cup of cheddar on top. Bake for about 45 minutes, or until an inserted knife comes out clean.

Transfer the pie to a cooling rack and let cool for 15 minutes. Slice and serve hot!
Recipe adapted from: New York Cookbook by Molly O'Niell