Dinner Recipes
Summer Corn, Tomato & Salmon Salad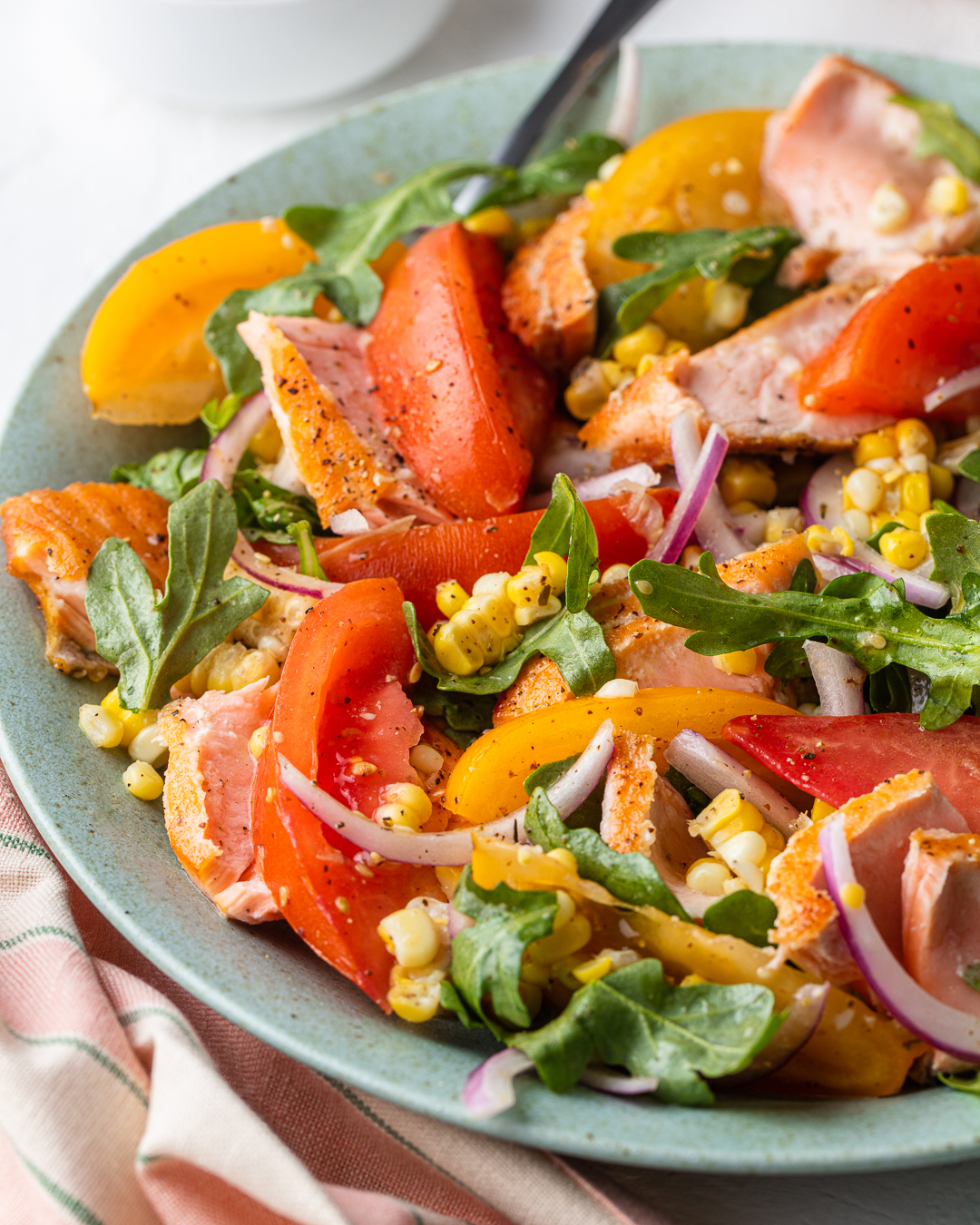 In the summer, when corn is at its crisp, sweet best, we like to use it in salads — it's wonderful raw or cooked. Here, we've infused water with garlic, thyme, and bay leaves, and then blanched the corn in it for mere minutes, so it's full of flavor but still pops when you bite into it. We also cut the corn from the cob in chunks, so that it has a fulsome presence in the salad.
The corn gets tossed together with flakes of crispy salmon, fresh veggies, and peppery arugula. It's dressed simply in olive oil and Gelson's Za'atar, an aromatic Middle Eastern spice blend made with toasted sesame seeds, thyme, marjoram, and sumac. The result is a delightful summer salad: refreshing, flavorful, and satisfying.
It's a salad that travels well, so we like to make it, pack it up, and take it on the go. It's particularly nice for picnics at the beach: it won't leave you too full to leap for the frisbee. That said, it's also nice on the patio with a glass of wine and the sunset.
Our tip: After this recipe, you will undoubtedly have leftover Gelson's Za'atar. You can use it as a rub for grilled meats and veggies, swirl it into spreadable cheese or hummus, or whisk it into your breadcrumbs to give fried fish, chicken, and onion rings more flavor.
Servings: 4
Ingredients
Kosher salt
2 lemons
3 garlic cloves, crushed
3 sprigs thyme
3 bay leaves, preferably fresh
½ cup plus 2 Tbsp extra-virgin olive oil, divided
4 tsp Gelson's Za'atar, plus more for serving
1 tsp salt
5 ears corn on the cob, husked
4 6-ounce skinless salmon fillets
2 medium heirloom tomatoes, cut into wedges
½ medium red onion, thinly sliced
Baby arugula, for serving
Salt, to taste
Pepper, to taste
Directions
Generously salt a large pot of water (it should taste like the ocean).

Thinly slice half of 1 lemon, and add slices to the water along with the garlic, thyme, and bay leaves. Bring the water to a boil, and keep it boiling for 10 minutes, so the herbs can infuse the water.

Meanwhile, juice the remaining lemons until you have about 3 tablespoons of juice. In a small bowl, whisk the juice together with the ½ cup of olive oil, za'atar, and salt.

Add the corn to the boiling water, and blanch it until it's bright yellow and tender, about 6 minutes. Transfer the corn to a plate to cool.

To make the salmon: In a nonstick sauté pan, heat 2 tablespoons of the olive oil over medium-high heat.

Season the salmon with salt and pepper, gently place it in the pan, and sauté it for 3 minutes or until golden brown. Flip it, and cook the second side for 3 more minutes.

Transfer the salmon to a cutting board and use a fork to flake it.

When the corn is cool, cut the kernels off the cob, and place them in a large bowl. This works best if you cut the cob in half, stand it on its wide end, and slice down the length of the cob.

Add the tomatoes, onion, and ½ cup of the dressing. Toss to combine.

Add the flaked salmon to the salad and toss very gently to coat it with dressing.

Transfer to a serving platter or divide among plates. Top lightly with arugula, drizzle with the remaining dressing, and serve with a salt cellar of za'atar.

Recipe adapted from: Epicurious