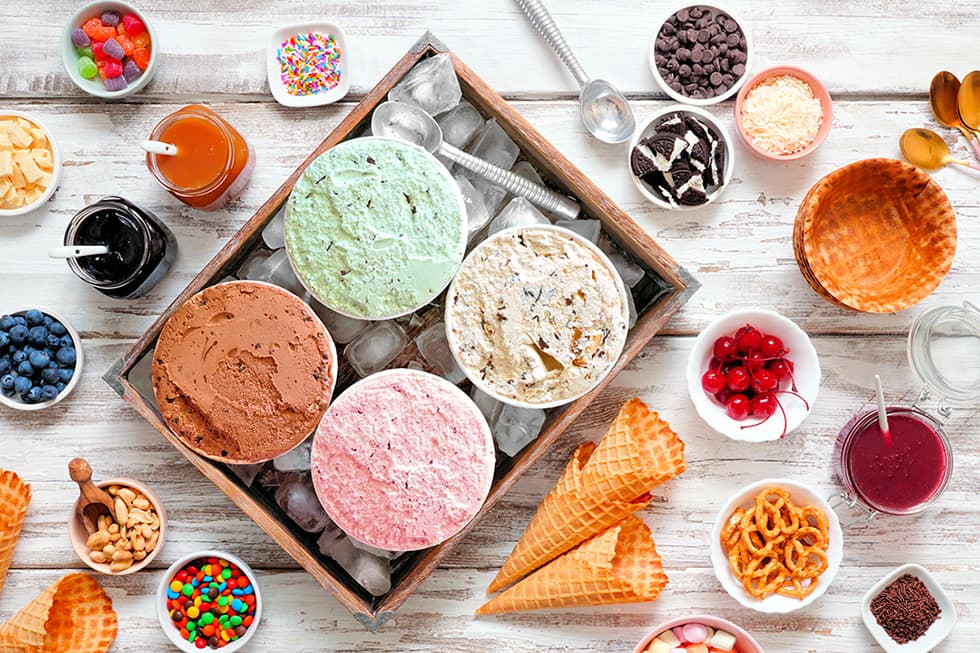 There's no question that ice cream is a summertime staple, but here at Gelson's, we firmly believe it deserves a spot in your freezer year-round. And with the ice cream industry constantly serving up delicious new flavors and products, you'll never run out of tasty treats to try.

We're thrilled to kick off the summer season with a series of new ice cream flavors from all your favorites, including a plethora of non-dairy options. Whether you like your ice cream in a cup, cone, or on a cookie, we have you covered with the best ice cream flavors for 2022.
Get yourself a generous-sized scoop of any one of these new flavors, and you can count on a deliciously delightful summertime treat.
From the brands you've known and loved for years to a handful of new kids on the block, here are some of the best new ice cream flavors to look forward to this summer.
As the self-described "only full-strength ice cream" out there, Acme Valley crafts small-batch ice cream with a fabulously thick, creamy texture that has quality in every bite. Some of our favorite Acme Valley flavors for summer include Mixed Berry, Espresso, and Banana Walnut.
Noosa is famous for its fabulous yogurt, and now they're adding frozen yogurt gelato to their lineup! Made with whole milk for an extra-rich flavor and texture, Noosa frozen yogurt gelato is one of the hottest new ice creams to hit store shelves. Flavors include Honey Vanilla Bean, Strawberries & Cream, Chocolate Fudge, and Sea Salt Caramel - and each one is just as tasty as the last.
The iconic New York sweets shop has arrived in the Gelson's freezer aisle with their newest ice cream pints! You'll definitely recognize some of these unique ice cream flavors as reinventions of Milk Bar classics, including Milk Bar Pie, Cornflake Chocolate Chip Marshmallow, Birthday Bake, and Cereal Milk.

New Non-Dairy Ice Cream Flavors
Are you dairy-free? No worries, because there are still fabulous flavors for you to look forward to this summer - and several top-selling non-dairy ice creams that you'll want to check out.
Vegan Van Leeuwen ice cream and ice cream bars show how delicious dairy-free can be. Their pints include flavors like Cookies & Cream Caramel Swirl, Churros & Fudge, Cookie Crumble Strawberry Jam, and Sicilian Pistachio, just to name a few.
Dream Bites are the poppable dairy-free ice cream bites you'll always want in your freezer, especially when you see flavors like Vanilla Sky and Berry Dreams.
Imagine fabulous dairy-free ice cream dipped in a delicious chocolate shell - that is what you can look forward to with the Fudge n' Vanilla Squares from GoodPop.
Dairy-free ice cream lovers are likely familiar with Oatly pints, but what about their new ice cream bars? With Strawberry Swirl and Salted Caramel as delicious options, these dipped ice cream bars are a must-try.

Coolhaus Dairy-Free Cones
In addition to their dairy-free pints, Coolhaus introduced dairy-free ice cream cones in flavors like Farmer's Market Strawberry, Cookie Dough Lyfe, and Cookies and Cream.
San Diego-based Kula is a dairy-free ice cream pioneer, and its flavors prove it. The brand's vegan ice cream flavors include Oh, Fudge!, Candy Bar Crunch, Chocolate Cookie Monster, and the humorously named Unicorn Poop.
Morning Bree, Cherry Bomb, Mint Condition, Sunrise Bang, and Creme Brulee are the five new dairy-free ice cream flavors to be released by Klimon this year.
Plant-based ice cream gets a major upgrade from DiNoci in small-batch ice creams made with pure almond and oat milks. Their handcrafted flavors include Lemon, Salty Caramel, Mint Chocolate, and Chocolate.
Try dairy-free McConnell's flavors like Coffee Cookie Crumble, Passion Fruit Lemon Swirl, Cookies & Cream, and the ever-classic Vanilla Bean. McConnell's is also locally in Santa Barbara, so you will be supporting a local business!

Gelson's Top-Selling Ice Creams
Want to become an ice cream connoisseur this summer? In addition to the new ice cream flavors for 2022 named above, make sure you add some of our favorite and most popular brands to your summertime shopping cart:

Gelson's: Your Summertime Treats Destination
Whether you're more of an ice cream enthusiast, an ice pop devotee, or just an all-around lover of summertime sweets, Gelson's has all of the seasonal treats you need to make the most of the season and beyond. And of course, here in Southern California, every season is ice cream season!

Come to your neighborhood Gelson's to try all of the new ice cream flavors for Summer 2022 and make this your sweetest summer yet!