Snacks Recipes
5-Step Fried Olives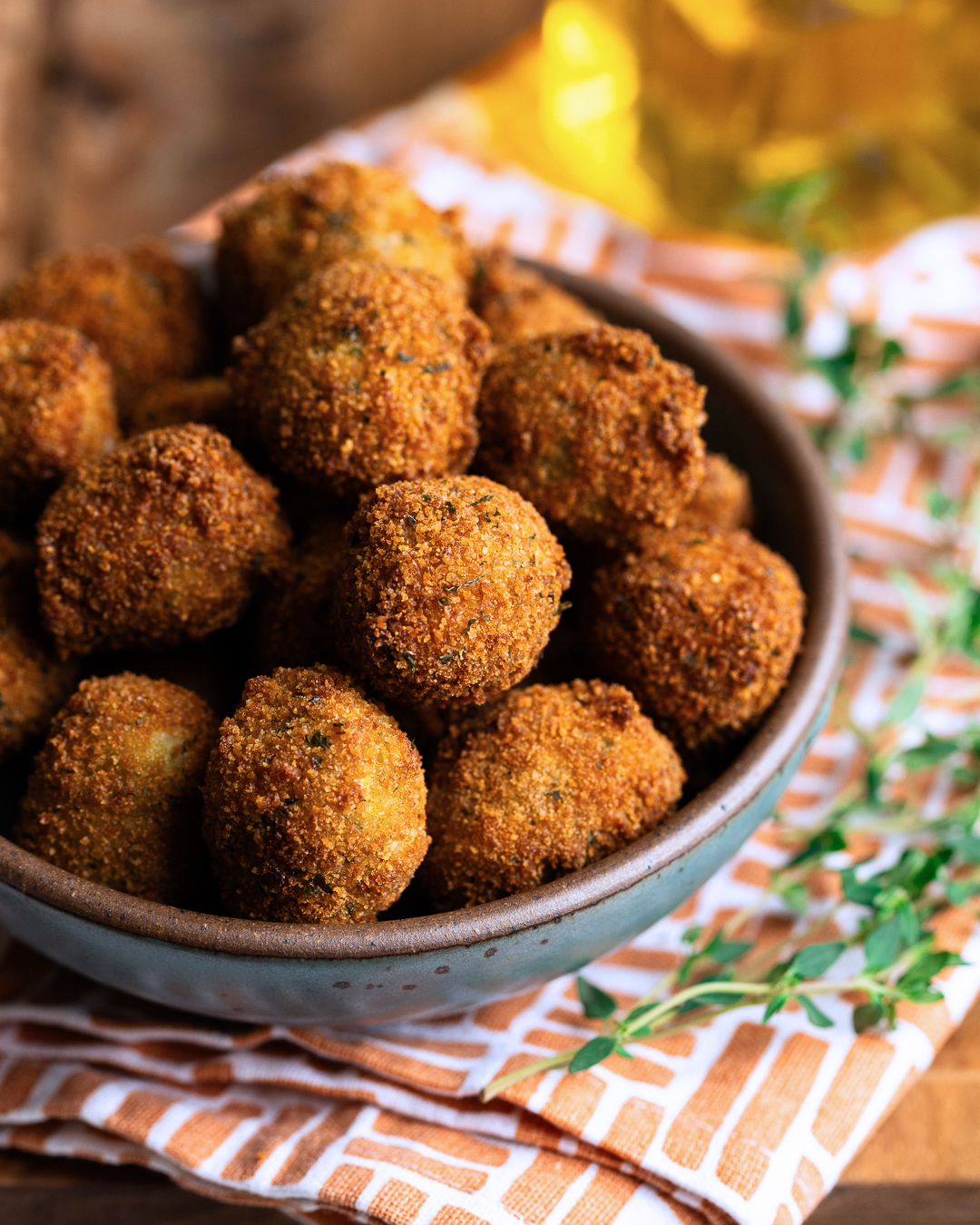 Today is the perfect day to curl up in your favorite patio chair and enjoy the fresh fall air, a pint of your favorite beer — and a bowl of these 5-Step Fried Olives. Yes, a bowl all to yourself. For this recipe is the stuff of mindless yet blissful eating, and the olives will be gone before you can reckon how many you've eaten.
The olives are stuffed with blue cheese and double coated in Italian breadcrumbs, so they fry up super crunchy on the outside and soft, juicy, briny, and cheesy on the inside. Heaven! Not into blue cheese? Explore the olive bar at your local Gelson's for your perfect olive.
Here's the recipe:
Line a large baking sheet with paper towels. Drain an 8-oz jar of @eatdivina Blue Cheese Stuffed Olives and place the olives on the paper towel-lined baking sheet. Use another paper towel to pat the olives dry.

Add ½ cup all-purpose flour to a bowl, whisk 3 eggs until smooth and streak-free in a second bowl, and put ½ cup Italian breadcrumbs in a third. To bread the olives, first dredge them in the flour, then the egg mixture, then the breadcrumbs. Repeat with the egg mixture and breadcrumbs again to double coat the olives.

Transfer the breaded olives to a baking tray fitted with a cooling rack and chill in the refrigerator for 10 minutes.

In a medium heavy bottomed pot or Dutch oven, heat about 4" vegetable oil over medium-high heat until it registers 325º on an instant-read thermometer. Working in batches, fry the olives for about 2 to 3 minutes, until golden brown.

Remove olives from the oil with a slotted spoon and transfer them to a paper towel-lined plate to drain. Serve warm in a small bowl. Leftovers can be stored in an airtight container in the refrigerator for up to 1 day.