Appetizer Recipes
5-Step Garlic Sautéed Mustard Greens with Breadcrumbs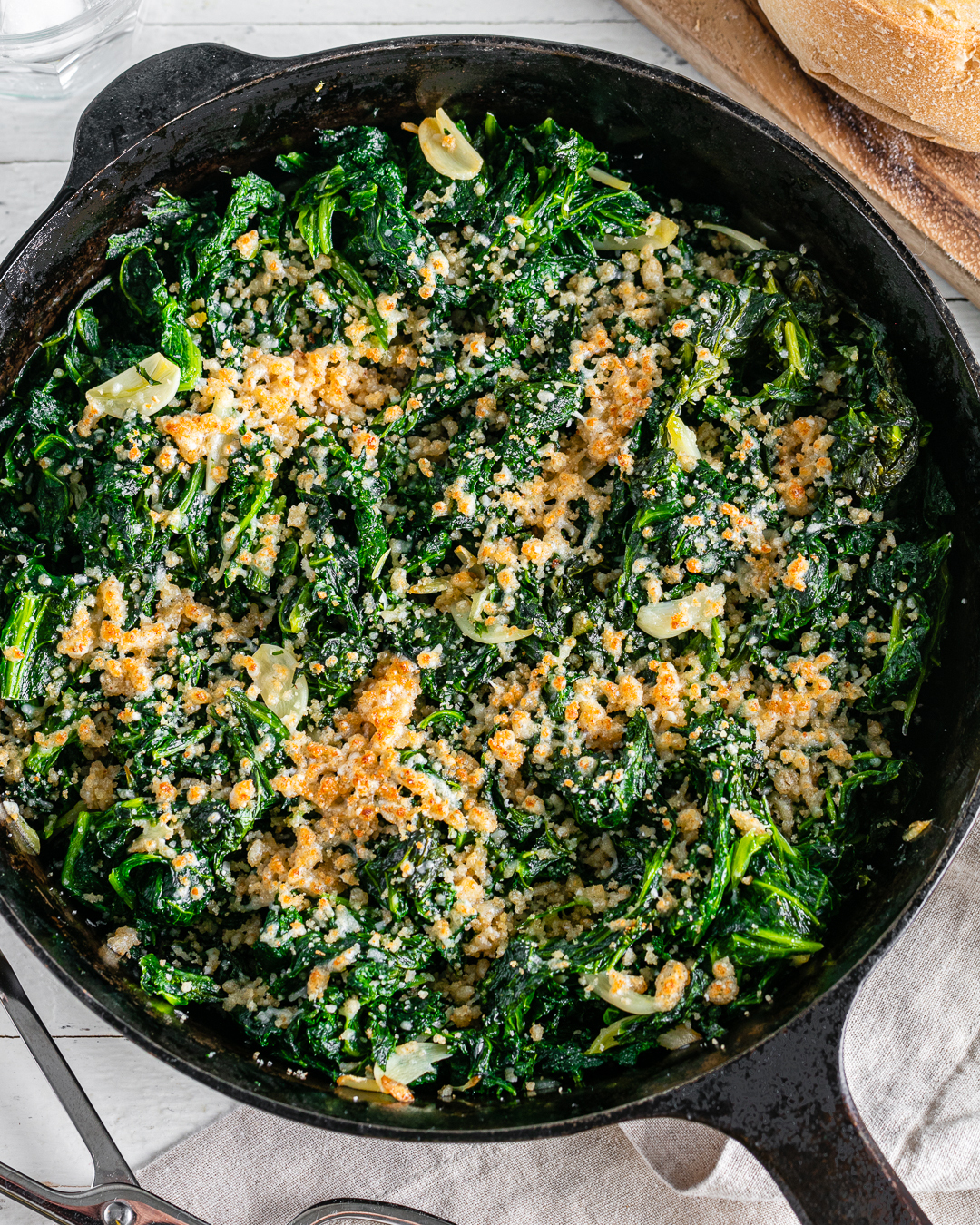 We could eat these mustard greens by the shovelful. They're pleasantly peppery and rich with garlic (10 cloves will do that) — and there's a touch of brightness from a splash of sherry vinegar. And on top? Just enough nutty Parmesan and crispy, crunchy breadcrumbs to balance the silkiness of the greens. It's a versatile dish, too! Serve it family-style with fish or pasta for dinner; throw a fried egg on top, and there's breakfast. Our tip: this recipe works with any dark leafy green, from kale to collards to chard.
Here's the recipe:
Preheat the broiler to high. Bring a large pot of salted water to a boil. Drop 3 bunches of washed and stemmed mustard greens into the water and cook until bright green and tender, about 2 minutes. Remove the greens and plunge them into ice water. Drain and squeeze any excess moisture out of the greens, and then roughly chop them into bite-size pieces.

In a cold cast-iron skillet, combine 3 Tbsp olive oil and 10 peeled and thinly sliced garlic cloves. Heat the pan to medium-high, stirring occasionally, until the garlic is soft and just barely starting to brown, about 3 minutes.

Add the mustard greens and stir until they're well coated in oil. Add 1 tsp sherry vinegar, season with kosher salt, toss to combine, and then turn off the heat.

In a small bowl, combine ½ cup freshly grated Parmesan cheese, 2 Tbsp breadcrumbs, and 1 Tbsp melted butter. Sprinkle over the greens.

Broil the greens until the cheese has melted and is golden brown, 30 to 60 seconds, depending on the distance between the pan and the broiler. Serve hot.