Appetizer Recipes
5-Step Salmon Mousse Canapes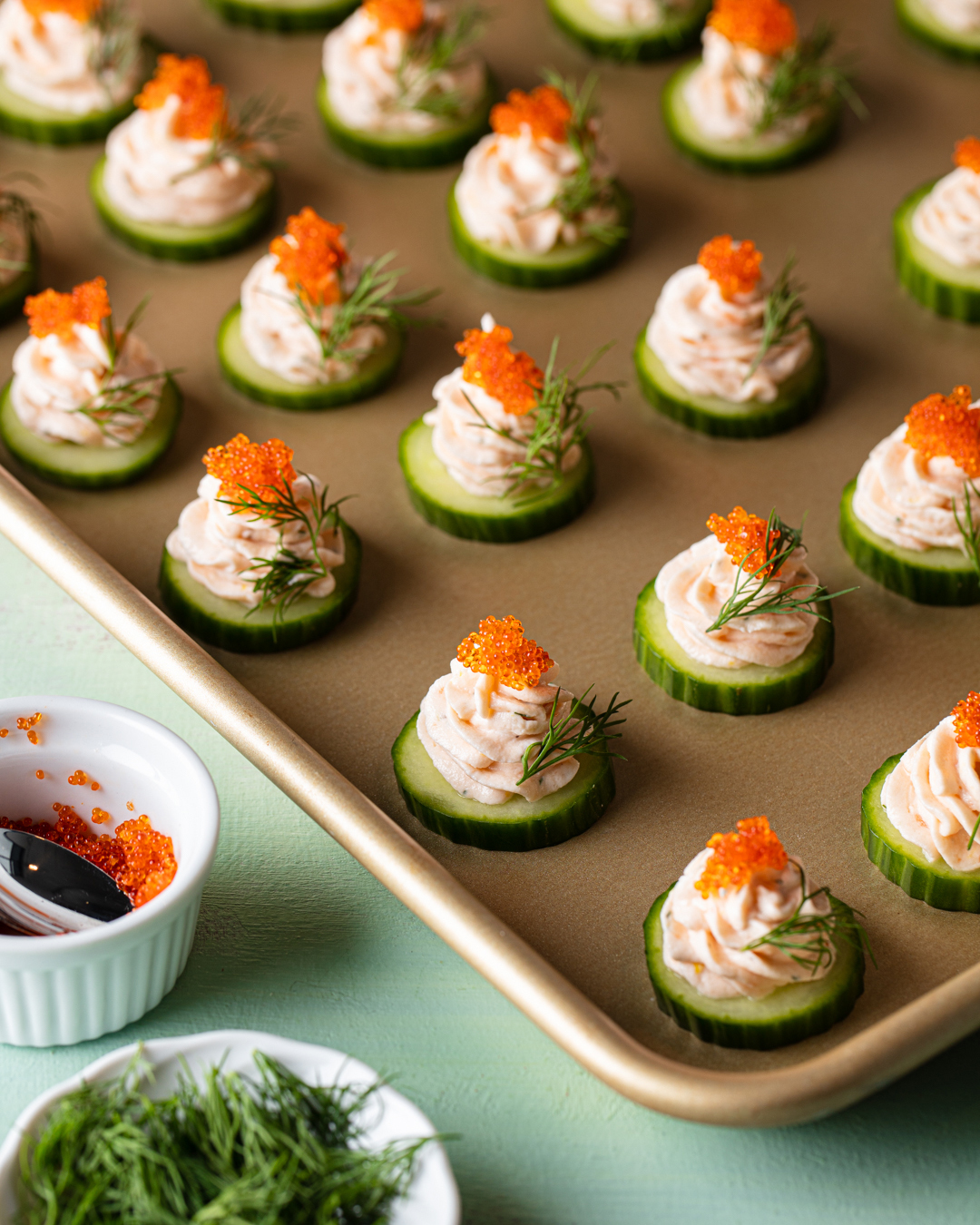 If this little bite-size number was a hat, Queen Elizabeth would be wearing it. Salmon mousse: so elegant, so lush, so fresh! But it's also one of the season's easiest last-minute appetizers. Basically, you toss the smoked salmon and cream cheese in a food processor with some aromatics, and you're halfway there. The fun part is piping the smoky mousse onto the crisp cucumber slices and adding the Day-Glo roe pom-poms and feathery sprigs of dill. Voilà! Canapes for the holidays. ⁠
Here's the recipe:
1. In the bowl of a food processor, combine 8 oz room-temperature cream cheese, 6 oz smoked salmon, 1 smashed garlic clove, the zest of 1 lemon, 1 Tbsp freshly squeezed lemon juice, 1 tsp chopped fresh dill, ¼ tsp kosher salt, and ¼ tsp freshly ground black pepper. Pulse until smooth, about 15 to 30 seconds, scraping down the sides of the bowl as needed. ⁠
⁠
2. Cover with plastic wrap and refrigerate for 20 minutes or until ready to serve.⁠
⁠
3. Meanwhile, cut 1 English cucumber into ¼" slices and place on a tray.⁠
⁠
4. Fill a star tip-fitted piping bag with the cold salmon mousse. Starting in the center, pipe the mousse onto the cucumber in a swirled pattern, about 1" high. Note: if the mousse gets too warm to pipe, pop it back in the fridge for 10 to 15 minutes.⁠
⁠
5. Garnish with fish roe and dill fronds. Serve cold.⁠