Breakfast Recipes
5-step Savory Danish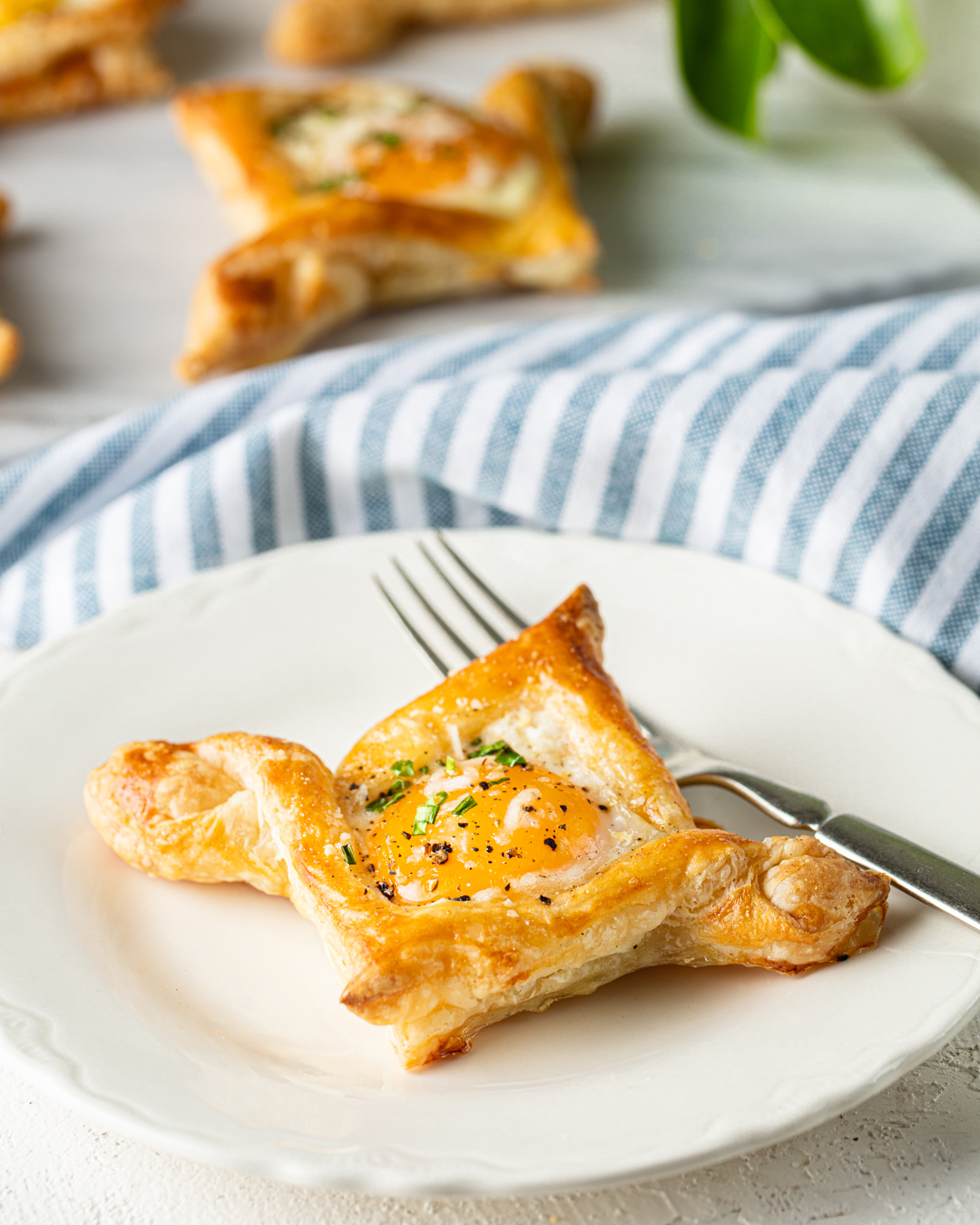 Looking at these cute, kite-shaped Danishes, you'd think they're all flaky puff pastry and jammy baked eggs. But hiding amongst all that sunny, golden brown goodness is a bit of pleasantly pungent Pecorino and salty shaved ham. We love how the cheese adds a hint of creaminess to each crispy bite — and how the ham gives the Danish some savory depth. Our tip: Make these savory Danishes for brunch with the besties. They look fancy, so everyone will ooh and aah, but they're actually super easy to make. (Hello, beauty sleep!)
Here's the recipe:
Thaw one 17 ¼ oz box of puff pastry and roll the sheets into 8x12" rectangles on a lightly floured surface. Cut each sheet into 6 4" squares. Gently fold 1 square in half diagonally to make a triangle. Working ½" from each edge, make 2 3"-long cuts from the folded side of the pastry, leaving the triangle's point intact. Unfold the pastry — you should have a square with 2 V-shaped slits. Repeat with the remaining squares.

Fill the center of each square with 1 Tbsp grated Pecorino cheese and 1 Tbsp chopped shaved ham, leaving an ⅛" border. Cross the outer pastry rims over one another, creating a decorative pattern. Beat 1 egg and brush it over the tops of the pastries.

Place the danishes on sheet pans lined with parchment paper. Bake at 375° for 7 minutes, or until the pastry is starting to puff up and brown.

For each Danish, crack 1 egg into the center of the pastry, season with kosher salt and freshly ground black pepper, and sprinkle with additional grated Pecorino cheese and chopped fresh chives. Continue baking for 13 to 15 minutes more, or until the pastry is golden brown and the eggs are set.

Serve hot, or let cool and store in an airtight container in the refrigerator for up to 5 days. Tip: Danishes are best served hot, so be sure to reheat them in the oven if you're saving some for later.