Appetizer Recipes
5-Step Twice Baked Loaded Sweet Potato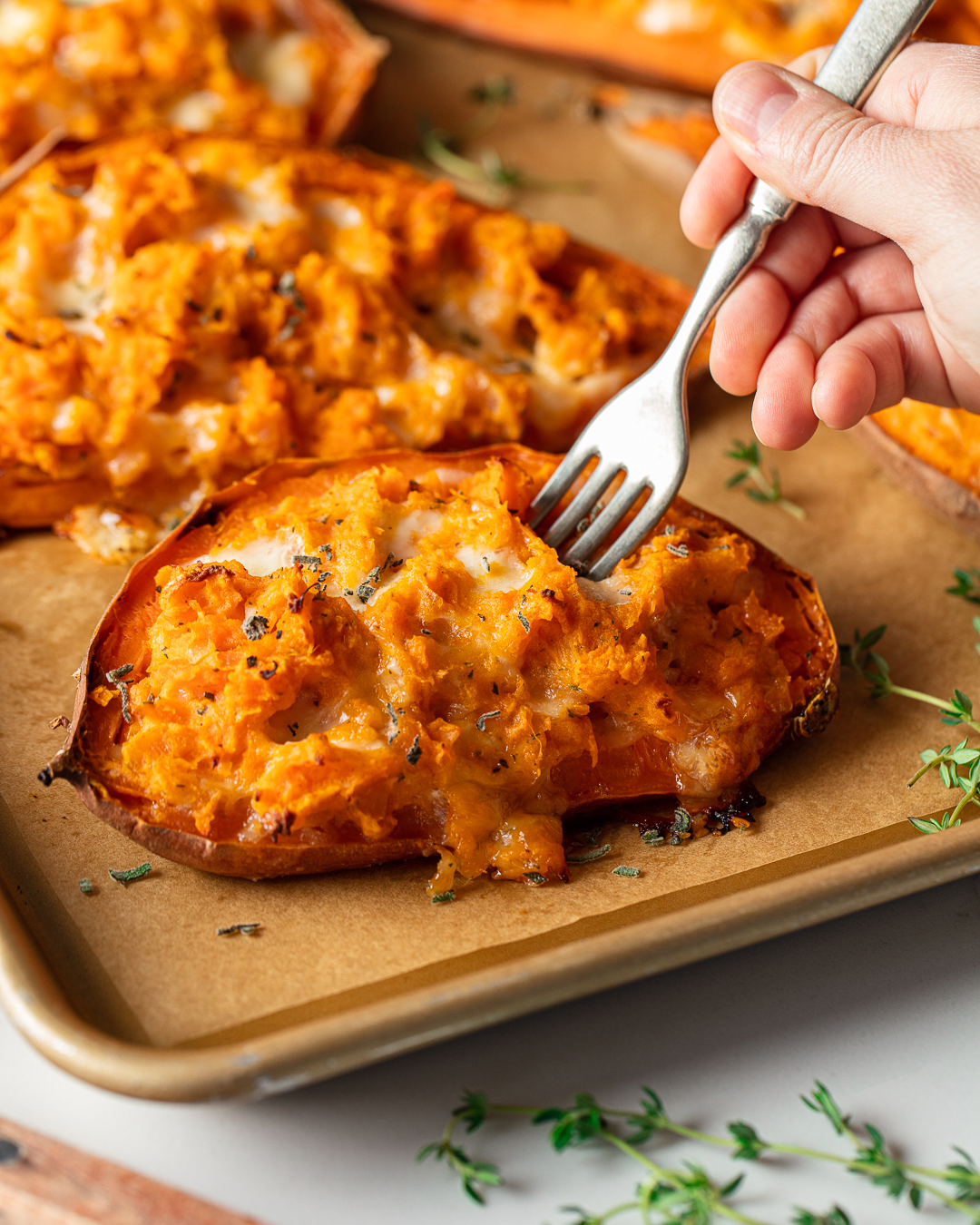 This 5-step twice baked sweet potato might be our favorite Thanksgiving side dish recipe. Creamy sweet potatoes are mashed together with a rich, savory blend of butter, herbs, garlic, and tangy Taleggio cheese, then scooped back into their jackets and baked a second time until the cheese is hot and melty. The funkiness of the Taleggio is so, so nice with the herby-sweet mash of the potato, and the fresh rosemary and sage bring a lovely fall earthiness to the whole thing.
Our tips: If you want them a little sweeter, add a dollop of honey butter on top. And make sure to put a bottle of hot sauce on the table for serving — a few shakes adds spicy brightness to the mix of comforting flavors.
Here's the recipe:

Preheat the oven to 400º. Place 3 medium sweet potatoes on a sheet pan. Bake for 50 to 60 minutes until fork-tender.

In a medium nonstick skillet over medium-low heat, melt 4 Tbsp unsalted butter. Add 2 minced shallots and 1 smashed garlic clove. Cook for 5 minutes, or until softened. Add 1 tsp chopped fresh thyme and ½ tsp chopped fresh sage and cook for 1 minute. Discard the garlic and transfer everything to a medium bowl.

Once cool enough to handle, slice the sweet potatoes in half lengthwise. Carefully scoop out the center of each, leaving a ½"-thick border of sweet potato. Transfer the scooped potatoes to the medium bowl. Place the potato halves on the sheet pan.

Mash the potatoes, butter, and shallots together. Season with salt and pepper. Stir in 1 large egg and 5 oz small-diced Taleggio.

Return the loaded mashed potatoes to the potato boats, mounding the filling. Bake for 20 to 30 minutes until the cheese bubbles and the potatoes start to caramelize. Garnish with fresh chopped sage and serve hot.
Recipe source: barefoot contessa