Dinner Recipes
Ahi Tuna Hand Rolls
There's something effortlessly cool about temaki: it's got the refined textures and flavors of maki — in a more laid-back format. As such, the hand rolls are perfect for those of us who want to make sushi at home, but perhaps (read: definitely) lack the artful dexterity of a sushi chef.
Here, we fill a delicately crunchy, toasty sheet of nori with lush Hawaiian-style ahi tuna poke from our poke bar, so there's no need to slice any fish at home. Also in the roll: chewy sushi rice, creamy Sriracha aioli, cool cucumber, peppery daikon radish, nutty microgreens, and bright, briny masago. The bite is so fresh, so full of texture, and so beautifully balanced.
We like to dip our hand rolls in punchy-sweet ponzu sauce and aromatic chile oil — and when we're feeling more indulgent than usual, a bit more Sriracha aioli. You might be tempted to dip your roll in all three at once. Give in to temptation!
Ahi tuna hand rolls (and any hand roll, for that matter) are best enjoyed very fresh, so we suggest bringing all the ingredients to the table and having everyone assemble their own rolls — think interactive dinner party. A tip from the test kitchen: Smushing a little bit of sushi rice on the empty end of the nori sheet helps the nori stick to itself and keep your hand roll tight. And if your hand roll falls apart? Who cares! It'll taste amazing anyway.
Serves: 4 to 6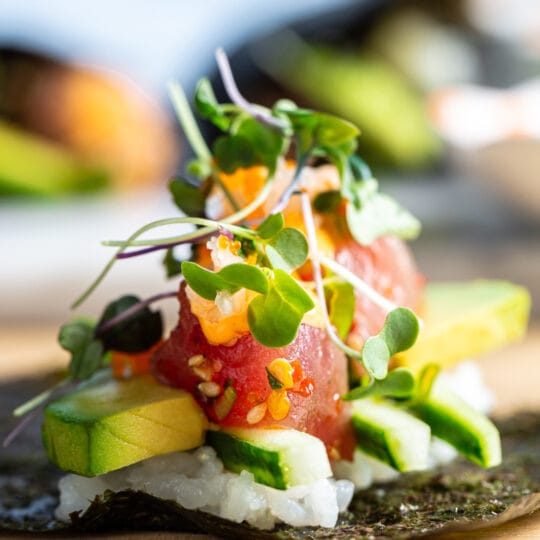 Dinner
Ahi Tuna Hand Rolls
Ingredients
1 small garlic clove, grated
6 sheets sushi nori roasted seaweed, cut in half lengthwise
1 English cucumber, julienned into 3" strips
1 lb Gelson's Hawaiian-style ahi tuna poke
¼ cup peeled and grated daikon radish
2 Tbsp Gelson's sushi masago (smelt fish roe)
¼ cup lightly packed microgreens
Gelson's pickled ginger, for serving
Directions
In a small bowl, combine the mayonnaise, Sriracha, and grated garlic. Stir to combine, cover, and refrigerate until ready to use.

To assemble one hand roll: Place one half sheet of nori horizontally on a plate or cutting board. Spread 2 tablespoons of rice on the left side of the nori.

Top the rice with 3 cucumber matchsticks, 1 to 2 avocado slices, and 2 pieces of ahi tuna. Add a spoonful of the Sriracha mayonnaise, a pinch of grated daikon, a pinch of sushi masago, and top with a few microgreens.

Gently and tightly wrap the empty end of the nori around the filled side, creating a cone shape.

Repeat steps 2 through 4 until all the hand rolls are made, or make hand rolls as you eat at the dinner table. Serve with pickled ginger, chile oil, and ponzu. Enjoy immediately.