Dessert Recipes
Air Fryer Churros
We love experimenting with new recipes in the air fryer. It's a fun, wholesome way to satisfy both our curiosity and our taste buds. This week's air fryer venture? Churros — and they get top marks in sweet snackability, overall ease, and filling the air with the warm, cozy smell of cinnamon.
Churros are basically just pâte à choux, which is far less intimidating than those French words make it sound. In fact, it's quite forgiving. We start by combining water, butter, sugar, and salt in a saucepan, and then add in flour, stirring constantly until it just starts to dry out and sticks to the bottom, or until a smooth ball forms. Next, we plop the doughy ball into a stand mixer, crack in the eggs — one at a time, so they have a chance to incorporate — add a splash of vanilla, and let 'er rip. At first, it looks like the dough is falling apart, breaking, or crumbling … but never fear! It will come together into a shiny paste. Just be patient.
From there, we put the choux in a pastry bag with a star-shaped tip. Traditionally, you'd pipe the dough directly into the fryer oil — but since we're air frying, we pipe them onto a baking mat and then pop them in the fridge for an hour. This ensures the churros maintain their shape as you transfer them to the air fryer tray. (In fact, if the choux is being fussy and difficult to work with, you can put the whole pastry bag in the fridge for 10 to 15 minutes to firm it up.)
Like anything you make with an air fryer, these churros turn out far less greasy than the oil-fried kind. But they're still crispy and golden brown, with a light and fluffy yet chewy density. While they're still warm, we toss them in cinnamon sugar. So scrumptious, so classic!
Air fryer churros are perfect for brunch, afternoon coffee, dessert … or any time in between. They don't need anything beyond their cinnamony selves, but if we're feeling particularly indulgent, we dip them in rich, luscious Nutella. And the kids love them on top of vanilla ice cream and drizzled with chocolate syrup. (And frankly, so do we!)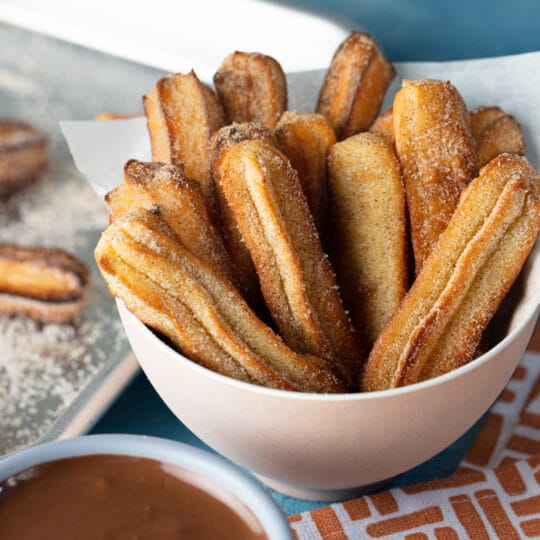 Dessert
Air Fryer Churros
Serves: 8
Ingredients
⅓ cup unsalted butter, cut into cubes
¾ tsp Gelson's ground cinnamon
Nutella, warmed, for serving
Directions
Put a silicone baking mat on a baking sheet and spray with cooking spray.
In a medium saucepan over medium-high heat, combine the water, unsalted butter, granulated sugar, and kosher salt. Bring to a rolling boil.
Reduce the heat to medium-low and add the all-purpose flour to the saucepan, stirring constantly with a wooden spoon. Cook until the dough comes together in a smooth ball, 1 to 2 minutes.
Transfer the dough to the bowl of a stand mixer fitted with the paddle attachment. Let cool for 4 minutes.
Add the eggs, one at a time, and the vanilla extract, and mix until it forms a smooth, shiny paste.
Transfer to a large piping bag fitted with a large star-shaped tip.
Pipe 4"-long churros onto the greased baking mat. Cut the ends of each churro off with scissors for a clean cut.
Refrigerate the piped churros on the baking sheet for 1 hour.
Spray the air fryer tray with cooking spray. Working in batches, carefully transfer the churros to the air fryer tray with a cookie spatula, leaving about ½" between churros. Spray the churros with cooking spray.
Air fry at 375° for 5 to 6 minutes, or until golden brown on one side. Flip, spray, and return to the air fryer for 2 to 3 minutes more, or until golden brown.
Repeat steps 9 and 10 until all the churros have been air fried.
Meanwhile, in a shallow bowl, whisk together the granulated sugar and cinnamon.
Immediately transfer the baked churros to the bowl of cinnamon sugar and toss to coat.
Serve the churros warm with warmed Nutella.