Dinner Recipes
Air Fryer Fish Sandwich
It's no wonder that so many people's favorite guilty pleasure is a fast-food fish sandwich. It's the perfect combination of savory crunch and creamy sauce, all in a happy little handheld package. But now we've made it possible to pull out of the drive-through line and head back home, with a recipe that recreates that craveable experience right in your home kitchen — no messy frying required.
After a quick breading with panko, the light, delicate cod spends just about 10 total minutes in the fryer, but it emerges with a shatteringly crisp exterior and a perfectly flaky interior. Honestly, if you've been wondering about getting an air fryer, this recipe alone might make the investment worthwhile.
When your main ingredient is such a superstar, the rest of the meal should be just as spot-on: Choose soft, tender rolls for the bread here, and take that extra step of toasting them in a bit of butter. Don't skimp when slathering on the tartar sauce or providing a generous squeeze of fresh lemon, either. Include fresh sandwich toppings like lettuce, onion slices, and sweet pickles so there's a cool-warm contrast in every bite. If you like life on the spicy side, bring a bottle of Louisiana hot sauce to the table for peppery boost.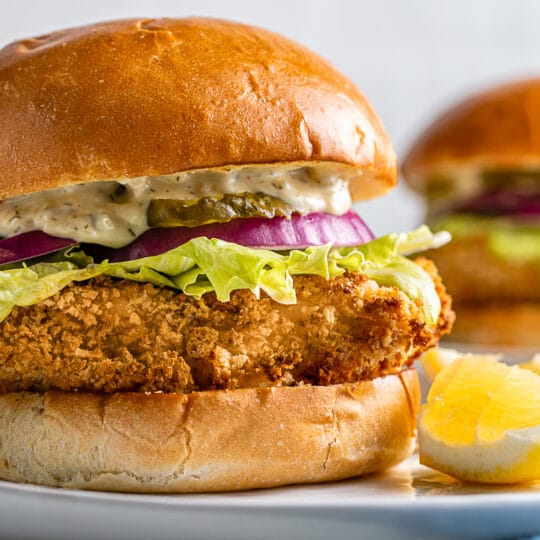 Dinner
Air Fryer Fish Sandwich
Serves: 4
Ingredients
1 ½ cups panko breadcrumbs
4 4-oz cod fillets, ¾" to 1" thick
Fresh-squeezed lemon juice, to taste
4 Tbsp unsalted butter, divided
4 leaves iceberg lettuce, torn, divided
2 slices red onion, divided
½ cup Gelson's tartar sauce, divided
¼ cup bread and butter pickles, divided
Louisiana hot sauce, for serving
Directions
Set up a breading station using 3 bowls: In the first bowl, whisk together the flour, paprika, and cayenne pepper. In the second bowl, beat the egg. In the third bowl, add the panko.

Spray the grate of an air fryer with nonstick spray.

Rinse the cod fillets and pat them dry. Season with salt and pepper.

Place 1 cod fillet in the flour mixture and coat it on all sides, shaking off any extra flour. Next, transfer the fillet into the egg and coat it on all sides, shaking off any excess. Lastly, coat the fillet in a thick layer of panko and place it on the air fryer rack.

Repeat with the remaining fillets. Generously spray all of the fillets with oil.

Cook the fillets in the air fryer for 5 minutes at 400°.

Flip, spray, and bake the fillets for an additional 5 to 7 minutes, or until flaky. When the internal temperature of the fillets registers 145°, remove them from the heat, set aside on a cooling rack, and top each with a squeeze of lemon juice.

Meanwhile, spread ½ tablespoon of the butter on each bun. Toast the buns, butter-sides down, in a nonstick pan over medium-high heat until golden brown.

Top 1 bottom bun with 1 piece of fried fish, ¼ of the torn lettuce, and a few rings of red onion. Spread 2 tablespoons of the tartar sauce on the top bun, add a few bread and butter pickles, and close the sandwich.

Repeat with the remaining sandwiches. Serve immediately with Louisiana hot sauce.