Lunch Recipes
Air Fryer Fish Tacos with Cilantro Slaw and Lime Crema
It's possible the air fryer was invented just so that we could fry fish in it. It turns breaded fish fillets into something wondrous — perfectly crispy on the outside, tender and flaky on the inside. You could just go ahead and eat them as fish sticks, but you'd be missing out because they are so very good in these tacos!

Here we've combined them with a crunchy, mildly spicy slaw and a lime crema. Despite the awesomeness of the fish, the crema nearly stole the show. It's creamy smooth, full of cilantro, bursting with lime flavor — and so deeply satisfying as a condiment that our tasters requested that we add it to our list of kitchen staples, along with such things as coffee creamer.


Our tip: These tacos have Friday night on the patio written all over them. Put out some chips and guacamole, a small pitcher of our tangy-sweet tangerine margaritas and, boom, you have a happy hour. Feeling scrappy? Make your own tortillas!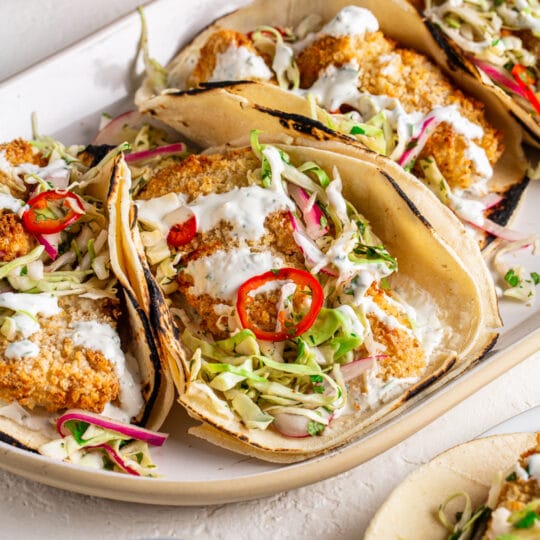 Lunch
Air Fryer Fish Tacos with Cilantro Slaw and Lime Crema
Serves: 4
Ingredients
2 cups cabbage, finely shredded
1 cup cilantro, rough chopped
1 Anaheim chile, sliced thin
2 tsp salt, plus more for seasoning
1 ½ lbs fresh cod fillets
Directions
For the slaw: in a medium bowl, combine all of the ingredients and set aside.
For the lime crema: in a small bowl, mix together all of the ingredients and set aside.
For the fish: In a medium bowl, whisk together the flour, 2 teaspoons of the salt, pepper, chili powder, and cumin, and transfer it to a plate.
In the same medium bowl, whisk together the eggs and milk.
In a separate medium bowl, combine the breadcrumbs and a pinch of salt.
Cut each of the fish fillets into 1 to 2-oz strips.
Dredge each piece of fish in the flour, then the egg mixture, then the breadcrumbs, making sure it is well coated with each one before moving to the next.
Next, spray cooking oil on each side of the fish strips and place them in the air fryer basket. Cook for 15 minutes at 375º, turning halfway through and re-spraying the strips with oil.
While the fish cooks, warm the corn tortillas on a dry, hot cast-iron skillet and wrap them in a towel to keep them warm and pliant.
Remove the fish from the air fryer and allow it to cool for 3 minutes.
Build your tacos, layering fish, slaw, and lime crema in the corn tortillas. Serve immediately.