Breakfast Recipes
Air Fryer French Toast
At first glance, French toast sticks might feel like kid stuff, but we have a few good reasons — rather scientific reasons — why they belong at both the big and the little kid tables.
The first is that French toast sticks soak up more of the rich, eggy goodness than a whole piece of bread, especially if you make them out of brioche. That's because there's more surface area. In this case, the eggs are beaten together with vanilla and cinnamon — we're generous with the latter, so while the flavors are still classic, there's a spicy warmth to the toast.
Our second reason for loving French toast sticks as fully grown adults is that when you put them in an air fryer they get very crispy on all four sides, but the interior stays soft and slightly custard-y, like bread pudding. Delectable! Plus, they hold their crisp for a while, which is something you can't always say about pan-fried French toast and a bonus when you're cooking a bunch of sticks for your brunch pack.
Dip-ability is our third reason for eating French toast sticks while adulting: It's so fun to teach our littles how to dip their toast in massive puddles of maple syrup. It takes us right back to the 90s and frozen French toast sticks. Ah, Rosebud.
Yield: About 24 sticks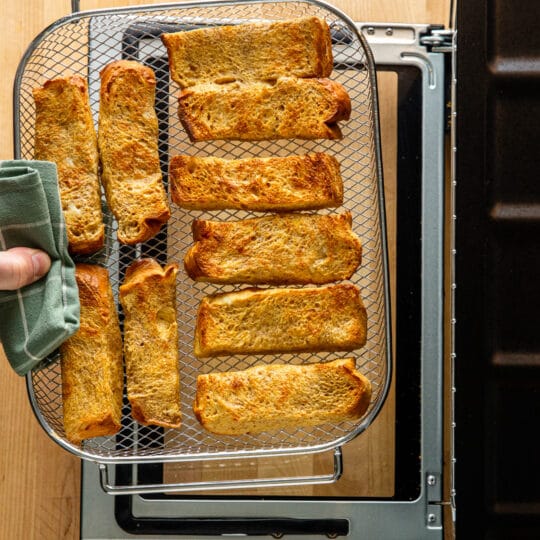 Breakfast
Air Fryer French Toast
Ingredients
1 tsp Gelson's ground cinnamon
8 slices brioche bread, cut into 1 ½" sticks
Directions
Preheat the air fryer to 400°. Line the air-fryer tray with parchment paper to prevent sticking, if needed, and spray with cooking spray.

In a large shallow bowl, whisk together the eggs, milk, vanilla, cinnamon, and a pinch of salt.

Dip each piece of brioche into the eggs and flip them over to coat both sides.

Working in batches, fill the air fryer tray with the brioche pieces, leaving a little space in between each piece. Cook for 7 to 8 minutes, or until the French toast is golden brown and puffed.

Repeat until all of the French toast sticks are cooked.

Serve the French toast sticks warm with maple syrup.
Adapted from: Feel Good Foodie