Appetizer Recipes
Air Fryer Onion Rings & Comeback Sauce
Air fryer onion rings are just as satisfying as the deep-fried ones, and they won't coat your backsplash with oil or give you high blood pressure. However, they may cause elevated heart rates: it's just so thrilling to eat a pile of onion rings.
Here we've used Vidalia onions, so we get great, big, sweet rings. They're dipped in panko crumbs, buttermilk, and flour, which yield a super light, crispy, crunchy onion ring. The crust is terrific with the sweet onion — and a dollop of comeback sauce.
If you've never had comeback, it's the South's answer to fry sauce, and it's got elements of Thousand Island dressing and barbecue sauce. This version is tangy-sweet with just a hint of heat. It really brightens up the onion rings, and yes, you will be coming back for more — it's a double-dipper's paradise.
Our tip: Onion rings are definitely happy hour fodder. You'll want to double the recipe and pair them with an ice cold beer. Think about something light, refreshing, and not too hoppy, like a Kona Big Wave golden ale.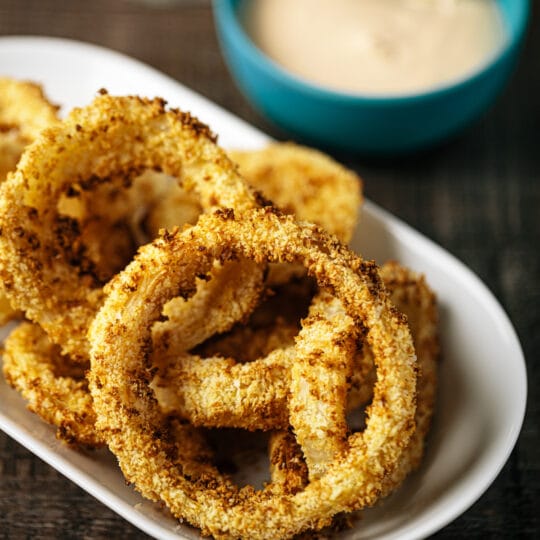 Appetizer
Air Fryer Onion Rings & Comeback Sauce
Serves: 2
Ingredients
½ tsp kosher salt, divided, plus more for seasoning
2 cups panko bread crumbs
1 large Vidalia onion, cut into ½-inch rounds and separated into rings
¼ cup plain 1% low-fat Greek yogurt
Directions
In a shallow dish, stir together the flour, smoked paprika, and ¼ teaspoon of the salt.

In a second shallow dish, lightly beat the eggs and buttermilk.

In a third shallow dish, stir together the panko and remaining ¼ teaspoon of the salt.

Dredge the onion rings in the flour mixture, shaking off the excess. Dip the rings in the egg mixture, allowing any excess to drip off. Dredge them again in the panko mixture, pressing to adhere. Coat both sides of the onion rings well with cooking spray.

Place the onion rings in a single layer in an air fryer basket, and cook them in batches at 375° until golden brown and crispy on both sides, about 10 minutes. Turn the onion rings over halfway through cooking.

Meanwhile, to make the comeback sauce, stir together the yogurt, mayonnaise, ketchup, mustard, garlic powder, hot paprika, and a pinch of salt in a small bowl until smooth.

Transfer the cooked onion rings to a platter and serve immediately with a side dish of the comeback sauce. Your guests can nosh while you make the next batch.

Recipe adapted from: Cooking Light