Snacks Recipes
Air Fryer Pickles
We don't know about you, but we've been craving snacks and munchables more than ever lately. Maybe it's because they're so comforting. Maybe it's because even we food lovers get a little tired of planning and cooking entire meals. And maybe, if we eat enough snacks, we won't have to worry about meal prep (one can dream!). Regardless, the test kitchen folks have been indulging all our snacky whims — hence, these crispy, crunchy, air fryer pickle chips and an unfussy yet punchy swirl of a dip.
To start, we coat the sour, briny dill pickle chips in a batter of cayenne pepper, Cajun and Italian seasonings, buttermilk, hot sauce, and panko breadcrumbs. Spicy, herby, vinegar-y, tangy — the breading packs a lot of flavor into a wee little bite. These pickles taste best when they're extra crunchy, so here's our tip: Don't overcrowd the air fryer. We try to place them in a single layer with a little space between each one to ensure they fry up nice and even.
Because they're air fried, these pickle chips are much less fatty and oily than the traditional, deep-fried sort. But thanks to a creamy, subtly spicy dip made of stuff we found in our fridge and pantry — mayonnaise, ketchup, horseradish, Cajun seasoning — you won't miss the oil at all. In fact, if you're anything like us, you'll probably eat them like popcorn. And just like popcorn, these little pickle pals are a perfect snack for family movie nights or watching a Dodgers game. Just do yourself a favor and open a bottle of cerveza while you're at it!

Servings: 4 to 6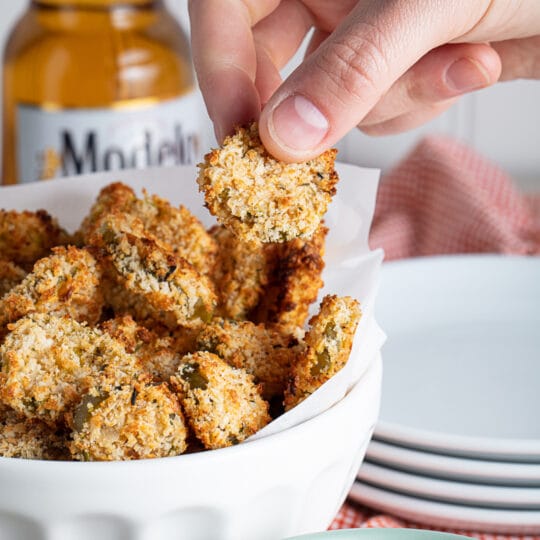 Snacks
Air Fryer Pickles
Ingredients
1 tsp prepared horseradish
¼ tsp ground cayenne pepper
1 ½ tsp Cajun seasoning, divided
1 ½ cups panko breadcrumbs
½ tsp kosher salt, plus more to taste
Directions
To make the dipping sauce: whisk together the mayonnaise, ketchup, horseradish, and Cajun seasoning in a small bowl.


To make the pickles: Preheat a 3 ½-quart air fryer to 390°. Set a wire rack inside one baking sheet and line another baking sheet with paper towels.

Drain the pickles and spread them out on the paper towel-lined baking sheet. Pat them dry with more paper towels, pressing gently to remove as much moisture as possible. Remove any pickles that are very thin.

Set up a breading station using 3 medium bowls: In the first bowl, whisk together the flour, cayenne, and ½ teaspoon of Cajun seasoning.

In the second bowl, combine the buttermilk and hot sauce.

In the third bowl, combine the breadcrumbs, Italian seasoning, salt, and the remaining 1 teaspoon Cajun seasoning. Drizzle the olive oil into the third bowl and use your hands to toss and coat the breadcrumbs with the oil.

Working in small batches, bread the pickles: First, toss a handful of pickles in the flour mixture, shaking off any excess. Then, dunk them into the buttermilk mixture to completely coat, shaking to remove any excess. Finally, toss them in the breadcrumbs, pressing gently to make the breadcrumbs adhere.

Arrange the breaded pickles on the rack in the baking sheet and repeat until all of the pickles are breaded.

Put ⅓ of the breaded pickles in the basket of the air fryer in a single layer. Cook for 8 minutes. The pickles will be very crunchy and browned on both sides. Remove to a serving plate and repeat with the remaining two batches of pickles.

Serve the warm pickles with the dipping sauce or put them on your favorite burger and use the dipping sauce as a condiment.
Recipe adapted from: Food Network
Calculate nutrition information for this recipe.