Dinner Recipes
Air Fryer Togarashi Salmon
As one of our test kitchen tasters so eloquently put it, "This salmon is slammin'!" It's ultra-tender — almost unctuous — and bursting with funky flavor and the most wonderful aromatic heat. The best part? It's unbelievably easy to make. All it takes is a sprinkle of Togarashi seasoning (Korean chili flakes is a great substitute). a slather of garlic- and ginger-infused olive oil, and a quick seven minutes in the air fryer.
It's amazing how just a teaspoon each of the garlic and ginger brings out the best in the togarashi blend: the oomph of the orange peel, the mild heat of the chiles, the nuttiness of the toasted sesame seeds, and the umami of the itty-bitty nori flakes. Call us cliché, but a little really does go a long way!
Air fryer togarashi salmon is a super simple, super versatile weeknight meal; you can serve it just about any way you want. We love it with chewy white rice, salted edamame, briny quick-pickled veggies — think cucumber and radish — and some thinly sliced green onion for garnish. Also encouraged: drizzling the salmon with extravagant amounts of Kewpie mayo and sriracha.
Our tips: If you like your salmon well done, add another couple minutes to the cook time. Entertaining? You're in luck! This recipe is really easy to scale up for four or more eaters.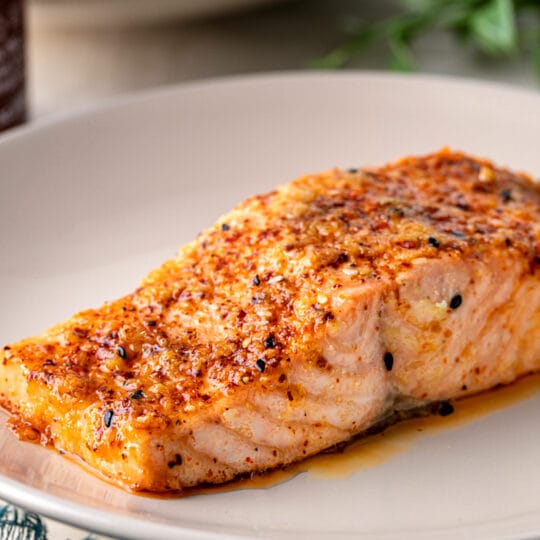 Dinner
Air Fryer Togarashi Salmon
Serves: 2
Ingredients
2 6-oz salmon fillets, skin removed
Freshly ground Gelson's black pepper, to taste
2 tsp togarashi seasoning, or Korean chili flakes
3 Tbsp extra virgin olive oil
1 tsp peeled and grated ginger
Directions
Preheat an air fryer to 400° and line a rimmed air fryer tray with foil.

Place the salmon fillets on the prepared tray, pat them dry with a paper towel, and season with salt and black pepper. Sprinkle each fillet with 1 teaspoon togarashi.

In a small bowl, whisk together the extra virgin olive oil, garlic, and ginger. Brush the oil and aromatics over the salmon fillets.

Fry the salmon fillets for 7 minutes, until cooked through yet quite tender.

Rest the salmon for 2 minutes, then serve hot with your favorite sides.