Dinner Recipes
Airline Turkey Breast & Roasted Vegetables
Come fly with me, let's fly, let's fly away! Attention jet-setters: this irresistible turkey dinner will have you singing Frank Sinatra all night long. It's called "airline" because the boneless, skin-on turkey breast comes with the drumstick still attached. Back in the heyday of in-flight meals, chicken dinners were served this way because it was easier for passengers to use the drumstick as a handle to pick up the meat. (Some people think the cut actually resembles an airplane, too!)
While we're probably not going to attempt to lift up an entire turkey breast up by its leg, we're definitely adding this recipe to our holiday plans. It's the perfect size for a small family, or for Friendsgiving with your nearest and dearest: there's no giant bird to wrangle, and you won't be eating leftovers for the rest of your life.
First, we plunge the turkey breast into a rich brine made with pungent garlic, earthy thyme and rosemary, spicy peppercorns, and of course, salt and sugar. Then, we brush it with herbed lemon butter and roast it with a medley of Brussels sprouts, potatoes, shallots, and whole garlic cloves. In the oven, the veggies soak up all that luscious lemon-garlic flavor, while the turkey gets nice and crispy on the outside and oh-so tender on the inside — it practically melts in your mouth.
Our tip: Our meat cutters would be happy to cut your turkey breasts airline-style. Just stop by the meat counter at your neighborhood Gelson's and ask!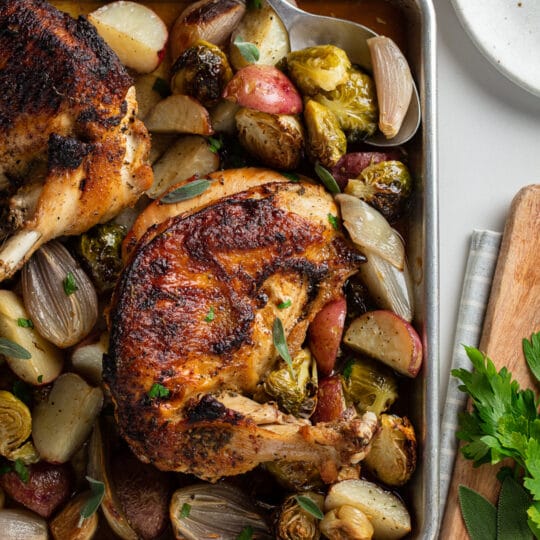 Dinner
Airline Turkey Breast & Roasted Vegetables