Dinner Recipes
Andouille Sausage & Shrimp Gumbo
There are probably as many gumbo recipes as there are families on the Gulf Coast. This one is fairly traditional and very simple. In addition to spicy andouille sausage, it's full of curly shrimp, tomatoes, and other, more crunchy veggies — and for some folks, that makes it a summer gumbo. Yet it also has a wonderfully creamy, super punchy sauce, so for us, it's still comfort in a bowl, even if it's the kind you can enjoy on a warm day.
Although an easy recipe, it has some cool cooking techniques in it. A home cook can learn how to make a brown roux, which is really the heart of a gumbo. It comes down to patience: you must keep whisking, continuously and slowly, until the roux is a rich, caramel color and full of flavor.
Making gumbo is also a chance to mess around with what cooks call the "holy trinity," or the mirepoix of Cajun and Creole cooking. Traditionally, it's equal parts onion, celery, and green pepper. Here, we've given it a summery, SoCal update with some sweet, crunchy corn. The trick is to cook the veggies slowly, over low heat, so that rather than caramelizing, they become tender and sweet.
All by itself, gumbo is a one-pot, one-bowl wonder: it's got all the proteins and veggies you could want. But who could waste all that beautiful sauce? You'll need a little rice or some crusty bread to sop it up.
Our tip: We like a cold beer with our summer gumbo. Try a pale ale, like AleSmith San Diego Pale Ale .394 — it has a sweet, malty finish that will be just right with the saucy stew.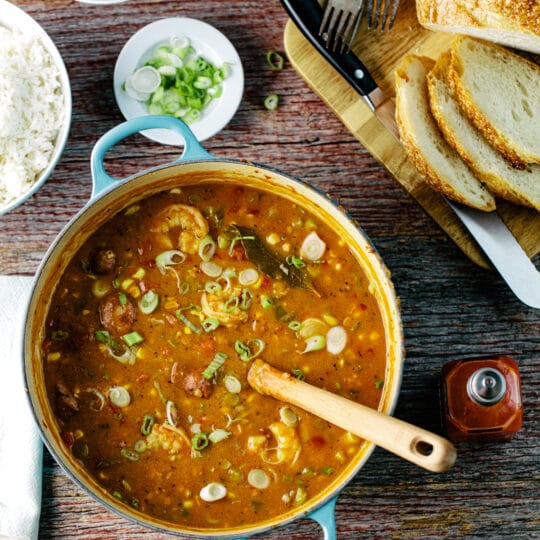 Dinner
Andouille Sausage & Shrimp Gumbo
Serves: 10
Ingredients
½ cup canola or vegetable oil
3 stalks of celery, diced
1 medium yellow onion, diced
2 ears of corn, kernels removed
12 oz andouille sausage, cut into ½-inch pieces
1 15-oz can diced tomatoes
1 ½ Tbsp Louisiana-style hot sauce
¼ cup green onion, sliced thin
Directions
Prepare the rice according to the package instructions, and set aside.

In a large, heavy-bottomed pot or Dutch oven, combine the oil and flour over medium heat, whisking continuously until a brown roux has formed, about 15 to 20 minutes. It should be the color of caramel. Watch your roux carefully, so it doesn't burn. If it does burn, start over.

Add the bell peppers, celery, onion, and corn kernels. Cook the veggies on medium-low heat until they're sweet, fragrant, and tender, about 7 to 10 minutes.

Add the andouille sausage and garlic and cook for another 10 minutes, scraping up the crispy bits from the bottom of the pot.

Sprinkle the gumbo with the Cajun seasoning, and stir to combine. Add the hot sauce and diced tomatoes with their juice, and cook for 3 to 5 minutes.

Add the chicken stock and bay leaf, and bring the gumbo to a simmer. Cook for 30 minutes.

Add the shrimp and cook for 15 minutes or until the shrimp are pink, firm, and slightly curled.

Serve the gumbo hot with rice and a garnish of sliced green onions.