Dessert Recipes
Baci di Dama (Italian Hazelnut Cookies)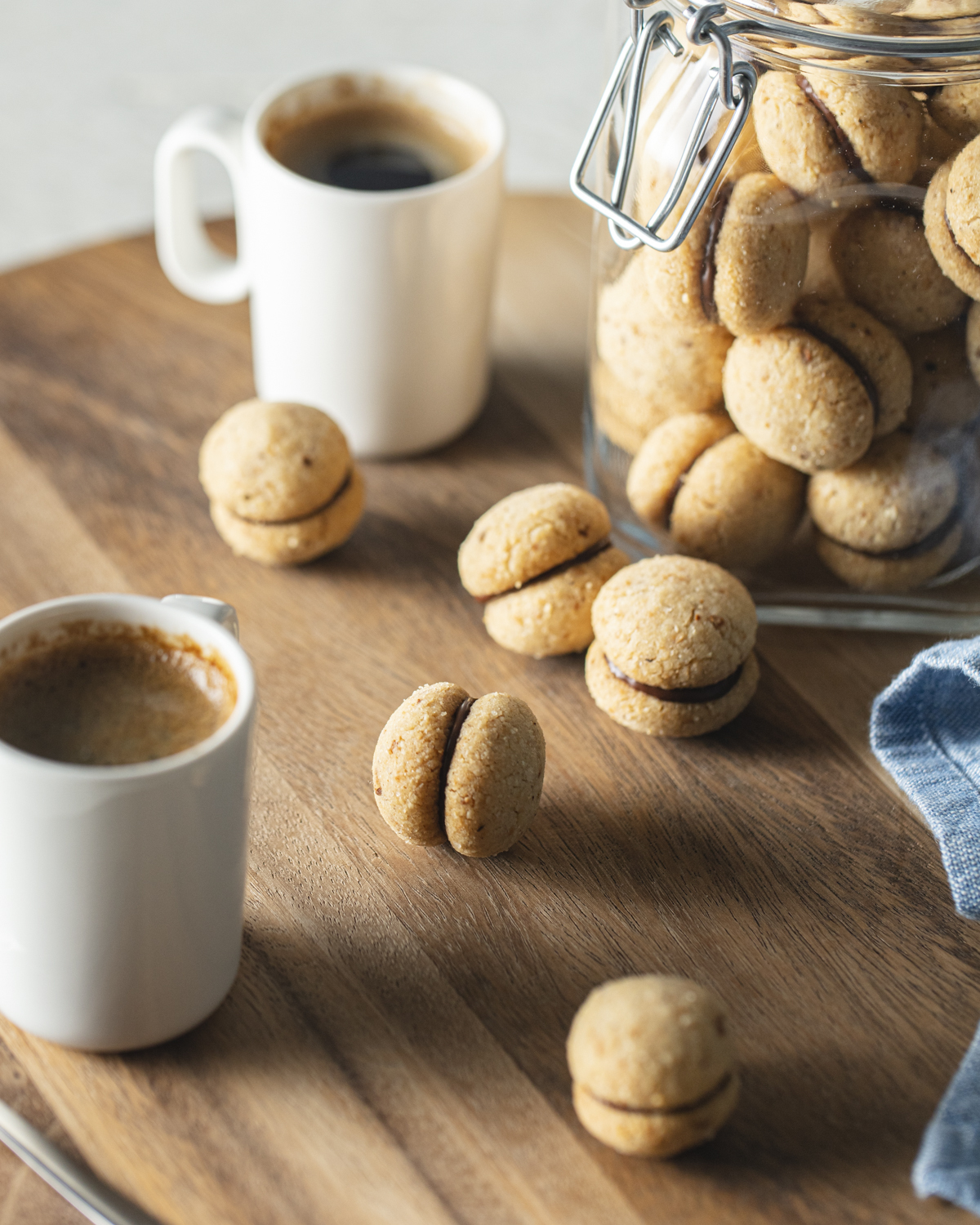 In Italian, baci di dama translates to lady kisses. They do have a light, delicate shortbread texture that crumbles when you bite into it, giving way to a creamy center — all of which is so lovely you'll want to cram five little kisses into your unladylike mouth at once. It doesn't help that they're full of freshly roasted hazelnuts and only lightly chocolaty, so they taste like very fancy Nutella.
For such a darling sandwich cookie, baci are surprisingly easy to make — your food processor will do most of the work for you. Sure, it takes some time to roll out those dainty balls, but isn't that what Saturday afternoons were invented for? Put on your favorite podcast and let it roll.
A plate of baci is the perfect accompaniment for a cup of espresso or a glass of red wine, and you should definitely make one for the holiday edition of family game night. Baci are sweet enough to feel like a treat and keep everyone in a festive mood — but not so sweet that they'll tip things in a fractious direction.

Ingredients

¾ cup hazelnuts
⅔ cup all-purpose flour
½ cup sugar
¼ tsp kosher salt
6 Tbsp unsalted European-style butter, cut into ½-inch pieces and chilled
2 oz bittersweet chocolate, chopped

Directions

Preheat the oven to 325º.

Toast the hazelnuts on a rimmed baking sheet until fragrant, 10 to 12 minutes, shaking the sheet halfway through toasting. To skin the nuts, gather them in a dish towel and rub to remove the skins. (It's okay if some skins remain.)

Line 2 rimmed baking sheets and the bottom of one 8-inch square baking pan with parchment paper.

In a food processor, process the toasted hazelnuts, flour, sugar, and salt until the hazelnuts are very finely ground, 20 to 25 seconds. Add the butter and pulse until the dough just comes together, 20 to 25 pulses.

Transfer the dough to the counter and knead briefly to form a smooth ball. Place the dough in the prepared 8-inch square baking pan and press it into an even layer. Freeze the dough for 10 minutes. (Note: A square-cornered metal baking pan works best for shaping the dough. If you're using a baking dish with rounded corners, be sure to square the corners of the dough before portioning.)

Lift the parchment paper to remove the dough from the pan. Place it on a cutting board and cut the dough into 64 squares (8 rows x 8 rows). Roll the dough squares into balls and space them out evenly on the prepared baking sheets.

Bake one sheet at a time for about 20 minutes, rotating the sheet halfway through baking, until the cookies are set. Transfer the sheet to a wire rack, and let the cookies cool completely, about 30 minutes.

In a small bowl set over a pan of simmering water, melt the chocolate, stirring constantly, for 3 to 5 minutes. Set the bowl of chocolate on the counter and let it cool until it is slightly thickened, about 10 minutes.

Spread ¼ teaspoon of the chocolate over the flat sides of half of the cookies, then top with the remaining cookies, pressing lightly to adhere. Let the chocolate set for at least 15 minutes before serving. (The cookies can be stored in an airtight container at room temperature for up to 10 days.)
Recipe source: Cook's Illustrated
Calculate nutrition information for this recipe.