Dinner Recipes
Baked Ziti
In the test kitchen, one of our tasters dubbed baked ziti "The Dinner of Champions," and by champions they meant every Sicilian nonna in America. Baked ziti is Italian family food at its best.
It comes together like a messy lasagna. You stir the red sauce — a rich, meaty affair made with pork and plenty of garlic and red pepper flakes — through just-barely-cooked noodles and then layer them in a baking pan with more red sauce and loads of cheese. The latter is a combination of ricotta and cream, which not only provides a lush counterpoint to the sauce's mild heat, but also helps the noodles cook to al dente. Add more sauce, and pools of melty mozzarella, and it's a crowd-pleasing masterpiece.
Our tip: Although ziti pasta is traditional in the recipe, you can sub in just about any noodle you like. Right now, we are VERY excited about our new Gelson's artisanal pasta line, so we used our organic penne. Molto bene!

Serves: 6 to 8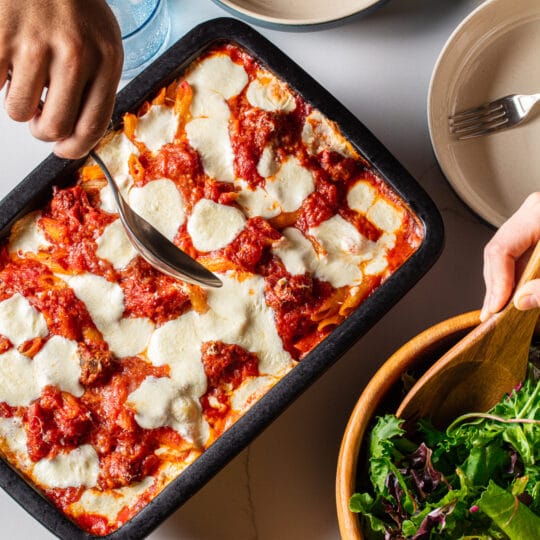 Dinner
Baked Ziti
Ingredients
Freshly ground Gelson's black pepper, to taste
2 Tbsp Gelson's 100% California extra virgin olive oil
1 large onion, diced small
1 28-oz can San Marzano whole peeled tomatoes
1 tsp Gelson's dried oregano
½ cup grated Parmesan, plus more for topping
1 lb Gelson's organic penne
1 lb fresh mozzarella cheese, cut into ½" pieces
Directions
Preheat the oven to 425º. In a large bowl, combine the ground pork, Italian seasoning, kosher salt, and black pepper and mix well.

In a large Dutch oven, heat the olive oil over medium heat until it begins to shimmer. Using your hand, pinch the ground pork mixture into bite-sized chunks and drop them in the hot oil. Cook the pork for 5 to 7 minutes or until well browned, putting on a separate plate once done. Set aside.

Add the onions and garlic and cook for 3 to 4 minutes, or until softened, stirring constantly to prevent browning.

Add the tomato paste and cook for another 2 minutes, or until the tomatoes are a deep, brick red and the onions are orange.

In a large bowl, crush the canned whole tomatoes by hand, then add them to the Dutch oven along with the tomato purée, red pepper flakes, dried oregano, and pork. Season with salt and pepper. Bring to a gentle simmer, cover, and cook for 30 minutes.

In a large bowl, mix together the ricotta, heavy cream, and Parm, and set aside.

In a large pot, combine 2 quarts of water and a generous pinch of salt and bring it to a boil over high heat. Cook the pasta until it's very al dente, about two minutes less than package instructions, then drain, reserving 1 cup of the cooking liquid.

Once the sauce is ready, stir in the reserved pasta water and take the Dutch oven off the heat.

In a large bowl, stir together the pasta and 2 cups of the sauce, making sure the pasta is well coated.

Place a 9x13" baking dish on a parchment-lined sheet pan. Coat the bottom of the baking dish with ½ cup of the sauce and then layer on ⅓ of the pasta, ⅓ of the sauce, half of the ricotta mixture, and ⅓ of the mozzarella cheese. Repeat this process one more time and, for the last layer, use all of the remaining pasta and sauce. Top with mozzarella and grated Parmesan.

Transfer the pasta to the oven and bake for 30 to 40 minutes, or until the edges are browned and the sauce is bubbling. Allow it to cool for 10 minutes and serve hot.
Recipe adapted from: The New York Times