Lunch Recipes
Barley Risotto with Asparagus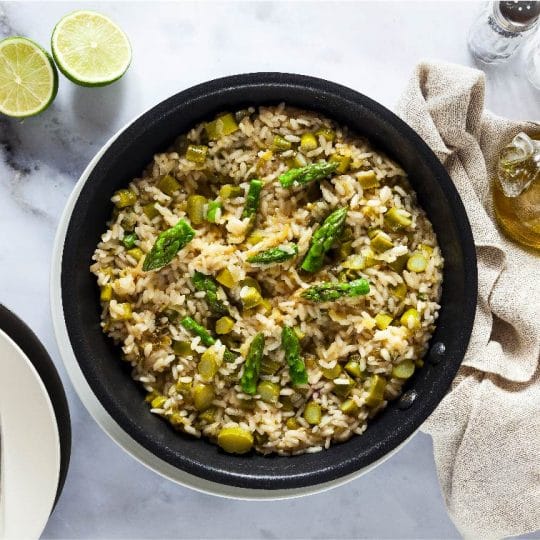 Lunch
Barley Risotto with Asparagus
Serves: 6
Ingredients
1 ounce Melissas dried porcini mushrooms two packages
4 cups Health Valley low fat no salt added chicken broth
1 cup Springfield pearl barley rinsed
1/4 plus 1/8 teaspoon salt
1 tablespoon Napa Valley organic olive oil
1/2 cup onion finely chopped
1/3 cup carrot finely chopped
1 clove Melissas organic garlic minced
1 pound asparagus ends trimmed chopped
1/2 cup shelled edamame green soy beans from the salad bar
1/3 cup grated imported Reggiano Parmesan cheese
Directions
Pour hot water over mushrooms and let stand for 15 minutes. Remove mushrooms and strain soaking liquid through a mesh sieve lined with a paper towel. Combine cup mushroom liquid with chicken broth in a saucepan and heat over medium low heat. Finely chop mushrooms and set aside.
While mushrooms are softening, rinse, drain, and pick over barley. Add barley to a medium saucepan and cover with four cups of water and season with teaspoon of salt. Cover, bring to a boil, and reduce heat to low. Simmer about 20 minutes, until barley is almost tender. Drain and set aside.
Heat a large heavy saucepan over medium high heat. Add olive oil and when hot, add onion and carrot. Cook to soften, about three minutes. Add garlic and cook for 30 seconds. Stir in drained barley.
Add in hot broth mixture, 1/2 cup at a time and stir in a figure eight motion until the liquid is absorbed. Continue to add broth cup at a time when previous addition is mostly absorbed. After ten minutes, add the chopped mushrooms, asparagus, and edamame. Continue adding liquid to the barley until it is tender and creamy. You may not need to use all the broth. After about five minutes, remove from heat. Stir in cheese, pepper and remaining 1/8 teaspoon salt. Serve immediately.