Dinner Recipes
Beet Burgers
We love black bean burgers and their fresh, savory flavor. But do you know what is just as awesome? Beet burgers. They have a nice, earthy-sweet flavor and (no surprise) beautiful, bright color. And much like their black bean cousin, they cook up very crispy on the outside but tender and moist on the inside.
Here, we whirl white beans, walnuts, oats, and ground flaxseed in with the beets, so the patties are both easy to form and satisfyingly hearty. Plant-based protein for the win! They're also chock-full of garlic, rosemary, thyme, and cumin. Hello, big, bold flavor!
We like to stack our beet burger on a toasted bun with a boatload of fixings: creamy hummus, peppery red onion, juicy tomato, leafy lettuce, and herby tzatziki sauce. Feel free to swap in your favorite burger toppings, but do not skip the tzatziki! The creamy sauce complements the burger beautifully — it's laced with lots of dill, which we all know is a beet's best friend.
Our tip: this beet patty mixture is egg-free, so if you want to make the burger vegan, all you have to do is swap in vegan tzatziki!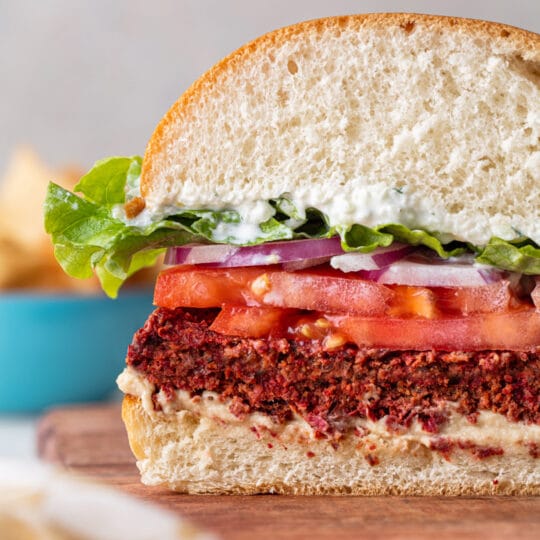 Dinner
Beet Burgers
Serves: 6
Ingredients
2 garlic cloves, rough chopped
½ tsp minced Gelson's organic fresh thyme
¼ tsp minced Gelson's organic fresh rosemary
½ tsp Gelson's ground cumin
¼ tsp Gelson's cayenne pepper
1 tsp kosher salt, plus more to taste
2 cups finely grated red beets
1 cup cooked cannellini beans, drained and rinsed
6 hamburger buns, toasted, for serving
Gelson's tzatziki, for topping
Gelson's classic hummus, for topping
Thinly sliced red onion, for topping
Thinly sliced tomatoes, for topping
Directions
Preheat the oven to 375° and line a baking sheet with parchment paper.

In the bowl of a food processor, combine the walnuts, rolled oats, ground flaxseed, garlic, thyme, rosemary, cumin, cayenne, and salt. Process until a coarse flour forms.

Add the shredded beets and beans to the food processor and blend until combined, scraping down the sides of the bowl as needed. It's okay if some pieces of beans or beets remain.

Use a ½ cup measure to portion out 6 large patties. Using slightly damp hands, flatten and shape the burgers into patties the same diameter as the burger buns. Evenly space the patties on the prepared baking sheet.

Bake for 20 minutes, flip the patties, and bake for another 15 to 20 minutes, or until the edges are crispy and slightly browned.

Serve the patties on the buns with tzatziki, hummus, red onion, tomatoes, and lettuce — or your favorite toppings.

Note: Leftover cooked patties can be stored in the refrigerator for up to 3 days and reheated in a lightly oiled skillet over medium heat. Cook for 3 minutes per side or until heated through.
Recipe adapted from: From My Bowl