Dinner Recipes
Beet & Ricotta Salad with Creamy Apple Vinaigrette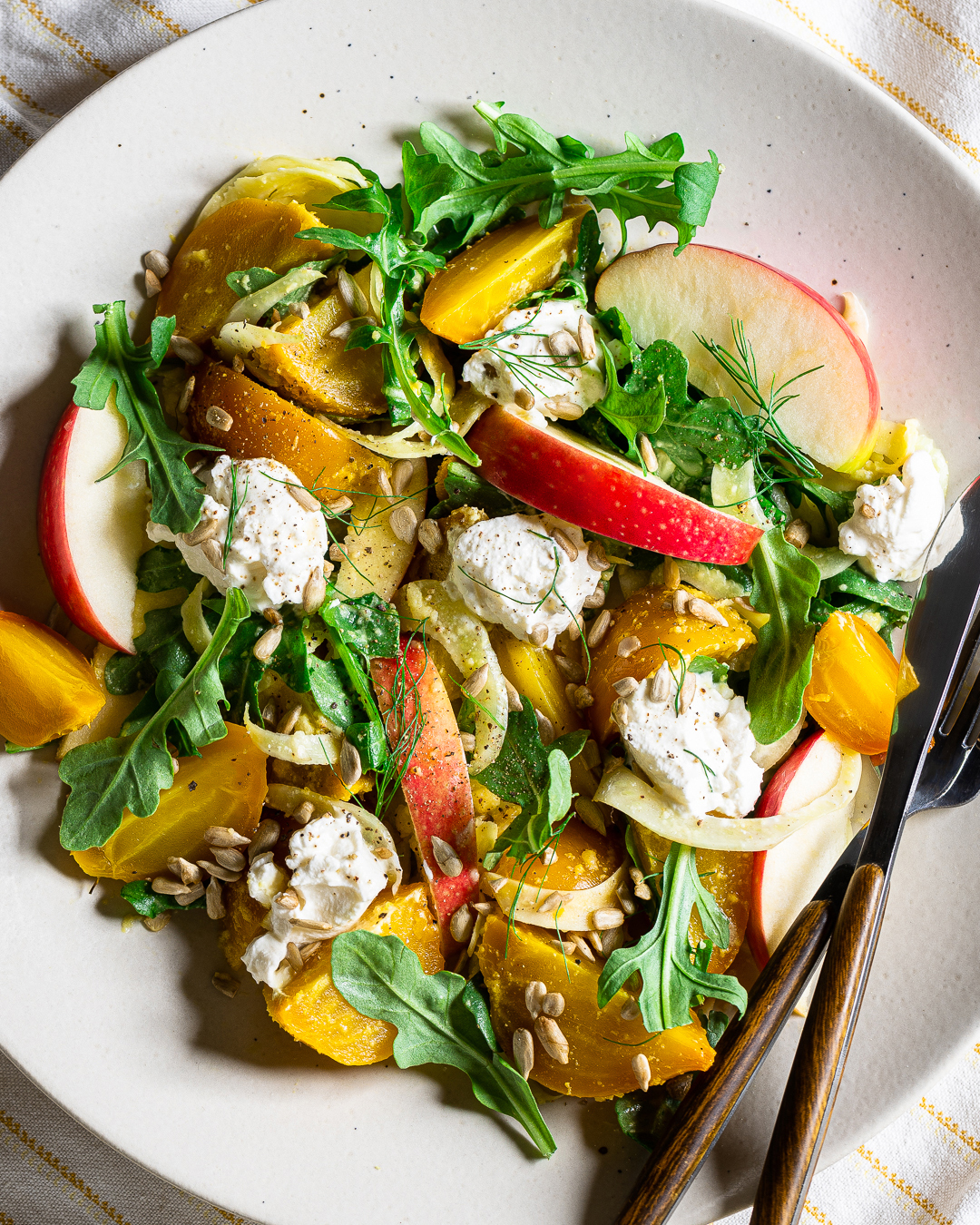 What we love about this salad is that it's got a ton of stuff in it: tart apples, earthy beets, aromatic fennel, peppery arugula, and salty sunflower seeds. It all gets tossed in a creamy apple vinaigrette, and then plated with a spoonful of soft, fresh ricotta cheese. So there's a lot of texture there too — creamy, crunchy, crisp, and soft. It could all add up to mayhem on your fork, but it works because all of the ingredients hold their own in the jumble, and yet taste amazing together. It's a harmonious jumble!

This salad is easy to make, and it always leaves us feeling healthy and satisfied, so it's a natural for lunch or a light dinner. It's also fantastic for entertaining because it's full of rich winter color — golden beets, red apples! — and not prone to wilting unattractively on the plate. So you could put it on a platter or in a low, wide bowl, and take it to your next potluck dinner.

Our tip: Make your own fresh ricotta for the salad. Homemade ricotta is a bit of a revelation. It's milky and delicate, with a clean, lightly sweet flavor — and it's so easy to make! Don't believe us? Check out our simple ricotta how-to.

Servings: 4

Beet & Ricotta Salad

Ingredients
4 golden or yellow beets
1 red apple, sliced thin
1 Tbsp mint, chopped
1 cup fennel, shaved thin, fronds reserved for garnish
1 cup arugula
½ cup homemade, fresh ricotta
Toasted sunflower seeds
Flake salt, to taste
Black pepper, to taste

Directions
Preheat the oven to 350º.
Wash the beets, wrap them in tinfoil with a teaspoon of water, and roast them in the oven for 50 to 60 minutes or until tender. Allow them to cool before peeling and cutting into wedges. Note: to avoid staining your hands, wear gloves while you're peeling the beets.
While the beets are cooking, prepare the vinaigrette (recipe below).
In a large salad bowl, combine the beets, apple, and mint with 3 tablespoons of the vinaigrette.
Add the fennel, arugula, and sunflower seeds, and gently toss, so that the delicate ingredients don't get bruised or broken.
Divide the salad between 4 plates, top each one with a scoop of ricotta and a few fennel fronds, and season with salt and pepper.
---
Creamy Apple Vinaigrette
Ingredients

1 small red apple, peeled and chopped
¼ cup white balsamic vinegar
½ cup olive oil
2 tsp shallot, chopped
1 Tbsp Dijon mustard
1 Tbsp honey
1 Tbsp lemon juice
Salt, to taste
Black pepper, to taste

Directions
Place all of the ingredients in a blender or an immersion blender container and purée until smooth.
Move to an airtight container and store in the refrigerator for up to 1 week.