Dinner Recipes
Bibimbap-Inspired Rice Bowl
In Korea, bibimbap is a clear-out-the-fridge dish — a meal you'd make when you need to use up any bits and bobs in the veggie drawer. It was in this spirit that our test kitchen cooked up this beautiful bowl of chewy rice, sesame spinach and bean sprouts, sautéed zucchini and matchstick carrots, caramelized shiitake mushrooms, and savory ground beef. And seeing as it's bibimbap-inspired, we just had to put a fried egg on top. We love how the rich yolk runs over all those goodies!
Traditionally, bibimbap is served with gochujang, which brings deep, funky-sweet heat to the dish. But here, we whisked up a bright sriracha-sesame sauce to round out the bowl's umami-rific, deeply comforting flavors. That delightful drizzle of heat makes your tongue tingle … but not so much that it'll stop you from shoveling spoonfuls of the rice, beef, veggies, and egg into your mouth. (Yes, spoonfuls! Koreans never eat their bibimbap with chopsticks.)
A few tips from the test kitchen: Don't scrimp on the seasoning for the veggies — you should low-key want to eat each on their own (and sneak little bites as you're cooking). The order in which you cook the veggies and meat is strategic, so you can use a single pan without cleaning it out between ingredients. (All the flavors build on each other that way, too!) And finally, you might consider doubling everything, so you get multiple meals out of the prep.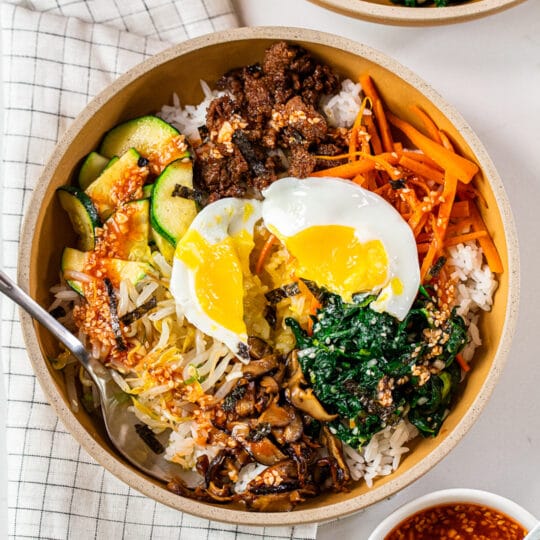 Dinner
Bibimbap-Inspired Rice Bowl