Lunch Recipes
Black Bean Soft Tacos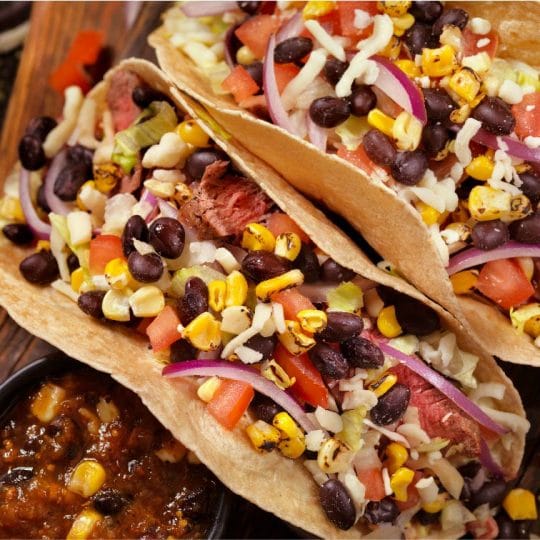 Lunch
Black Bean Soft Tacos
Serves: 5
Ingredients
1 teaspoon Napa Valley organic olive oil
1 15 ounce can Westbrae Natural organic black beans rinsed and drained
1/2 cup frozen organic petite sweet corn kernels
1 16 ounce container Gelsons Finest mild or hot salsa 1/4 cup reserved
1/4 teaspoon chili powder
5 Mission yellow corn tortillas super size
5 tablespoons Gelsons Finest fancy natural sharp shredded cheddar cheese
Directions
Heat olive oil in a medium pot over medium heat. Add beans, corn, all but 1/4 cup salsa, cumin and chili powder and stir. Cover and cook 8 minutes, stirring occasionally. Reduce heat to low, uncover and cook 2 to 4 more minutes.
Meanwhile, mash avocado and mix in remaining 1/4 cup salsa and kosher salt.
Heat a separate skillet over medium heat to warm the tortillas one at a time, turning once after 15 seconds or heat them all at once wrapped in a damp paper towel in the microwave.
On each tortilla spread 2 tablespoons guacamole, 1/2 cup warm beans and 1 tablespoon cheese. Curl up tortillas and serve immediately.