Dinner Recipes
Black Cod alla Bruschetta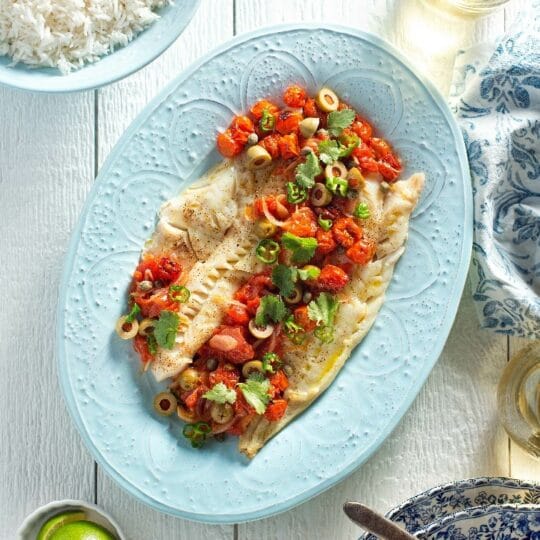 Dinner
Black Cod alla Bruschetta
Serves: 4
Ingredients
1 pound ripe organic heirloom tomatoes all the same color cored and diced
2 cloves Melissas organic garlic minced
1 teaspoon Mezzetta capers rinsed and drained
1/4 teaspoon plus 1 pinch Le Saunier de Camargue fleur de sel sea salt
1/4 teaspoon black pepper divided
4 6 ounce pieces sablefish black cod
2 tablespoons Napa Valley organic extra virgin olive oil divided
1 tablespoon Napa Valley organic balsamic vinegar
1/2 cup lightly packed slivered organic basil leaves
Directions
Preheat oven to 400 Fahrenheit.
Place diced tomatoes, garlic and capers in a glass bowl and season with a pinch each salt and pepper. Let stand for five to 15 minutes.
Place fish on a baking sheet, skin side down. Brush tops with one tablespoon of olive oil and season with remaining salt and pepper. Cook about nine to eleven minutes, until white in the center. Transfer to a serving platter and gently pull out any visible bones with your fingers or tweezers.
While fish is cooking, heat remaining tablespoon olive oil over medium heat. Add tomato mixture and cook until tomatoes begin to soften, about five minutes. Remove tomatoes with a slotted spoon and transfer back to the marinating bowl. Raise heat to medium high and cook about three to four minutes to thicken liquid. Pour thickened sauce over tomatoes and add the vinegar and basil, toss gently. Spoon bruschetta over fish and serve.