Breakfast Recipes
Blueberry Breakfast Cake
If you took a half-dozen blueberry muffins, waved your magic wand, and turned them into a loaf, it would look and taste exactly like this breakfast cake. The crumb is very tender and very crumbly (thanks, sour cream!) and speckled with big, juicy blueberries. There are also a couple teaspoons of lemon zest in there — that touch of tart citrus brightens the berries' subtle sweetness.
Of course, every breakfast-y cake needs a streusel topping. This one is crunchy yet buttery — and full of warm cinnamon and sweet brown sugar. It's a delightful contrast to the cake's fruity flavors … and practically begging for a hot cup of coffee.
Blueberry breakfast cake is always a brunch hit. But do you know what we love even more? Whipping it up on a lazy Sunday, when we're in a baking mood but don't want a huge project. And that way, we get to nibble on it all week long — before, during, and after our many Zoom meetings. (Yeah, yeah, we eat a lot of this cake. You will too once you try it!)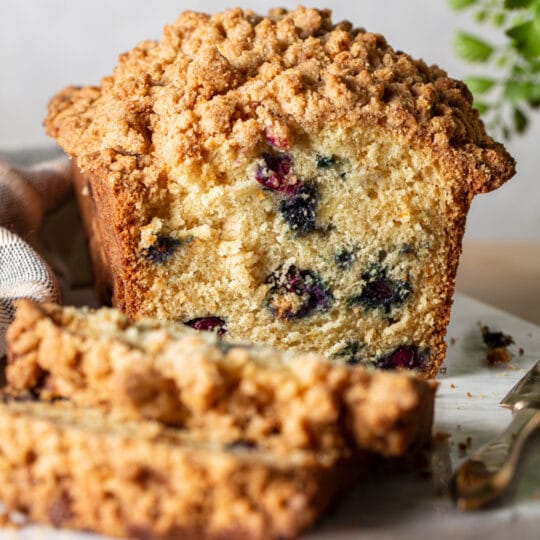 Breakfast
Blueberry Breakfast Cake
Serves: 8
Ingredients
¼ cup packed light brown sugar
½ tsp Gelson's ground cinnamon
4 Tbsp unsalted butter, melted
2 cups all-purpose flour plus 1 tsp, divided
½ cup unsalted butter, room temperature
¼ cup packed light brown sugar
2 large Gelson's eggs, room temperature
½ cup sour cream, room temperature
⅓ cup whole milk, room temperature
1 cup fresh blueberries, rinsed and dried
Directions
Preheat the oven to 350°. Coat a 9×5" loaf pan with cooking spray. Set aside.

To make the streusel: In a small bowl, stir together the flour, brown sugar, cinnamon, unsalted butter, and a pinch of kosher salt until well combined. Cover with plastic wrap and chill in the freezer until ready to use.

To make the cake: In a medium bowl, whisk together the flour, baking soda, baking powder, and salt. Set aside.

In a stand mixer fitted with a paddle attachment, beat the unsalted butter, granulated sugar, brown sugar, and lemon zest on high speed until light and fluffy, about 2 minutes.

Reduce the speed to medium and add the eggs, one at a time, beating well after each addition.

Beat in the sour cream and vanilla extract until combined.

Reduce the speed to low. Add ½ the dry ingredients and ½ the milk, mixing after each addition until just combined. Repeat with the remaining dry ingredients and milk.

In a small bowl, toss the blueberries with the remaining 1 teaspoon all-purpose flour to coat. Fold the blueberries into the batter.

Transfer the batter to the prepared baking pan. Break the streusel up with a spoon, crumble it, and evenly sprinkle it over the batter.

Bake for 55 to 60 minutes, or until an inserted toothpick comes out clean. Place the pan on a wire rack and let cool completely. The bread can be stored in an airtight container at room temperature for up to 3 days.
Recipe source: Sally's Baking Addiction