Dinner Recipes
Braised Chicken with Shiitake Mushroom Sauce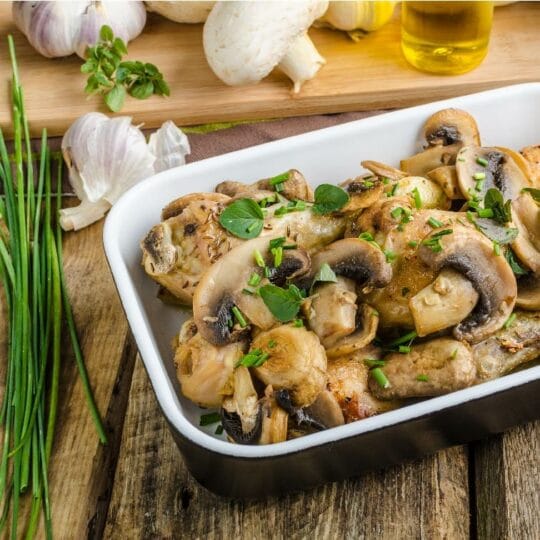 Dinner
Braised Chicken with Shiitake Mushroom Sauce
Serves: 6
Ingredients
3 tablespoons Napa Valley organic olive oil divided
2 10 ounce packages sliced shiitake mushrooms washed
3 cloves Melissa's organic garlic chopped
8 organic boneless skinless chicken thighs fat trimmed
1/2 teaspoon Le Saunier de Camargue fleur de sel sea salt
1/4 rounded teaspoon black pepper
1/4 teaspoon minced fresh thyme leaves
5 fresh sage leaves minced
1/4 cup fresh rosemary needles finely chopped after measuring
1/2 lemon two thin round slices cut from the cut side remaining lemon juiced for 1 tablespoon juice
Directions
Heat one tablespoon olive oil over medium heat in a 12 inch skillet with a lid. Add onions and mushrooms, cook to soften, about five minute. Add garlic and cook one minute. Remove onion and garlic with a slotted spoon and set aside.
Add remaining two tablespoons olive oil to the skillet, arrange the chicken in a single layer and season with half of the salt, pepper, and herbs, cook about three minutes to lightly brown. Turn and season chicken with remaining salt, pepper, and herbs. Spoon mushrooms and onions over and around the chicken in an even layer. Cook uncovered for ten minutes. Add wine and two slices of lemon, bring to a full boil. Cover and reduce heat to low. Cook ten more minutes.
Transfer chicken to a rimmed serving dish and cut each thigh in half. Discard lemon slices. Stir one tablespoon lemon juice into sauce and raise heat to medium. Cook to reduce sauce, stirring to scrape up brown bits from the bottom of the pan, about two minutes. Spoon sauce over chicken and serve.