Breakfast Recipes
Breakfast Arepas
Just looking at this breakfast makes us happy — it's so full of sunshine. The arepas have a fluffy corn vibe, but they're filled with melty cheese so they give the dish a nice heartiness. But while we love all that goodness, the toppings kind of make the breakfast: zesty pickled red onion, punchy cilantro, and creamy avocado. We fry our eggs sunny side up, so they can be their brightest, most beautiful selves. Plus, we love how that jammy yolk melds with the avocado. Add a squeeze of lime and it's all the sauce you need! Now, load up your fork with all the things and savor that perfect bite.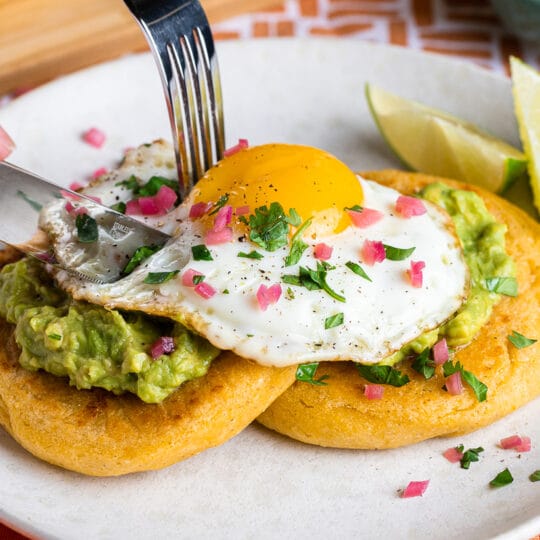 Breakfast
Breakfast Arepas
Serves: 4
Ingredients
2 tsp kosher salt, plus more to taste
2 Tbsp unsalted butter, melted
1 ½ cups shredded mozzarella cheese, divided
1 cup hot water, plus more as needed
¼ cup freshly squeezed lime juice
Freshly ground Gelson's black pepper, to taste
Pickled red onions, minced, for garnish
Fresh chopped cilantro, chopped, for garnish
Directions
In a large bowl, whisk together the masa harina, kosher salt, and granulated sugar until combined. Add the melted unsalted butter and 1 cup of the shredded mozzarella, and stir together with a rubber spatula until the ingredients are fully combined and have the texture of wet sand.

Add the milk, and then slowly drizzle in the hot water while stirring. Knead the dough with the spatula until it's evenly hydrated, smooth, and slightly sticky to the touch. Cover with a damp towel and let the dough rest for about 30 minutes.

To make the filling: In a medium bowl, mash together the avocados and lime juice until just a few chunks remain — it should be fairly smooth. Season with salt and pepper. Cover with plastic wrap and refrigerate until ready to use.

After the dough has rested, divide it into 6 ⅓-cup portions, and roll each into a ball.

To fill the arepas: Use your thumb to create an indent in the dough balls and fill each hole with about 1 tablespoon of shredded mozzarella. Use your fingers to gently stretch and pinch the dough over the cheese and seal the seam.

Pat each dough ball into a 2" wide by ½" thick disc. Transfer the arepas to a sheet pan lined with parchment paper.

Heat a large nonstick skillet over medium heat and spray with cooking spray. Place 2 arepas in the skillet and fry for 4 minutes or until golden brown in spots. Flip and cook for another 4 minutes. Transfer to a large plate and repeat with the remaining arepas.

Wipe out the skillet and coat it with cooking spray. Crack 2 eggs into the skillet and fry until the egg whites are set and the yolks are still runny, about 4 minutes. Repeat with the remaining eggs.

To serve, plate the arepas and then layer each with a spoonful of the mashed avocado, a fried egg, and a garnish of pickled red onions and cilantro. Serve with lime wedges.

Leftover arepas and mashed avocado can be stored in separate airtight containers in the refrigerator for up to 2 days. Pickled red onions can be stored in an airtight container in the refrigerator for up to 2 weeks.