Dinner Recipes
Brown Butter Butternut Squash and Bucatini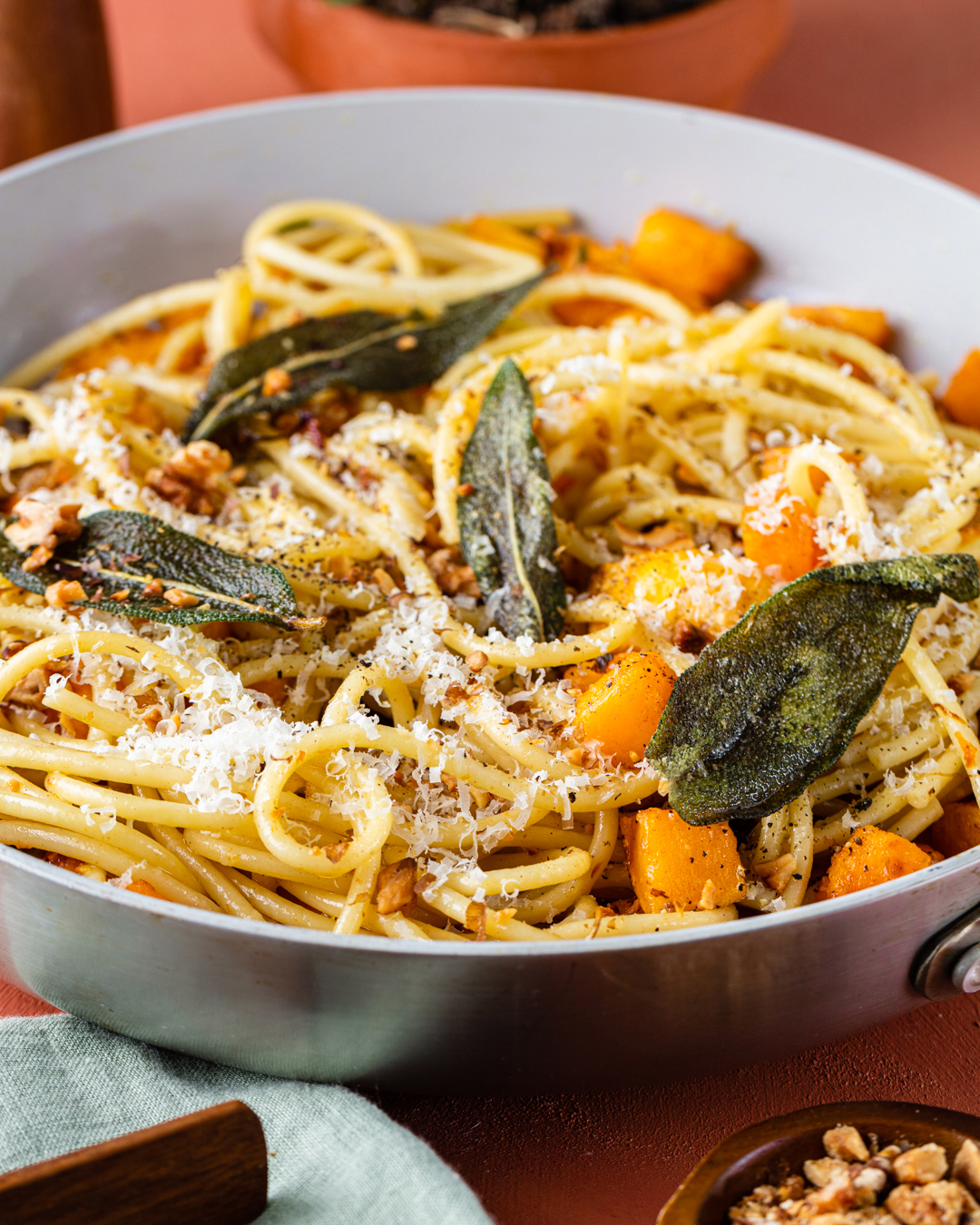 Brown butter is so easy to make, and it has a wonderfully nutty aroma. Fry up a little sage in it, and it becomes even more fragrant, adding a beautiful touch to a dish. Here we've swirled it through butternut squash, shallots, and pasta, and then sprinkled the fried sage leaves, toasted walnuts, and Parmigiano-Reggiano over the top for a flavor profile that's pure fall — soft, salty, sweet, crisp, and toasty.

We use bucatini in this dish because its long, hollow strands are a fantastic vehicle for the buttery sauce, and they add a nice chewiness to all the other textures in the dish.

Our tips: If you use pre-chopped butternut squash, you'll have dinner on the table in 30 minutes. And cook everything in one pan for easy cleanup. Make it in a white pan — it's easier to see when your butter is done.
Servings: 4

Ingredients
8 oz bucatini
1 lb butternut squash, peeled and chopped into ½-in cubes
1 medium shallot, sliced
6 Tbsp butter, divided
Fresh sage leaves
Fresh Parmigiano-Reggiano, to taste
Salt and pepper, to taste
Walnuts, toasted

Directions

Cook bucatini according to the package instructions.
Melt 2 tablespoons of butter in a skillet over medium-high heat, add butternut squash, and cook for 5 minutes.
Add shallot and cook for another 5 minutes.
Remove squash and shallots from the skillet, and add 4 tablespoons of butter. Cook, stirring constantly, for 8 – 10 minutes. Tip: The butter is ready when it's amber in color and has a nutty aroma.
Add sage leaves and fry for 15 seconds each. Set aside.
Add pasta, butternut squash, and shallots back into the skillet and toss to combine.
Plate the pasta and garnish it with salt, pepper, fresh grated Parmigiano-Reggiano, toasted walnuts, and fried sage leaves.