Dessert Recipes
Brown Butter Oatmeal Cookies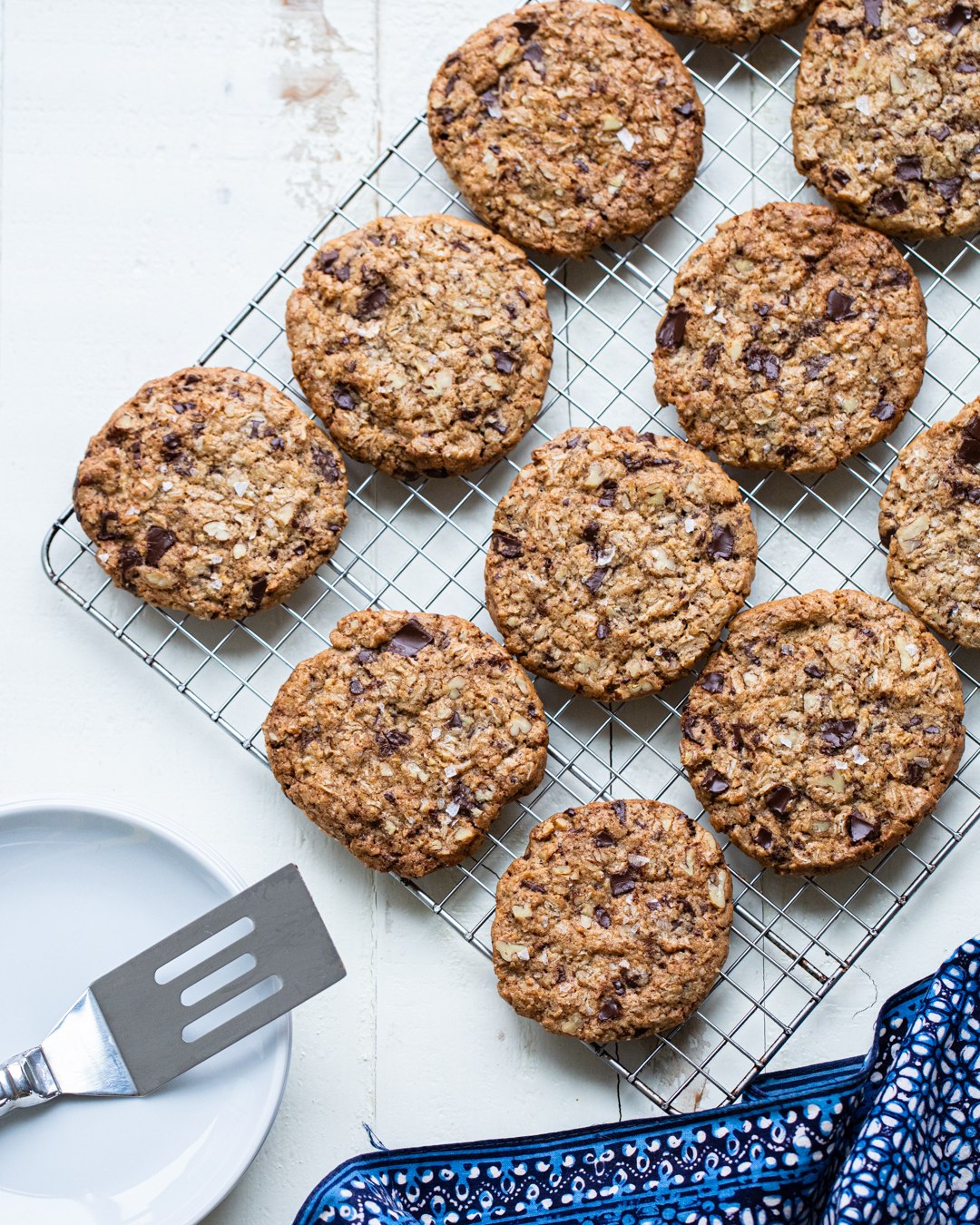 Oatmeal cookies are a deceptively contentious topic. You know, it's all fun and games 'til somebody drops a raisin in it. Well, not here, people, we promise — there's no raisin trickery. There is a little trickery of the oat, chocolate, and toasted pecan persuasion, however.
In the test kitchen, we decided to process some of the old-fashioned oats, so that they have a coarse texture, much like cornmeal. The ground oats give the cookies a heartier texture — they've got some chewy structure. Similarly, we chopped the chocolate and pecans into nice big chunks, but we also threw in all the little flakes, shards, and bits of tasty cocoa and nut dust. That means those flavors are swirled through the dough — and you also get crunchy nuts and big puddles of melty chocolate. Between that, the nutty brown butter, and the flake salt, these are ridiculously scrumptious cookies.
They also have an amazing texture. One of our tasters called it "cronchy," which we translated to mean a cookie that's chewy at the center, but also has a light, airy crunch — it's the best of all worlds. Even the doughy-soft cookie lovers among us were on board.
Our tip: Unless you're sheltering in place with a scout troop, you might not want to make the whole batch of cookies. We like to keep the dough rolls in the freezer, and just bake off a half dozen or so disks after dinner. Warm cookies are the best.

Yield: 3 dozen
Ingredients

2 sticks unsalted butter, divided (1 stick softened)
2 ½ cups old-fashioned oats, divided
1 ½ cups all-purpose flour
½ tsp baking soda
¾ tsp kosher salt
1 cup firmly packed light brown sugar
¾ cup granulated sugar
2 large Gelson's eggs
1 ½ tsp vanilla extract
1 ½ cups toasted pecan halves, chopped
10 oz bittersweet chocolate, chopped
Flake salt, to taste

Directions

To brown the butter: In a medium saucepan over medium heat, gently melt 1 stick of the butter. Once melted, continue to cook, gently stirring constantly until the butter foams and turns golden brown, about 5 to 7 minutes. Remove the butter from the heat and transfer it to a heatproof bowl to cool to room temperature. Note: it's okay if there are a few brown bits.

To make the cookies: In a food processor, pulse 1 cup of the old-fashioned oats until coarse like cornmeal.

In a medium bowl, whisk together the processed oats, the remaining whole oats, flour, baking soda, and salt. Set aside.

In the bowl of a stand mixer fitted with a paddle attachment, cream together the brown butter, the stick of softened butter, and sugars on medium-low speed until the mixture is light and fluffy, about 3 minutes.

Add the eggs and vanilla extract.

Add the dry ingredients in two batches, mixing until combined. Add the pecans and chocolate pieces.

At this point the dough will be very soft. Scoop half of it onto a long sheet of plastic wrap and, using your hands, form it into a log about 2 inches in diameter. Wrap the log in plastic wrap. Repeat with the remaining dough. Chill the logs in the freezer until firm, about 30 minutes. Note: at this point, you can freeze the dough for up to 2 months.

Preheat the oven to 350° and line a cookie sheet with parchment paper.

Using a sharp knife, slice the dough into ½-inch disks. Place the disks about 3 inches apart on the cookie sheet and sprinkle them with flake salt.

Bake the cookies until golden brown on the edges, about 10 to 12 minutes. Let them cool on the pan for 10 minutes, and then transfer them to a wire rack to cool completely. Repeat with the remaining disks. Note: if baking from hard frozen, bake for an additional 3 to 4 minutes.

Cookies can be stored in an airtight container at room temperature for up to 3 days.