Dinner Recipes
Brown Sugar Pork Tenderloin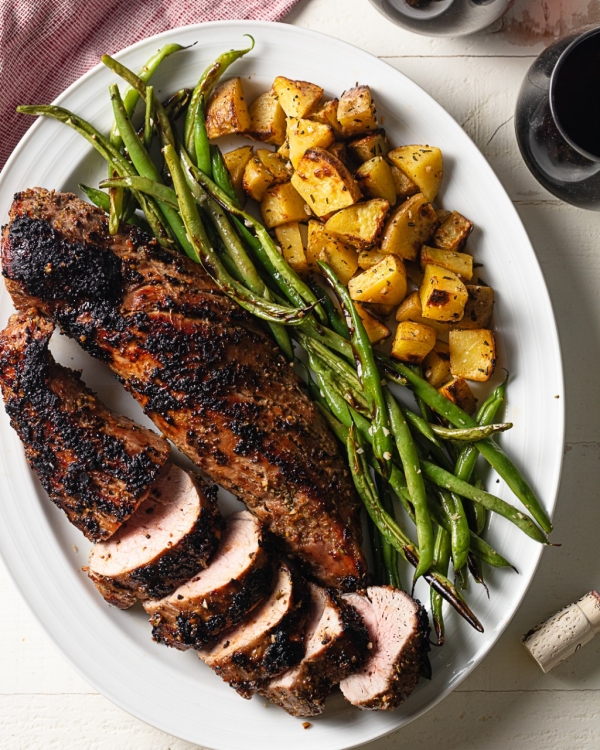 The test kitchen is always a noisy, friendly place, but this recipe really had us all in an uproar. The thing is, most of us grew up eating overcooked pork of the dry, flavorless persuasion. So a couple bites of this tender, succulent tenderloin sent us into a kind of ecstasy of gushing reviews and emotional confessions — I've been eating pork wrong my whole life!

The secret is a very simple, very flavorsome, and very effective marinade: If you're pinched for time, you can leave it on the meat for just 15 minutes, and it'll produce a wonderful flavor. It's made with sweet brown sugar, punchy whole grain mustard, and woody rosemary — an earthy blend that pulls out all the pork's rich, meaty notes. Ten minutes under the broiler, and it caramelizes and chars, giving the tenderloin a decadent crust, but leaving the inside tender and juicy.
It's definitely a keeper, and not just because it's delicious. It's also a bit of a one-pan, two-meal wonder: There are two pork tenderloins, and we throw a few precooked potatoes and green beans on the pan with them. So you get a nice rounded meal — and more importantly, one whole leftover pork tenderloin. That's fantastic because it means you can make our Korean barbecue tacos.
Servings: 2, plus 1 leftover pork tenderloin
Ingredients

6 Tbsp brown sugar
3 Tbsp whole grain mustard
1 Tbsp, plus 1 tsp chopped rosemary, divided
1 Tbsp minced garlic, divided
1 Tbsp dry red wine
1 tsp kosher salt, plus more to taste
½ tsp freshly cracked black pepper, plus more to taste
2 pork tenderloins (about 2 ½ lb)
8 oz potatoes, cut into ½" cubes
2 Tbsp extra-virgin olive oil, divided
⅛ tsp cayenne pepper
6 oz green beans, trimmed
Directions
Preheat the oven to broil. Line a rimmed baking sheet with aluminum foil.

In a medium bowl, combine the brown sugar, mustard, 1 tablespoon rosemary, 1 teaspoon garlic, red wine, 1 teaspoon of salt, and ½ teaspoon black pepper. Stir to combine.

Pat the pork tenderloins dry with a paper towel, place them in the bowl of marinade, and turn them to evenly coat all sides of the meat. Set aside for at least 15 minutes to marinate.

Meanwhile, place the potatoes in a medium microwaveable bowl and microwave on high for 3 minutes, or until the potatoes can be pierced easily with a fork, but are not falling apart. Let the potatoes cool.

Add 1 tablespoon olive oil, the remaining 1 teaspoon rosemary, 1 teaspoon garlic, and the cayenne. Season with salt and pepper, and stir until the potatoes are fully coated. Set aside.

In another medium bowl, combine the green beans, the remaining tablespoon of olive oil, and the remaining teaspoon of garlic. Season with salt and pepper. Toss until the beans are coated evenly. Set aside.

Place the pork tenderloins in the middle of the baking sheet, leaving room on both sides, and brush any remaining marinade on top. Broil for 5 minutes.

Flip the tenderloins and place the green beans on one side of the pork and the potatoes on the other side. Broil for another 3 to 5 minutes, or until the pork starts to brown and reaches 145° on an instant-read thermometer, and the vegetables are nicely browned.

Transfer the pork to a cutting board, let it rest for 5 minutes, and then slice one tenderloin into ½" pieces, and serve with the green beans and potatoes. Note: Reserve the other tenderloin for leftovers. It'll keep in an airtight container or bag in the fridge for up to 3 days. We'd suggest making our Korean barbecue tacos with it.