Dinner Recipes
Bruschetta Grilled Chicken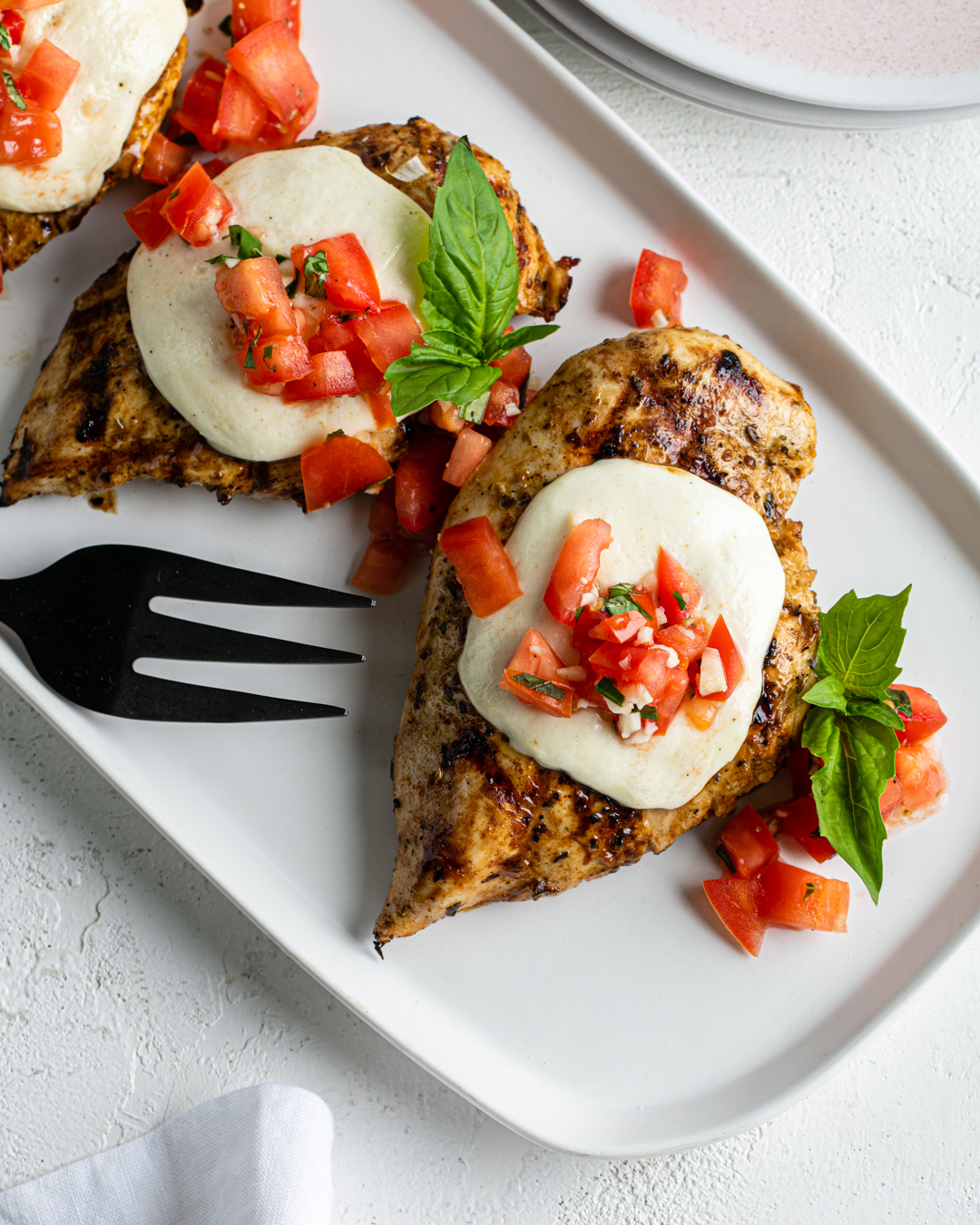 Bruschetta is one of our favorite appetizers. The chopped tomatoes, the basil, the cute little slabs of toast — we couldn't ask for a better bite. Here, we've recast that classic opening act as a weeknight-friendly headliner, complete with grilled chicken and fresh mozzarella.
We marinate the chicken in olive oil, lemon juice, salt, black pepper, and Italian seasoning. All of that oil and acid makes the meat grill up perfectly tender with a bright, herby char. And while the chicken is still on the grill, we top it with fresh mozzarella slices, which melt into soft, gooey, creamy pools.
Just like with bruschetta, the tomatoes are bright, garlicky, and peppered with fresh basil — but we've also added a bit of lemon juice to accentuate the lemon in the marinade. It's such a ripe, juicy topping, it makes the chicken seem all the more tender. The best is getting a bite with lots of mozzarella: it's caprese salad meets bruschetta (who recently broke up with bread).
We love making this meal midweek, when we're feeling too worn out to cook but are in desperate need of something flavorful and refreshing to help us make it to Friday night. We might add a simple side salad to the plate — but only if we get a second wind in the kitchen. A big pour of Sangiovese? Well, that's a given.
Our tip: if you know it's going to be a hectic day, you can prep the tomatoes and chicken ahead, so come dinnertime, all you have to do is grill it up.
Servings: 4
Ingredients
4 Tbsp extra-virgin olive oil
Juice of 1 lemon, divided
1 ¼ tsp kosher salt, plus more to taste
¼ tsp freshly ground Gelson's black pepper, plus more to taste
1 tsp Gelson's Italian seasoning
4 Gelson's boneless, skinless chicken breasts, pounded to even thickness
4 oz fresh mozzarella cheese, cut into 4 slices
3 Roma tomatoes, chopped
2 garlic cloves, minced
1 Tbsp chopped Gelson's organic fresh basil
Directions
In a small bowl, combine the olive oil, half the lemon juice, kosher salt, black pepper, and Italian seasoning, and whisk to combine. Transfer to a large ziplock bag. Add the chicken, seal, and refrigerate for 30 minutes.

Heat a grill over medium-high heat. Remove the chicken from the bag, and discard the excess marinade.

Grill the chicken for 5 to 7 minutes, or until charred. Flip and cook until the second side is charred and the internal temperature reaches 165° on an instant-read thermometer, 5 to 7 minutes more.

While the chicken is still on the grill, top each breast with 1 slice of fresh mozzarella and cover with the grill lid until the cheese is melted, 2 to 3 minutes.

Meanwhile, in a small bowl, combine the tomatoes, garlic, basil, and remaining lemon juice, and season with kosher salt and black pepper.

Transfer the chicken to a serving platter, sprinkle kosher salt over the mozzarella cheese, and top with the tomato mixture.
Recipe source: Delish
Calculate nutrition information for this recipe.