Appetizer Recipes
Butternut Squash and Apple Soup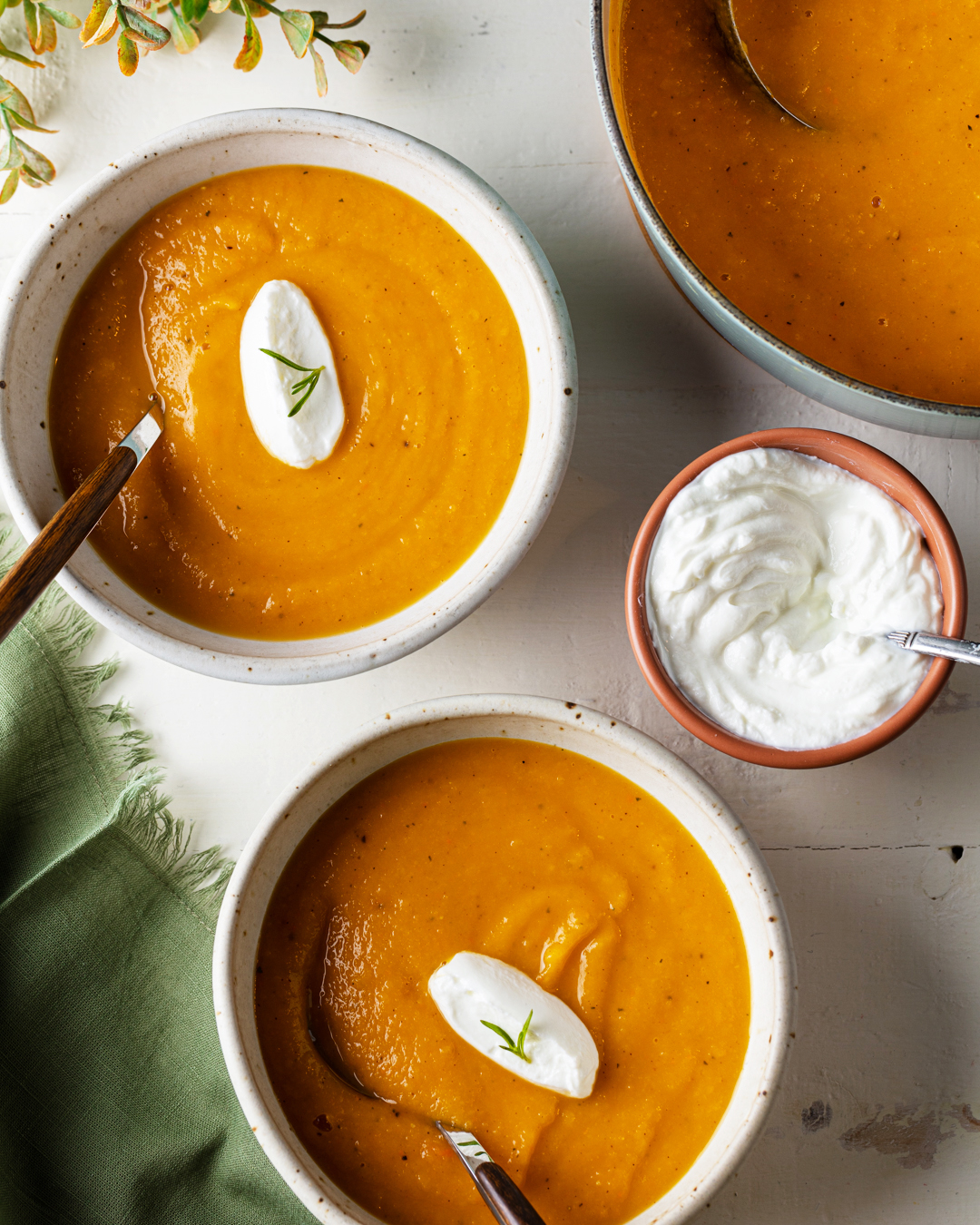 Butternut Squash Soup is one of the staples of our fall table. Traditionally a potage of squash boiled in broth and whirled up with something creamy, it's a thick, nourishing soup — rich and satisfying enough to be the center of a meal.

In this recipe, we've mixed things up a bit by adding carrots and tart Granny Smith apples. And, rather than boiling the fruit and veggies, we've roasted them, which deepens their flavor and natural sweetness. The result is a lighter soup, still savory and vegetal at its core, but with a lovely hint of sweet apple and cinnamon spice.

Our tip: This soup would be a great start to a Thanksgiving meal. Since your oven will be busy that day, you can make it a day or two ahead. And, on a nutrition note, cinnamon is great for lowering blood sugar levels, a welcome side benefit on Turkey Day, so feel free to add more if you like.
Servings: 4 to 6
Ingredients
1 carrot, peeled and chopped
4 8-oz packages cubed butternut squash
2 small organic Granny Smith apples, cored and wedged
2 cloves Melissa's organic garlic
1 Tbsp Napa Valley Organic Olive Oil
1 large organic onion, diced
5 cups vegetable broth
1 tsp fresh savory leaves, minced
¼ tsp cinnamon, plus more for garnish
1 Tbsp honey
1 5-oz container FAGE Total 0% yogurt
Olive oil cooking spray

Directions
Preheat oven to 400º.
Put the carrot and squash in a baking pan, coat them with olive oil cooking spray, and cook for 20 minutes.
Add the apple wedges and garlic cloves to the pan, coat them with olive oil cooking spray, and return the pan to oven for about 20 more minutes, or until the squash is tender.
While the veggies are in the oven, heat the olive oil in a soup pot over medium-low heat and sauté the onions until they are clear.
Turn off heat, add the roasted vegetables, broth, savory, cinnamon, and honey and puree with an immersion blender (or in a traditional blender in batches). Add more broth if necessary.
Warm the soup over medium heat, just until hot. Ladle the soup into bowls and top each bowl with a dollop of yogurt and a sprinkle of cinnamon.
Each 1-cup serving contains:
Calories 140
Fat 2 g
Saturated Fat 0 g
Trans Fat 0 g
Cholesterol 0 mg
Sodium 280 mg
Total Carbohydrate 30 g
Dietary Fiber 4 g
Sugars 8 g
Protein 3 g
Vitamin A 305% DV
Vitamin C 52% DV
Calcium 9% DV
Iron 6% DV