Dessert Recipes
Caramel Matzo Crunch
What's better than matzo? Matzo slathered in rich chocolate and buttery caramel — it hardens into a crisp, crunchy, truly irresistible treat. The first time we tried this recipe, we made the mistake of leaving it on the kitchen counter. Everyone who passed it stole a little nip, and then circled back for another, and oh, just one more. The whole tray disappeared before we'd even sat down for dinner! Now we hide it.
It's a very simple, satisfying dessert after a big meal. We love that you can make it well ahead of dinner, and pull it out whenever you're ready with very little fuss — and it's chocolate, so it tastes great with coffee or wine.
Our tip: You can sprinkle all kinds of toppings into the setting chocolate, including butterscotch chips, cayenne pepper, or toasted hazelnuts. Our favorite is flake salt, a crunchy complement to all that sweetness.
Servings: 1 to 12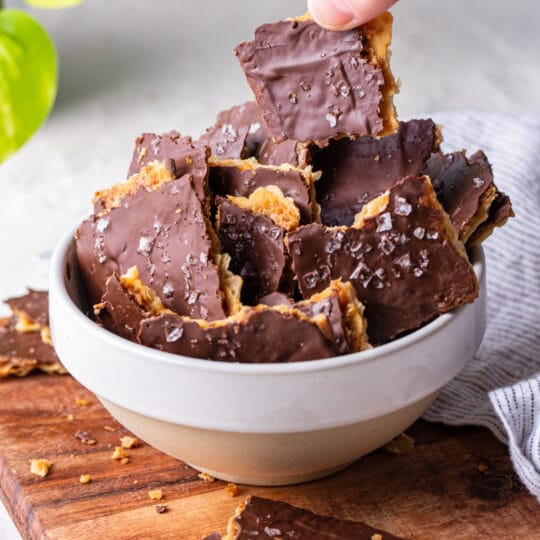 Dessert
Caramel Matzo Crunch
Ingredients
1 cup (2 sticks) unsalted butter (or unsalted Passover margarine)
1 cup firmly packed brown sugar
¾ cup chocolate chips or semi-sweet chocolate, coarsely chopped
Directions
Preheat the oven to 375°, and line a large (or two smaller) cookie sheet completely with foil. Line the foil with baking parchment — the ingredients become very sticky during baking.
Line the bottom of the cookie sheet evenly with the matzos, cutting extra pieces to fill any open spaces.
In a 3-quart, heavy-bottomed saucepan, combine the butter or margarine and the brown sugar.
Cook over medium heat, stirring constantly, until the mixture comes to a boil, about 2 to 4 minutes. Boil for 3 minutes, stirring constantly. Remove from the heat and pour over the matzo, covering completely.
Place the baking sheet in the oven and immediately reduce the heat to 350°. Bake for 15 minutes, checking every few minutes to make sure the mixture is not burning (if it seems to be browning too quickly, remove the pan from the oven, lower the heat to 325°, and replace the pan).
Remove the matzo from the oven and sprinkle it with the chopped chocolate or chips immediately.
Let it stand for up to 5 minutes, then spread the melted chocolate over the matzo.
While the crunch is still warm, break it into squares or odd shapes. Chill, still in the pan, in the freezer until set.
Recipe source: Epicurious