Dinner Recipes
Celeriac Potato Leek Soup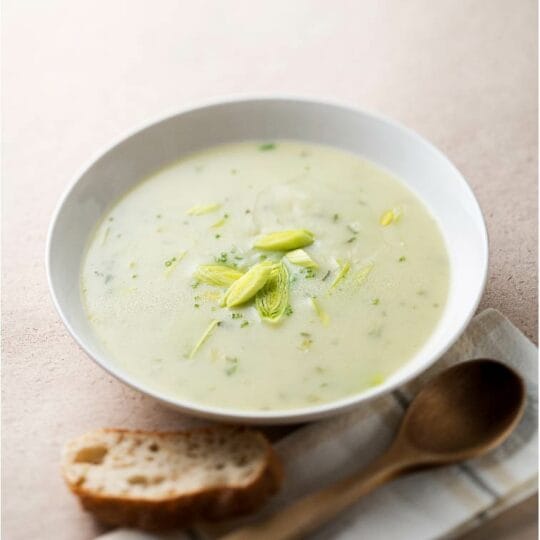 Dinner
Celeriac Potato Leek Soup
Serves: 9
Ingredients
1 tablespoon Napa Valley organic olive oil
1 teaspoon Horizon Organic butter
4 medium leeks ends trimmed stalks cut into half rounds and cleaned very well
1/4 teaspoon salt divided
1/4 teaspoon black pepper divided
1 large celeriac scrubbed ends trimmed peeled and diced
1 1/4 pound Yukon Gold potatoes scrubbed cut to the same size as the celeriac
6 cups Pacific Natural Foods organic free range chicken broth
3 sprigs fresh dill plus more for garnish
1 cup Horizon Organic nonfat milk
1 generous teaspoon Gusto in Cucina extra virgin olive oil with white truffles
Directions
Heat olive oil and butter over medium heat in a large soup pot. Add leeks, season with 1/8 teaspoon each salt and pepper and saut until soft, about 8 minutes.
Add the celeriac and potatoes, cover with broth and bring to a boil. Simmer, covered for about 35 minutes, until celeriac is tender when pierced with a fork. Puree soup with a hand blender, add dill, milk and remaining salt and pepper. Cook 10 more minutes.
Ladle into nine bowls, swirl 1/8 teaspoon of truffle oil into each bowl and garnish with snipped dill.