Appetizer Recipes
Charred Tomatillo Salsa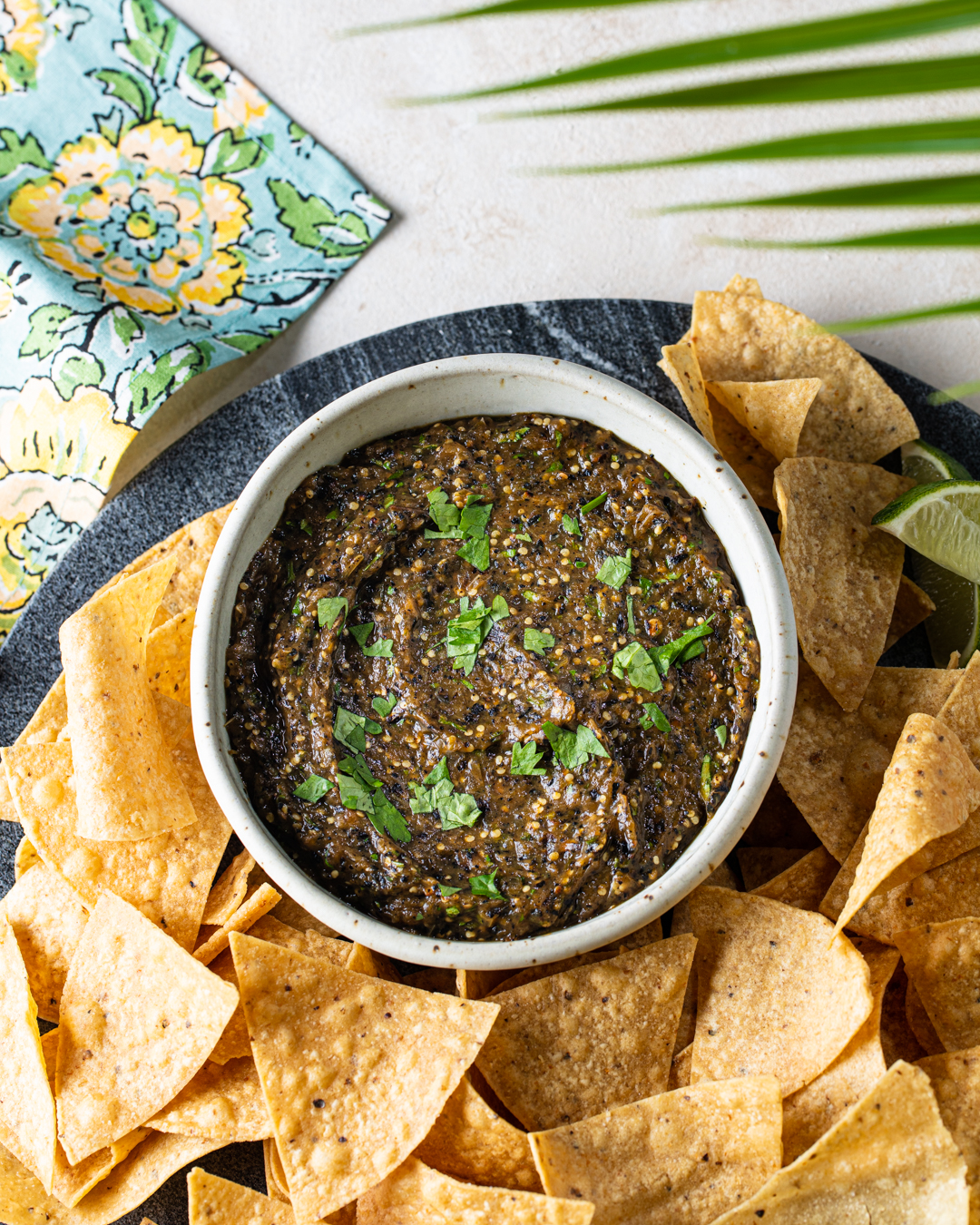 We love salsa. All salsa. But this salsa is truly a standout: Its heat is complex and perfectly balanced — smoky, sweet, and gently lingering. The texture is thick, almost creamy. It has a grand amount of lime (so zippy!). And perhaps best of all, it's pretty darn easy to make.
First, we roast tomatillo, white onion, serrano pepper, and garlic under the broiler, which caramelizes and chars everything and brings out the tomatillo's smoky-sweetness. We whirl it all up in the blender with some fresh cilantro until it's just shy of puréed: smooth, with some chunky bits remaining. Last but not least, we reduce the salsa in hot oil to intensify its bright, smoky, spicy, sweet layers — and then add a healthy squeeze of lime juice.
Tortilla chips love this charred tomatillo salsa — it's got excellent dip-ability. Add a few friends and a pitcher of margaritas, and you're in for a swell happy hour. It's also great slathered on some grilled chicken or fish, or spooned onto all manner of tacos. Sautéed mushrooms and summer squash, pickled red onion, cotija cheese, and a dollop of this salsa in a warm corn tortilla? Yup.
Our tip: if you prefer your salsa with a little less heat, omit one of the serrano peppers.
Yield: about 3 cups
Ingredients
1 ½ lb tomatillos (about 10 medium), halved
1 medium white onion, halved
3 serrano peppers, halved
3 garlic cloves
½ cup Gelson's organic fresh cilantro, tough lower stems discarded, divided, plus more for garnish
1 Tbsp grapeseed oil
Kosher salt, to taste
Freshly squeezed lime juice, to taste
Lime wedges, for serving
Directions
Adjust one oven rack to 4" below the broiler and preheat the broiler to high. Line a rimmed baking sheet with aluminum foil.

Place the tomatillos, white onion, serrano peppers, and garlic on the baking sheet. Broil until the tomatillos are completely tender and the veggies are darkly charred and blackened on top, 8 to 14 minutes.

Transfer the vegetables and their juices to a blender or food processor. Add ¼ cup cilantro. Pulse until roughly puréed, about 30 seconds.

Heat the grapeseed oil in a medium saucepan over high heat until shimmering. Pour the salsa into the hot oil all at once (it will steam and sputter). Stir immediately and continue to cook, stirring continuously, until the salsa is dark and thick enough to coat the back of a spoon, about 3 minutes. Remove from heat.

Finely chop the remaining ¼ cup cilantro and stir it into the salsa. Season with kosher salt. Let cool.

Squeeze lime juice over the top of the salsa, garnish with additional cilantro, and serve cold or at room temperature with lime wedges. The salsa can be stored in the refrigerator for up to 5 days.
Recipe source: Serious Eats
Calculate nutrition information for this recipe.