Appetizer Recipes
Cheeseboard with Late-Summer Fruits Recipe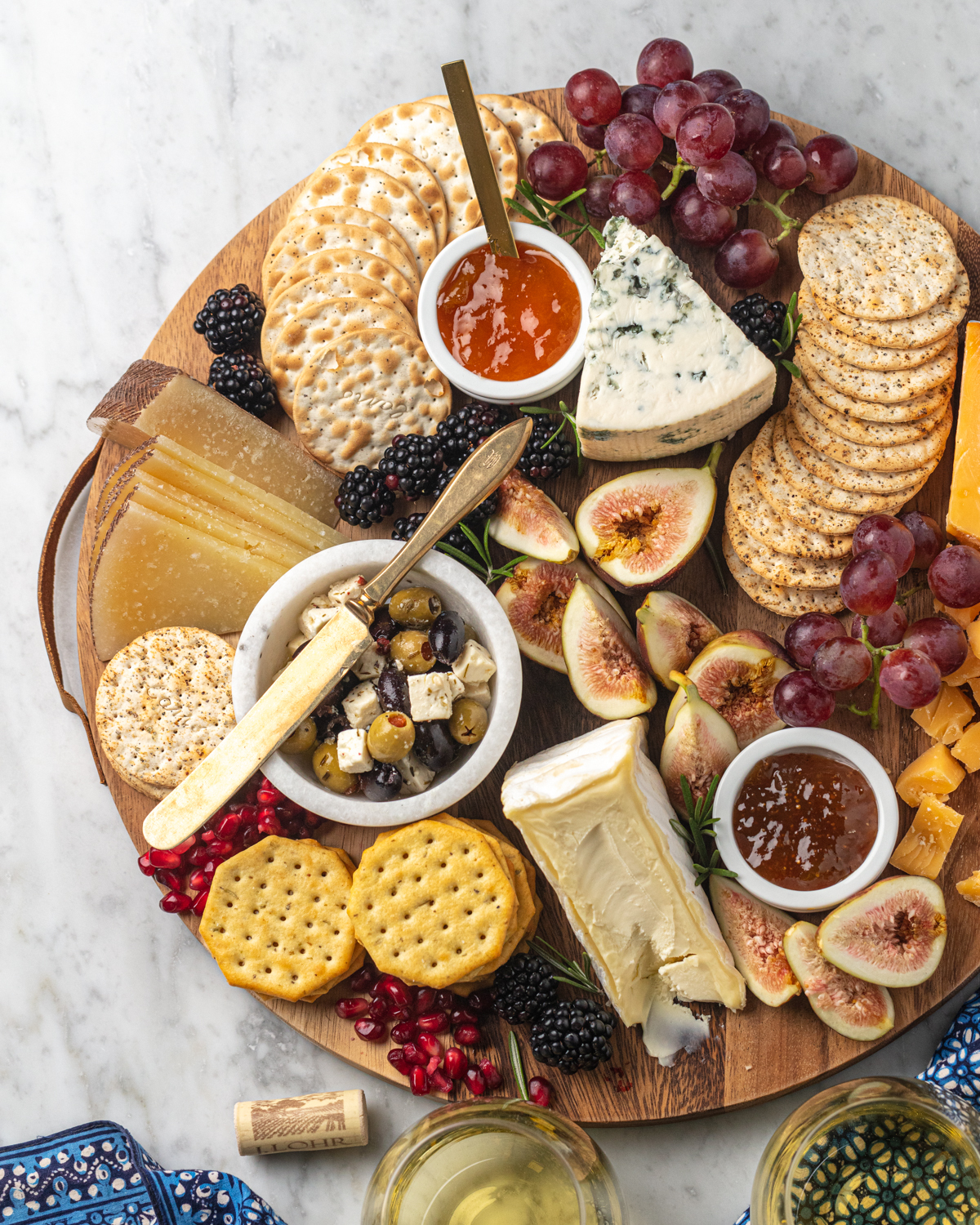 What we love about this cheeseboard is that it celebrates fresh, juicy, brightly colored late-summer fruit. It's heavy with figs, pomegranates, blackberries, and grapes. We've paired them with mild cheeses that complement their fruity sweetness, from the fig's deep, honeyed intensity to the pomegranate's dry brilliancy. There are lots of other goodies, too, including a variety of Carr's crackers, some preserves, and a wonderfully herby mix of marinated olives and feta.
This is an unfussy board: everything goes with everything, and you should feel free to pair as you please. But in the test kitchen, our gleeful tasters could not help shouting out some of their favorites. The Beemster Gouda's buttery texture and sweet-sharp finish were magic with the fresh fig. The super creamy Fromager d'Affinois was all kinds of wonderful piled on a crisp peppery cracker with blackberries, pomegranate seeds, and a little apricot jam. (Yes, the cracker held its own under all that goodness!) And, oh boy, did we love the briny olives and feta with the buttery rosemary crackers.
Our tip: We'd pair this board with a bottle of Gelson's Chardonnay. Its slightly sweet tropical fruits and layers of butter and toast will taste lovely with the fruit, crackers, and cheese.
Here's a list of everything we put on the board:
Fruit: fresh figs, pomegranate seeds, blackberries, grapes, and fresh rosemary.
Cheeses: Point Reyes Original blue cheese, Manchego el Trigal, Fromager d'Affinois, Beemster Vlaskaas Gouda, and marinated olives-and-feta mix.
Preserves: Stonewall apricot jam and Dalmatia fig spread.
Carr's Crackers: rosemary, Table Water roasted garlic and herbs, and Table Water cracked pepper.