Dinner Recipes
Chicken Marbella With Medjool Dates
Make no mistake: This is some good chicken. The legs have a beautiful golden brown, lightly crispy skin, and the meat is tender, juicy, and full of savory flavor. But the best part of Chicken Marbella is all the goodies that surround it on the platter, a veritable cornucopia of rich Mediterranean flavors.
The chicken marinates overnight in red wine vinegar, olive oil, and a jumble of capers, Castelvetrano olives, dates, garlic cloves and aromatics. So many strong personalities! But the long soak mellows out those big flavors, so what you're left with is a perfect balance of salty, sweet, briny, and acidic — and some very tender chicken.
We dump the whole kit and kaboodle on a sheet pan and slide it into the oven with a drizzle of white wine and earthy-sweet date syrup. What could be easier? And yet, the resulting dish has so much flavor between the warm, briny olives, the fruity richness of the dates, and the lush sweetness of the caramelized garlic.
It also looks beautiful on a platter. It's perfect for a slow, easy meal with friends and family. A little wine, some good conversation, lots of love and tasty food — that's a fine way to celebrate any holiday or special occasion.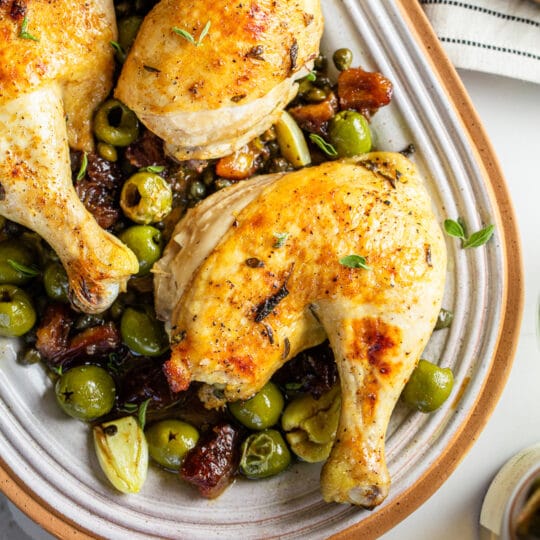 Dinner
Chicken Marbella With Medjool Dates
Ingredients
8 bone-in, skin-on chicken legs (thighs and drumsticks attached)
Freshly ground black pepper, to taste
10-oz jar pitted Castelvetrano olives, drained
3 ½-oz jar capers and their brine
7 Medjool dates, pitted, cut into eighths
¼ cup fresh oregano leaves, plus more for garnish
3 Tbsp Gelson's 100% California extra virgin olive oil
Directions
Pat the chicken dry with paper towels and season with salt and black pepper. Place the chicken in a large glass or plastic container.

Add the olives, capers and their brine, dates, garlic, bay leaves, oregano, red wine vinegar, and olive oil. Gently toss to combine, then spread in an even layer.

Cover and marinate in the refrigerator overnight, rotating the chicken a few times. Note: the longer you marinate the chicken, the mellower the flavors will be.

Preheat the oven to 375º. Transfer the chicken and all of the marinade to a rimmed sheet pan. Whisk together the white wine and date syrup and drizzle it over the chicken. Lightly season the chicken with salt and black pepper.

Bake for 50 minutes, basting 2 or 3 times, until the meat is golden brown on top and registers 165º on an instant-read thermometer.

Transfer everything to a large serving platter and garnish with fresh oregano leaves.
Recipe source: Ottolenghi