Lunch Recipes
Chicken Milanesa with Arugula and Oro Blanco Salad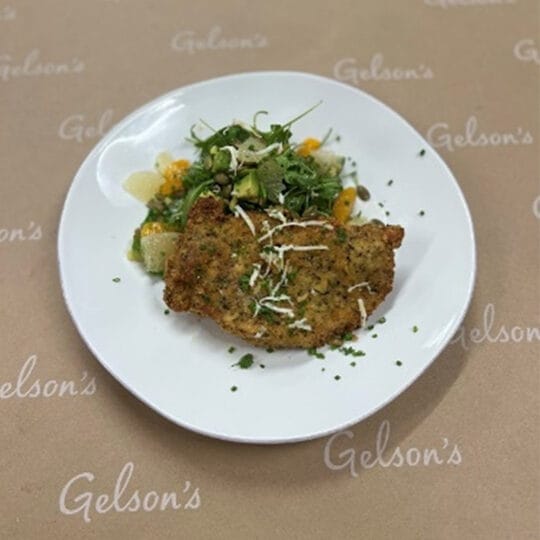 Lunch
Chicken Milanesa with Arugula and Oro Blanco Salad
Serves: 2
Ingredients
4 tsp Romano Cheese, Shredded
2 tsp Chives, Fresh, Sliced Thin
1 tsp Oregano, Fresh, Minced
4 TB +2 tsp Oro Blanco Vinaigrette
1 oz. (10 ea.) Oro Blanco Supremes (segments)
1 oz. (10 ea.) Pixie Tangerine Supremes (segments)
Directions
Pre-Heat Oven to 350F
1. Remove plastic lid from chicken Romano container and place in oven. Re-heat approximately 10-12 minutes.
2. In a large salad mixing bowl, add all arugula, half of avocado, half of citrus segments, half of Romano cheese, half of chives, half of pepitas, oregano, Kosher salt, and pepper.
3. Add 4 tablespoons of vinaigrette and gently blend salad together.
4. Transfer salad to plate.
5. Garnish salad with remaining avocado, citrus segments, cheese, chives and pepitas.
6. Remove chicken from oven, and rest over the side of the salad.
7. Spoon 1 teaspoon of vinaigrette over the top of each chicken.
8. Enjoy immediately.