Dinner Recipes
Chicken Piccata & Angel Hair Pasta
With bright lemon, briny capers, pungent garlic, and rich butter, chicken piccata is a comforting Italian-American classic — all big flavors and slurpable noodles. We make ours with delicate angel hair pasta and lots of fresh herbs and white wine, which concentrates the bold flavors even more. The dish is filling but not heavy; it would be lovely on a warm night with a glass of chilled white wine.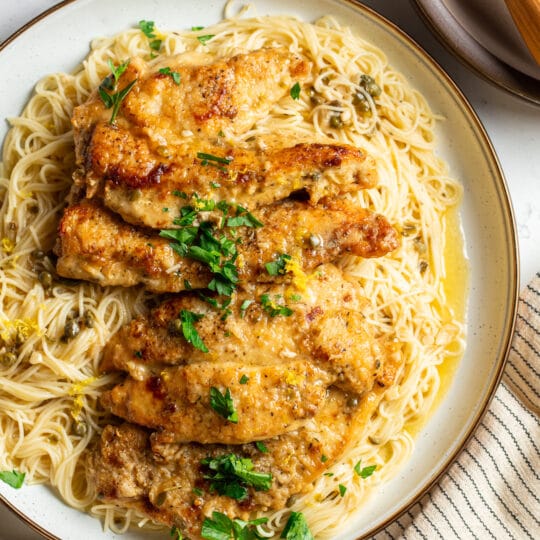 Dinner
Chicken Piccata & Angel Hair Pasta
Serves: 4
Ingredients
2 Gelson's fresh large boneless, skinless chicken breasts
½ cup Gelson's organic all-purpose flour
3 Tbsp Gelson's 100% California extra-virgin olive oil, divided
1 Tbsp drained capers, roughly chopped
2 Tbsp freshly squeezed lemon juice
4 Tbsp unsalted butter, cut into ¼" pieces
Chopped fresh parsley, for garnish
Directions
On a large cutting board, cut the chicken breast in half horizontally. Place the chicken between 2 pieces of plastic wrap and use a meat tenderizer to lightly pound it to ½" thick. Season both sides of the chicken with kosher salt.

In a large bowl, mix together the flour and herbs de Provence. Dredge each piece of chicken in the flour, shaking off any excess. Set aside on a plate.

In a large, heavy-bottomed skillet, heat 2 tablespoons of the olive oil over medium-high heat until shimmering. Working in batches, cook the chicken for 2 to 3 minutes on each side, or until golden brown. Transfer the cooked chicken to a clean plate.

Reduce the heat to medium. Add the remaining tablespoon of olive oil and the garlic. Cook, stirring constantly with a wooden spoon to prevent scorching, until the garlic starts to brown, 3 minutes.

Add the white wine and capers, scraping up any brown bits from the bottom of the pan. Cook until wine is reduced by half, 5 to 7 minutes.

Add the chicken stock, lemon juice, and butter and vigorously stir until the butter is melted. Return the chicken to the skillet and cook until the sauce is thick enough to coat the back of a spoon, 7 to 10 minutes. Once the sauce has thickened, set the chicken aside on a plate.

In the meantime, cook angel hair pasta according to package instructions. Reserve ½ cup of pasta water, drain the noodles, and set aside.

Add the pasta to the skillet and gently toss to coat with sauce. If the sauce is too thick, add pasta water a few tablespoons at a time to thin it.

Transfer the angel hair pasta to a large serving plate and place the chicken on top.

Pour the remaining sauce over the chicken, garnish with the parsley and lemon zest, and serve immediately. Leftovers can be stored in the refrigerator in an airtight container for up to 3 days.
Recipe source: Bon Appetit