Dinner Recipes
Chicken Pot Pie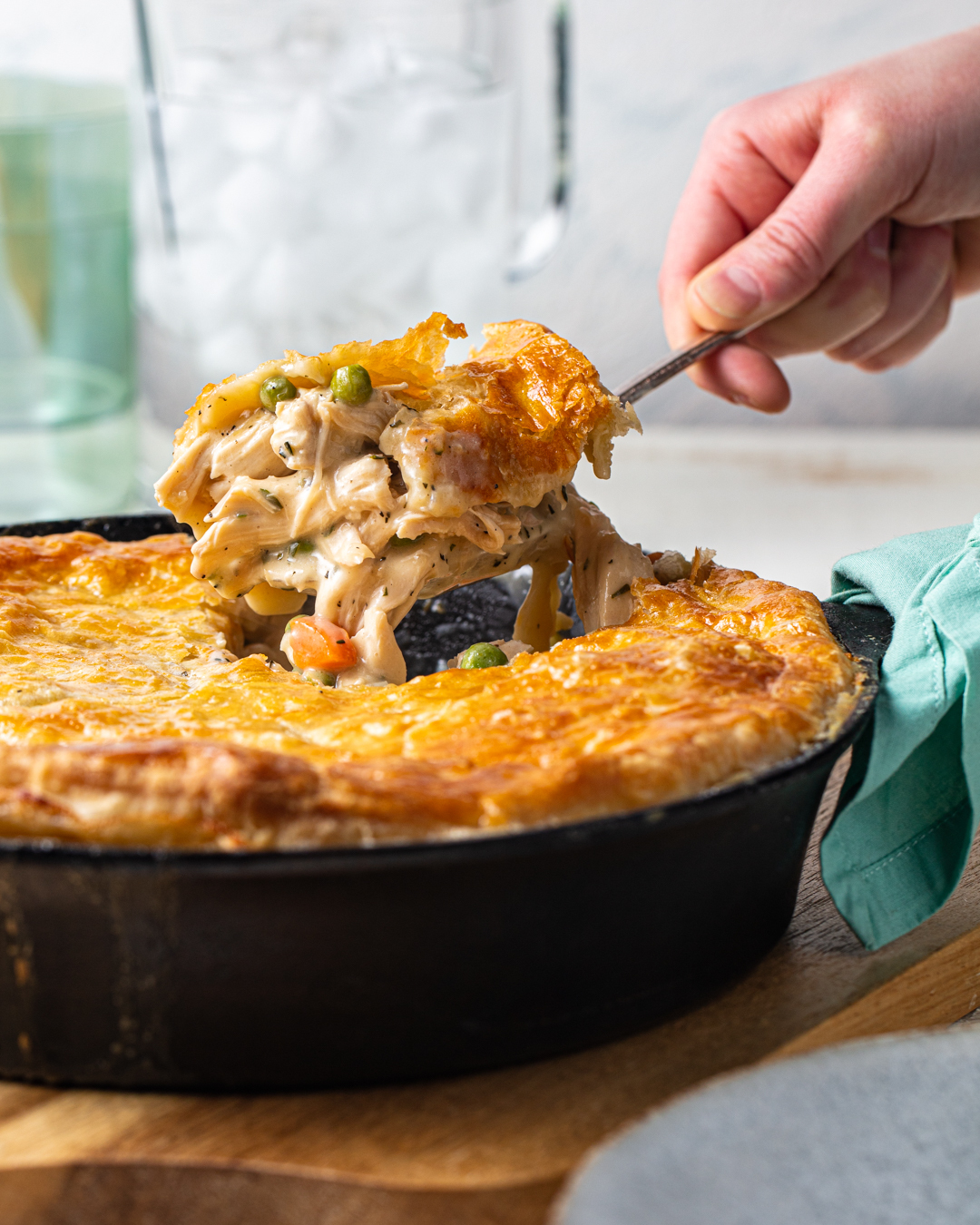 In the pantheon of comfort foods, pot pie is surely Zeus. Like toast or mashed potatoes, it's powerfully soothing, but it's got something else on those carbs: it's also a deeply satisfying one-bowl meal. Chicken and veggies nestled in a savory gravy and tucked into a crust — who could want for more?
The funny thing about pot pie is that it's both humble and intimidating. Most of us think of it for cozy nights in with family, but making it from scratch seems like heavy lifting for a weeknight. Not this recipe: We've eliminated a lot of the prep work by making it with a Gelson's Kitchen rotisserie chicken and frozen puff pastry. Yeah, it does take about an hour to come together, but a good chunk of that is passive cooking time — so while it's baking, you can enjoy a glass of wine, chill with the kids, or chat up the BFF on the interwebs.
It's worth every minute of the wait. The chicken is tender, and the veggies are perfectly al dente. It has all the classic gravy you'd expect, but we've added garlic, wine, and plenty of thyme to it, so it has some nice, herby depth. This pot pie is basically a hug in a bowl. Take our advice: As you're serving, divvy up that rich, buttery crust evenly. Otherwise, people (read: your very own family) will be tempted to steal chunks of it to scoop up their filling, and the last serving will be a sad, crustless affair.
Our tip: if you don't have a rotisserie chicken, you can substitute three roasted chicken breasts.


Servings: 4 to 6


Ingredients


4 Tbsp unsalted butter
1 medium onion, diced medium
1 medium baking potato, peeled and diced medium
2 celery stalks, diced medium
3 medium carrots, diced medium
Kosher salt, to taste
2 garlic cloves, minced
2 tsp minced Gelson's organic thyme leaves
¼ cup dry white wine
¼ cup all-purpose flour
½ cup heavy whipping cream
2 cups chicken stock
1 cup peas, fresh or frozen
3 cups bite-size Gelson's Kitchen rotisserie chicken pieces
2 Tbsp chopped parsley leaves
1 Tbsp lemon juice
Black pepper, to taste
1 sheet puff pastry, thawed
1 large Gelson's egg, beaten, for egg wash


Directions


Preheat the oven to 400º.

Melt the butter in a large skillet over medium heat, and add the onion, potato, celery, carrots, and a pinch of salt. Stir to combine and cook until softened, about 10 minutes.

Add the garlic and thyme and cook until fragrant, about 1 minute.

Add the white wine, scraping any bits off the bottom of the skillet, and cook, stirring occasionally, until the wine evaporates, about 1 minute.

Add the flour and toss to coat the veggies.

Pour in the heavy cream and stock, and stir until combined. Bring to a simmer and cook until thickened, about 10 minutes, stirring occasionally.

Add the peas, chicken, parsley, and lemon juice. Season with salt and pepper to taste. Stir to combine, and remove the pan from the heat.

Roll out the thawed puff pastry dough, and cut it into a circle approximately 1 inch larger than the skillet.

Cover the skillet with the dough, folding the overhanging dough under itself so it's just the size of the skillet. Press the edges of the dough into the edges of the skillet using your fingers or the back of a fork.

Brush the dough with the egg wash, and cut a few slits in the center of the crust to allow steam to escape.

Place the skillet on a baking tray to catch any drips and bake for 20 minutes, or until the crust is golden brown. Let cool for 5 minutes and serve.