Recipes
Chocolate-Banana Tart (Gluten- and Dairy-Free) Recipe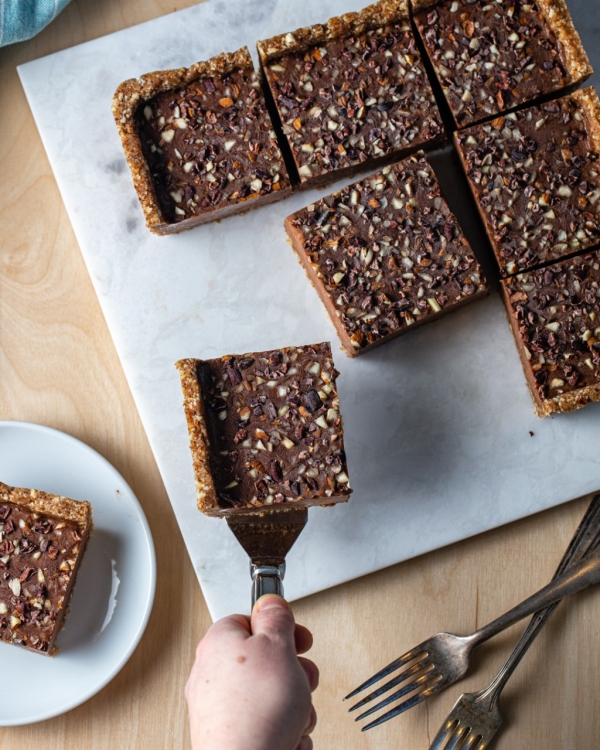 Crushed graham crackers, chocolate wafers, and the like may be the standard for cream-filled pies, but a no-bake almond crust makes an ideal, nay magical, base for this chocolate-banana tart. The nuts are whirled up with Medjool dates, vanilla, and salt, creating a nutty, chewy, wonderfully sticky dough — it smelled so fragrant, we wanted to roll it into balls and eat it.

Luckily, we didn't (at least not all of it), because it tastes even better with the filling. Made with unsweetened coconut milk, cocoa powder, and five bananas, the filling is like a lightly sweet mash-up of a banana cream pie, coconut cream pie, and chocolate mousse. We topped it with raw almonds and cocoa nibs, and we love the uber-crunchy texture they add — it balances out the chewy crust and the velvety filling. So satisfying!
We also appreciate this tart for all the things that aren't in it, namely wheat gluten, dairy, and refined sugar. It's pretty darn healthy, and it's a fabulous treat if you've got someone with a milk allergy or celiac disease in your family or friend group.

Our tip: It's always hard to be patient with dessert, but let the pie rest for at least 45 minutes after you take it out of the freezer. It'll be easier to cut, and the texture will be divine — a light creamy mousse vs. a chocolate-banana ice cube.

Servings: 9
Ingredients for the Chocolate Banana Tart
For the pie crust:
2 ½ cups Gelson's raw almonds
1 cup Medjool dates, pitted
1 Tbsp water
1 tsp vanilla extract
1 pinch kosher salt
For the chocolate-banana tart
5 ripe medium bananas, cut into ½ -inch pieces
1 cup coconut milk (full fat)
¼ cup cacao powder
1 ½ tsp vanilla extract
1 tsp raw honey
¼ cup Gelson's raw almonds, chopped
2 Tbsp cacao nibs
Special equipment: 8 x 8 tart pan
How to make the Chocolate Banana Tart
To make the crust: Line a tart pan measuring 8 x 8 inches with parchment paper.

Process the almonds in a food processor until coarsely chopped. With the machine still running, add the dates, water, vanilla, and salt until it forms a sticky dough. Stop the machine and scrape down the sides as needed to help the almond mixture process. It should have a dough-like consistency.

Firmly press the crust mixture into the bottom and sides of the tart pan. Set aside.

To make the tart: In a blender, combine the bananas, coconut milk, cacao powder, vanilla, and honey. Puree until smooth.

Pour the mixture over the crust. Sprinkle with the chopped almonds and cacao nibs. Cover with plastic wrap and freeze for at least 8 hours or overnight.

Thaw the tart on the counter until it's soft enough to cut into squares, at least 45 minutes. Store the leftovers in a sealed container in the freezer for up to four days.
Recipe source: Navitas Organics