Dessert Recipes
Chocolate Macaroon Cake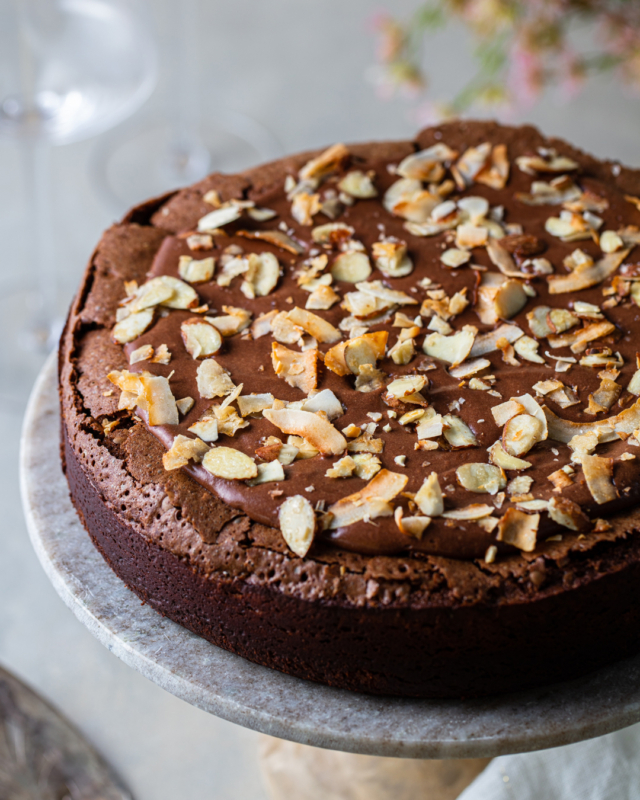 Behold our new favorite Passover dessert! It's a glorious mash-up of flourless chocolate cake and coconut-almond macaroons. Made with coconut oil, toasted almonds, shredded coconut, and heaps of cocoa and chocolate, it has all the best elements of each confection: it's nutty, melt-in-your-mouth fudgy, and positively chocablock with coconut. Combined with the topping — a rich chocolate ganache sprinkled with crunchy toasted coconut-almond clusters — it left our tasters a bit giddy.

The ganache may sound excessive, and it is (splendidly so), but it is also a necessity. It sets up very shiny and gives the cake its unmistakable holiday elegance.

Our tips: This is an easy cake to make, but it does come with a lot of steps, so we like to bake it one day ahead. It's also worth noting that it's a gluten-free cake, and it can be dairy-free if you use vegan chocolate. And if you find you cannot finish it, go ahead and stick it in the freezer (it will make a fantastic midnight snack).

Servings: 10

Ingredients

For the cake:
1 cup virgin coconut oil, melted, cooled, plus more for pan
¼ cup unsweetened cocoa powder, plus more for pan
1 cup skin-on almonds
8 oz semisweet or bittersweet chocolate, chopped
1 tsp kosher salt
½ cup unsweetened shredded coconut
6 large eggs, room temperature
½ cup granulated sugar
½ cup (packed) light brown sugar
2 tsp vanilla extract

For the ganache and assembly:
4 oz semisweet chocolate, chopped
1 Tbsp plus 1 tsp light agave nectar or pure maple syrup
Pinch of kosher salt
½ cup unsweetened coconut milk (from a very well shaken 13.5-oz can)
2 Tbsp unsweetened coconut flakes
1 Tbsp sliced almonds
1 tsp granulated sugar

Directions
To make the cake:
Place a rack in the middle of the oven and preheat to 350°. Lightly brush a 10-inch cake pan with oil. Line the bottom with a round of parchment and brush the parchment with oil.
Dust sides of pan with cocoa powder; tap out excess.
Toast the almonds on a rimmed baking sheet until fragrant and slightly darkened, 8 to 10 minutes. Let cool. Reduce oven temperature to 325°.
Meanwhile, heat the chocolate and 1 cup of oil in a medium, heatproof bowl set over a saucepan of barely simmering water, stirring often, until mixture is smooth. Remove from heat.
In a food processor, pulse the almonds, salt, and ¼ cup of cocoa until nuts are finely ground.
Add the shredded coconut and pulse a couple of times to combine.
In the bowl of a stand mixer fitted with the whisk attachment, beat the eggs on medium speed until no longer streaky, about 20 seconds.
Add both sugars and vanilla, increase speed to high, and beat until mixture is pale, thick, and starts to hold the marks of the whisk, about 2 minutes (it should fall off the whisk and immediately sink back into itself).
Switch to the paddle attachment and, with mixer on low speed, gradually add the chocolate mixture. Beat to incorporate, then mix in the almond mixture.
Fold batter several times with a rubber spatula, making sure to scrape the bottom and sides. Scrape batter into prepared pan; smooth the top.
Bake the cake until it's firm to the touch and a tester inserted in the center comes out clean but greasy, 35 to 45 minutes.
Transfer the pan to a wire rack and let cake cool 15 to 20 minutes in the pan. Run a paring knife or small offset spatula around the edges of the cake; invert onto rack. Carefully peel away parchment; let cool completely. Note: You can bake the cake one day ahead. Wrap it in plastic wrap and store it at room temperature until you're ready to put the ganache on it.
To make the ganache:
Preheat oven to 350°.
Combine the chocolate, 1 tablespoon of the agave nectar, and salt in a medium bowl.
Bring the coconut milk to a simmer in a small saucepan over low, and then pour it over the chocolate mixture. Let it sit until the chocolate is melted, about 5 minutes.
Meanwhile, toss the coconut flakes, almonds, sugar, and remaining teaspoon of agave nectar on a parchment-lined, rimmed baking sheet and toast until golden, about 4 minutes.
Let the almond-coconut mixture cool, then break into smaller clusters.
Using an electric mixer on medium speed, beat the chocolate mixture until it has lost its sheen and is thick enough to hold very soft peaks, 6 to 8 minutes (the ganache won't be quite as thick as frosting, but close).
Working quickly before the ganache starts to set, scrape it on top of cake and spread to edges with a small offset spatula or knife. Top with almond-coconut clusters.

Source: Bon Appetít